Sainz critical as stewards 'play with the positions' in Austin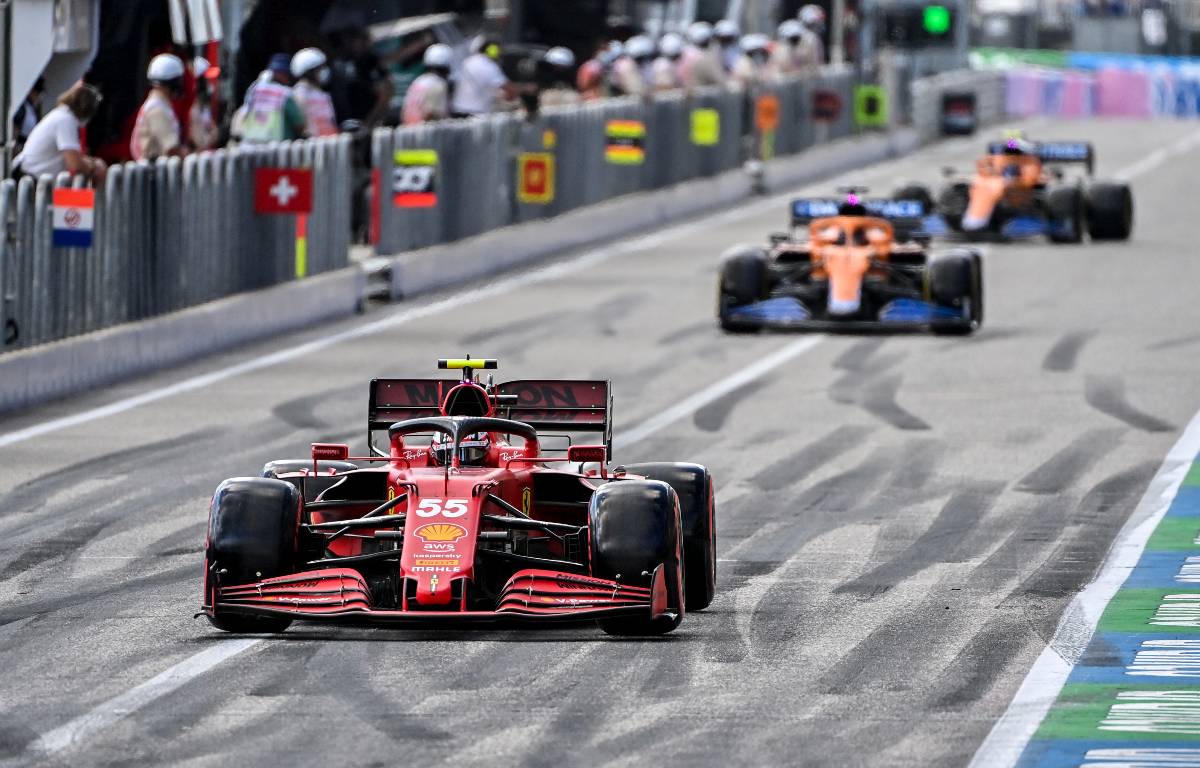 Carlos Sainz criticised the stewards for their handling of position swaps in Austin, saying he did not like how they "play" with the order.
Sainz's Ferrari team are battling away with McLaren over P3 in the Constructors' Championship, and their squabbles were just as intense on track at the United States Grand Prix.
At one stage though the scraps became a little messy, with Sainz in fact yielded to let a McLaren back through, though the stewards put out the order for both Daniel Ricciardo and Lando Norris to be let by.
Sainz would ultimately cross the line P7, left to reflect on a race where McLaren, the stewards and pit stops were all sources of frustration.
"On Lap 1 there was a bit of a mess with the two McLarens, fighting the two of them, trying to defend, and in the end I made it ahead of them but I decided to let by one of them just in case the stewards were going to take action," he told Sky F1.
"And in the end they even took action even though I let them by, a bit confusing to be honest and I don't like how they play with the positions, because I think what I actually did of letting by one of them was already quite genuine and should have been enough.
"Then I had to pass by Lando [Norris] and then I was stuck the whole race behind [Daniel] Ricciardo and we pulled the trigger for an undercut, but again another slow pit stop didn't allow us to undercut and we got stuck again behind him. A pretty bad race for me."
Some really close racing between Daniel Ricciardo and Carlos Sainz for P5 at the #USGP 😬

📺 @SkySportsF1
💻 https://t.co/dsFCYRqRzo#SkyF1 | #F1 | #USGP

— Sky Sports F1 (@SkySportsF1) October 24, 2021
Sainz's battle with Ricciardo over P5 would become "a bit dirty" as Sainz put it with light contact between the pair.
There was no blame placed on Ricciardo though, with Sainz saying he would have defended the inside line robustly too if he were in Ricciardo's position.
Asked for his take on that moment with Ricciardo, Sainz said: "My take is that the guy on the inside does this kind of thing on purpose always to try and squeeze the guy on the outside, I would have done the same.
"The thing is that it could have been rough with the contact, I think he could have done it a bit cleaner because I nearly spun, but it's all good, I would have done a similar thing if I was in his position.
"It was a good battle, just we should have been ahead with the pit stop that we did to undercut him, and in the end we were again behind. We shouldn't have been there."
Ferrari were able to narrow the deficit to McLaren in the Constructors' to 3.5 points as Charles Leclerc crossed the line P4, supported by Sainz's P7.
But Sainz still does not view this as a positive weekend, saying Ferrari failed to make the most of their pace.
"No I think today we didn't maximise, we should have been with the pace of the car, ahead of both McLarens, and we didn't get the opportunity," Sainz stated.
"So disappointed with it and definitely something to look into because it should have been a day that both cars should have finished ahead of the McLarens and we didn't maximise."
Leclerc admitted that he was a bit "bored" on his way to P4, unable to close in enough to trouble Red Bull's Sergio Perez for the final podium spot.
But he kept up his pursuit with hope, and was keen to praise Ferrari's work to upgrade the SF21 this season despite a strong focus on 2022.
"Yes, I was a bit bored during the race but I was trying anyway every lap to give my best because once again I always hope when I'm in the car," he told Sky Italia.
"I was seeing the third place, Perez was not pulling away too much, only in the first stint. So I was very motivated in the car and I wanted for sure to go searching for him.
"Then I didn't make it but in the end we tried and anyway I have to say a big thanks to the engineers here but for sure also at home for the upgrades of this year.
"Even if we are focusing on next year, the two, three upgrades we brought this year allowed us to always take a step forward, that is very important for everything, for this season, for the confidence for the future and everything is going well for now, so I'm very happy."
Leclerc went on to explain that his P4 and Ferrari's overall pace on race day in Austin was a "big surprise", having expected it to be one of the Scuderia's weaker venues.
"We were expecting worse for this weekend, and in the end it's been one of the best races of the year. So a big surprise today. Even if the P4 is a huge surprise, I'm sorry, but anyway the pace was the good surprise today."
Additional reporting by Luca Brambilla