Sainz says he 'deserved to crash' in FP3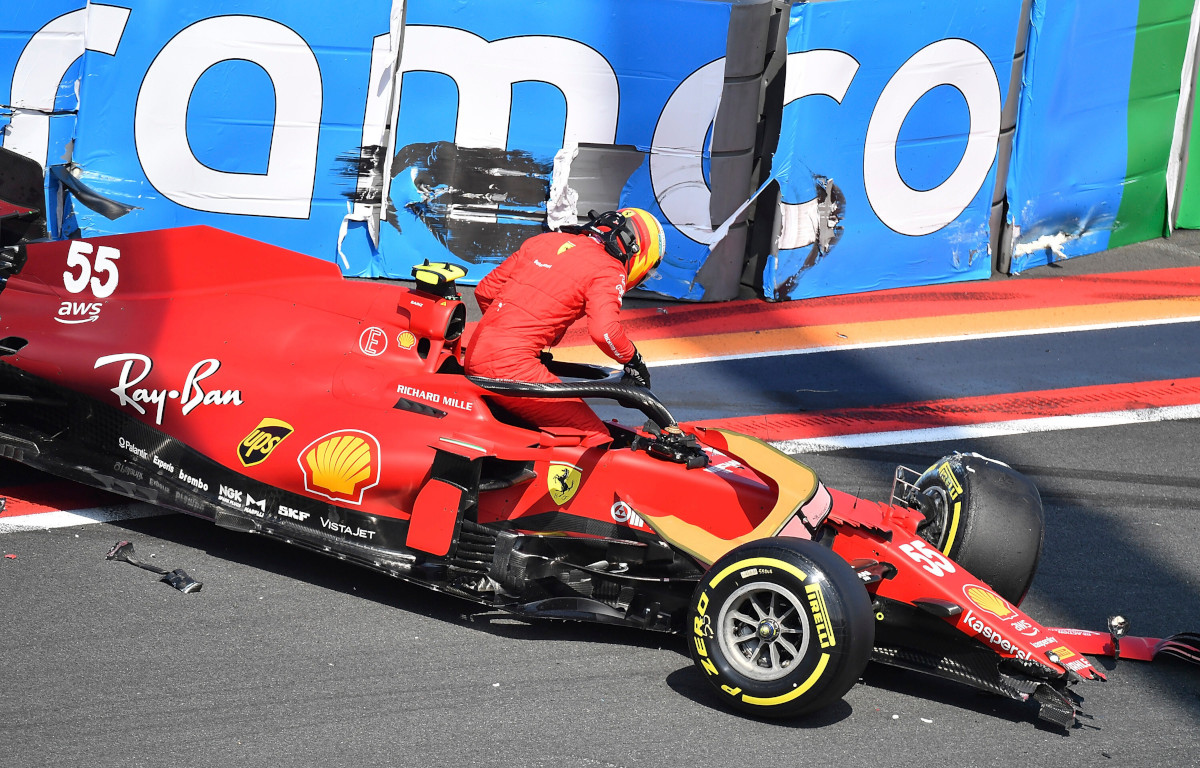 Running just 20cm away from where he should have been, Carlos Sainz says he "deserved to crash" in FP3 at the Zandvoort circuit.
Sainz kept the weekend's tradition of at least one red flag per practice session going on Saturday when he binned his Ferrari.
The Spaniard slammed into the barrier at Turn 3 when he lost the rear of his SF21 out of Turn 2 and instead of going left into the banked Turn 3, went up into the barrier.
Both the front and rear of his car were damaged in the impact.
"At the beginning I didn't know what had happened," Sainz said, as quoted by Autosport.
"Then I had a bit of an analysis, a bit of a cool-down in my head, and after what I've seen in qualy, it's very clear now that centimetres off line there's clearly less grip than online there's a bit of sand.
"And I missed the apex by maybe 20cms in that lap, and I and you can see maybe that I pull up a bit of dust, and I think that is enough to create an accident at this circuit."
He was one of three drivers to crash on Saturday with the Williams team-mates into the barriers in qualifying.
Sainz reckons the unforgiving circuit means drivers pay a price for even the smallest of mistakes.
"In terms of challenges," he said, "away from Monaco and Baku, I think this is biggest challenge of the season for the driver.
"I loved it. Even [in] the accident, I felt like I deserved to crash.
"To be 20cms off line, because this is how a circuit should be.
"The prices that we all paid when we were doing mistakes out there is how F1 should be, and how we want the circuits of the future to be, not in the direction that they went 10 years ago. That has been unfortunate."
Red flag as Carlos Sainz makes contact with the barriers. "Ah s**t, sorry guys. I don't know what happened. I'm ok." #DutchGP pic.twitter.com/YapWNhhusf

— WTF1 (@wtf1official) September 4, 2021
Kit yourself out in Ferrari colours via the official Formula 1 store
Ferrari team boss Mattia Binotto told Sky Sports just 30 minutes before Q1 began that he wasn't sure if Sainz's mechanics would be able to repair his car in the time.
The Spaniard says he also had doubts.
"It was in doubt until I pulled out of the pits," he said.
"Normally when you're in that kind of situation your mind tends to go into a bit of a negative state, because you've just crashed, you've just cost the team a massive repair to do, and you're negative, you think you're not going to make it.
"And suddenly the mechanics makes things impossible possible, and you're out.
"It's a high pressure high tension moment for everyone and you kind of need to refocus, you need to make sure you don't put it in the wall again, and then do the qualifying. It's a tricky one."