Carlos Sainz expected better from a 'top-four driver' in George Russell
Carlos Sainz has said the hit from George Russell that eliminated him at Turn 1 in Austin was a mistake a driver of that level should not make.
Sainz claimed his second Formula 1 pole position at the United States Grand Prix, and so with his team-mate Charles Leclerc taking a 10-place grid drop it meant Sainz was leading the Ferrari charge against Max Verstappen and Red Bull, who just needed a win to eliminate Ferrari and claim the Constructors' title.
Verstappen got away better and had taken the lead from Sainz, but the Spaniard never got the chance to fight back as he was hit by Russell's Mercedes at the exit of Turn 1, sending him into a spin.
Sainz continued, but with it quickly becoming apparent he had radiator damage he came into the pits to retire his Ferrari.
A frustrated Sainz pointed the finger at Russell, who received a five-second penalty for causing the collision, saying someone considered to be a top-four driver in Formula 1 should not be making such errors.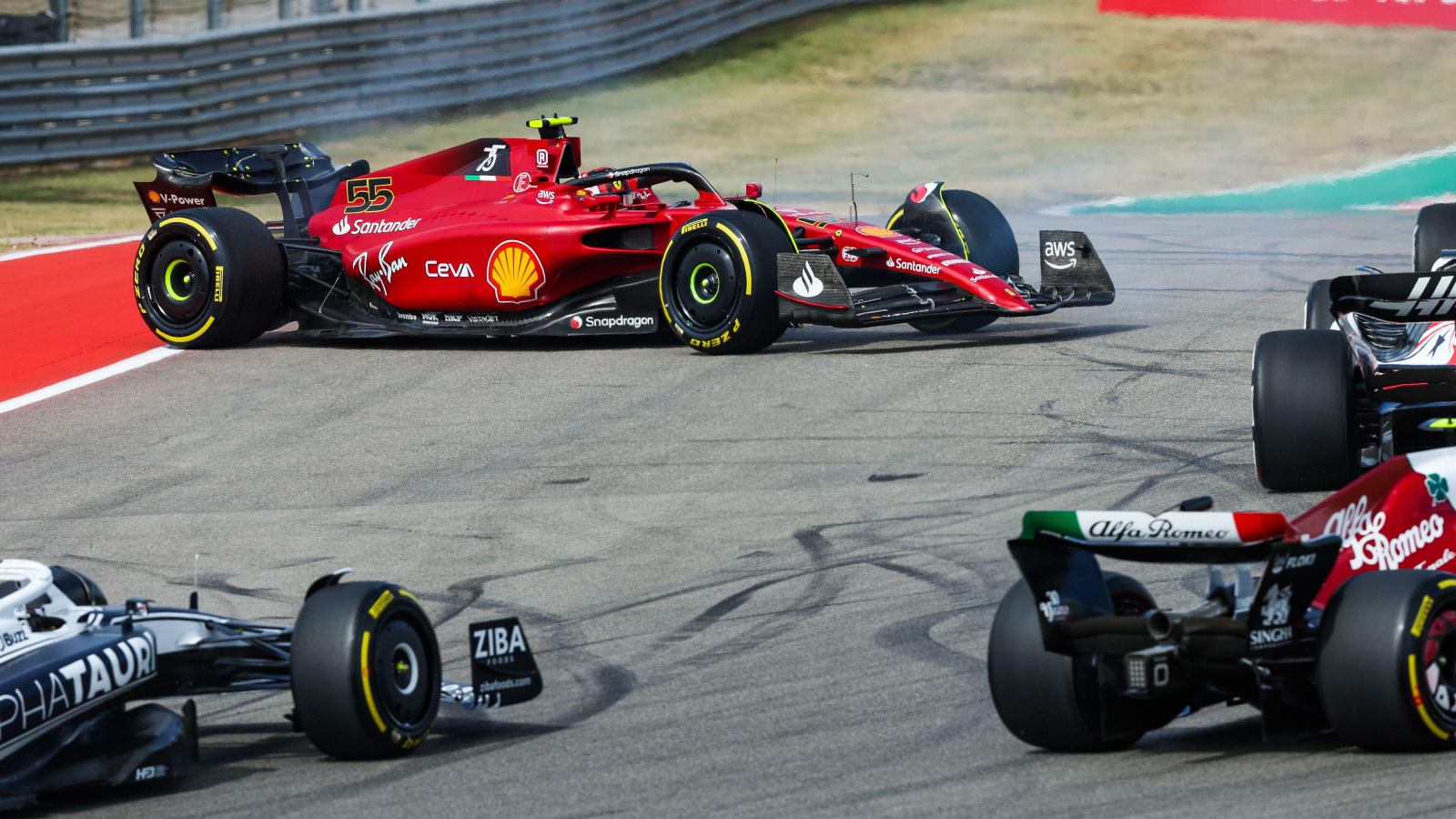 "It's extremely frustrating, again another race without doing more than a lap," he told Viaplay.
"Especially starting from pole, to see the top four drivers making mistakes like that surprises me, but I take the worst part of it and I had to retire. I'll keep fighting in the future."
A case could be made for Russell's penalty being a little light, considering Sainz was out of the race.
Indeed, the Ferrari driver saw a discrepancy between their respective fates, although did not want to start "evaluating penalties".
"Compared to my DNF? For sure, no," said Sainz when asked if he deemed Russell's five-second penalty to be fair. "But I won't evaluate penalties."
Russell did not attempt to stand his ground, accepting responsibility and confirming he had been to see Sainz to offer an apology.
"It was a pretty miserable, disappointing afternoon and probably not good enough on my behalf from lap 1," Russell told Sky Sports F1.
"I went into Turn 1, braked quite deep and when I saw Carlos was on the outside of Max, I was anticipating him to try and hang it around the outside.
"But as soon as I recognised he was trying to cut back right, that caught me by surprise and by that point the damage was already done. So I've seen Carlos to apologise to him and probably should have been aware of that potential."
Read more: George Russell admits 'diva' Mercedes W13 can be confidence sapper