Engine failure causes fire on Sainz's Ferrari in Austria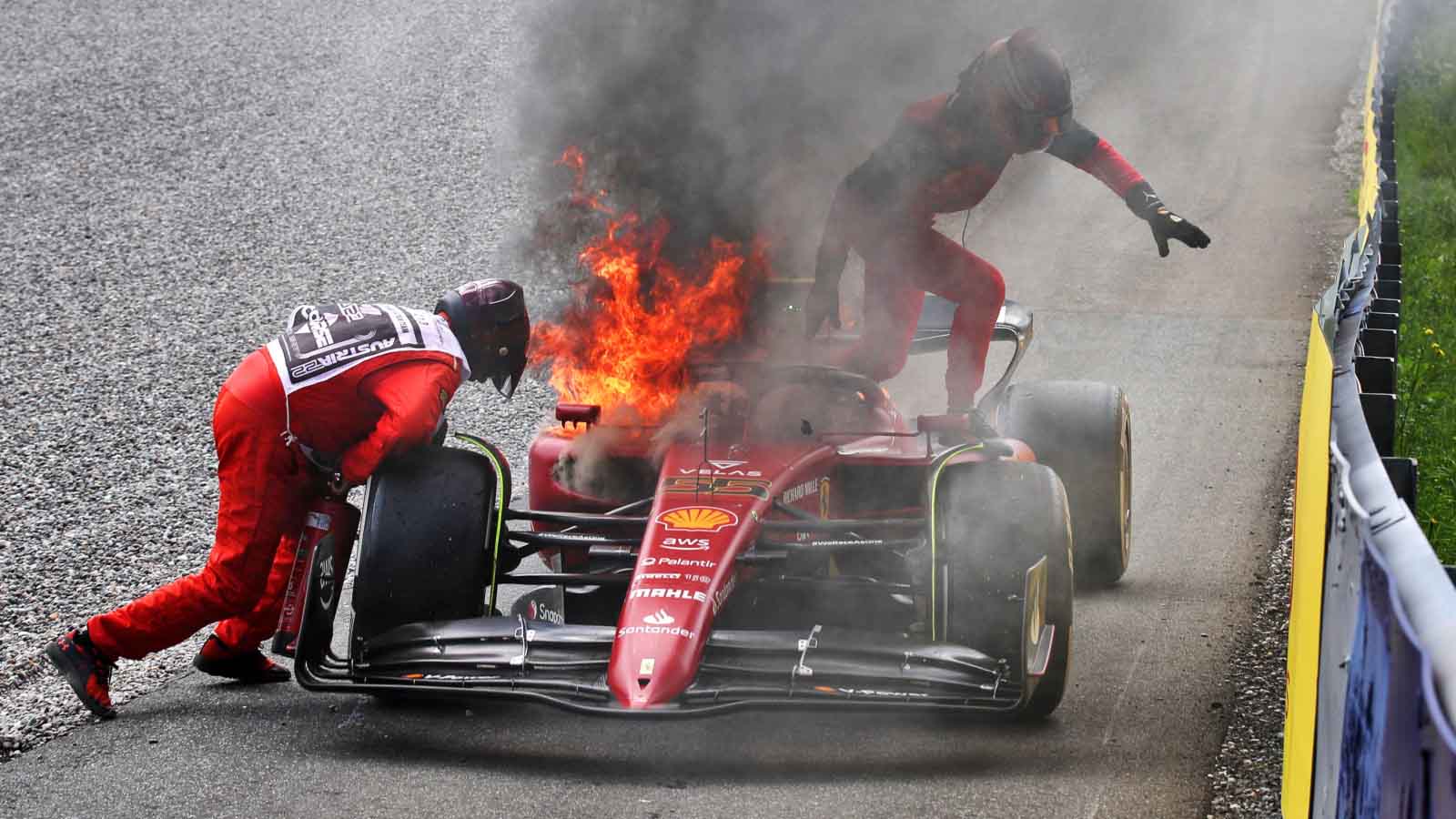 Carlos Sainz retired from the Austrian Grand Prix with an engine failure, which quickly turned into a fire on his Ferrari.
The Spaniard was running in third and was chasing down Max Verstappen on lap 57 of the race, but lost power on the straight heading down towards Turn 4.
He was crestfallen on team radio and, before the marshals could stop the car completely, Sainz had to make a quick escape from his car as it burst into flames – but he did so quickly and safely.
Marshals were quick to get on the scene and extinguish the flames on the F1-75, with a slow-motion replay showing a 'bang' in the middle of his power unit that saw the sidepods move outwards as something combusted in the car.
This incident marks the second time Sainz has suffered a mechanical failure on his Ferrari, having had to retire in the early stages of the Azerbaijan Grand Prix with power unit issues.
A dejected Carlos Sainz back in the pit lane #AustrianGP #F1 pic.twitter.com/2UWZHrsffS

— Formula 1 (@F1) July 10, 2022
Sainz had pulled his way up to the back of Verstappen as team-mate Charles Leclerc led in Austria, having lined up what would have been a near-certain overtake heading down to Turn 4, but his engine cut out halfway along the straight, which saw the 27-year-old trundle straight on and out of the race.
The nature of the engine failure looked to have caused significant damage throughout the whole power unit, with the full extent of the damage set to be identified by Ferrari when the car returns to the garage.
Leclerc went on to take victory in Austria, nursing throttle issues of his own towards the end of the race to hold Verstappen at bay and take his first win in eight races, and his first podium since the Miami Grand Prix back in May.
Sainz had been 11 points behind Leclerc heading into the weekend, but leaves Spielberg 37 points behind his team-mate.