Sainz hints at further French GP penalties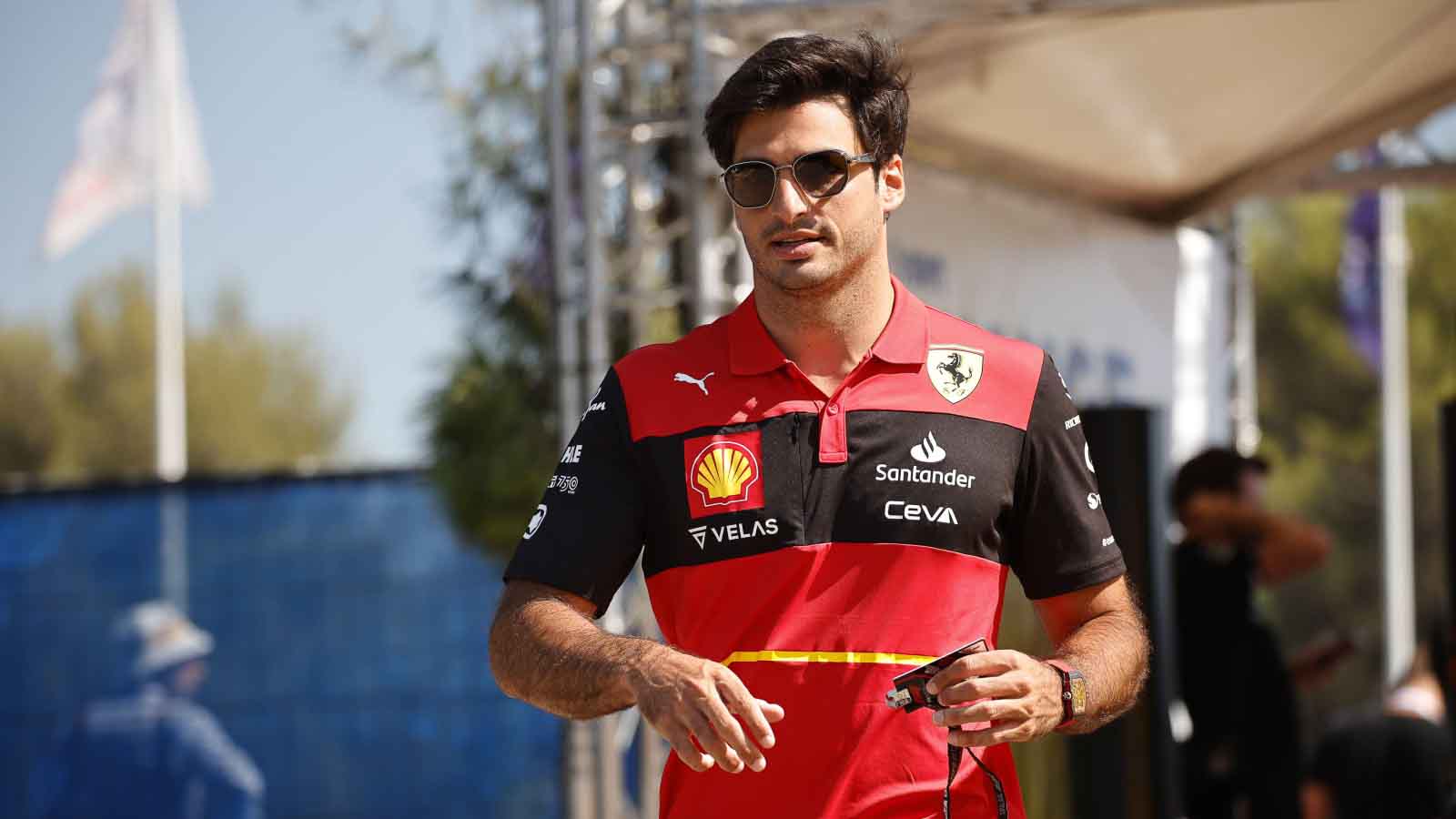 Carlos Sainz hinted that he will be starting at the back of the grid this weekend, with further power unit components set to be fitted to his Ferrari.
Sainz already has a 10-place grid drop confirmed after taking a new control electronics unit from outside the permitted pool, with significant damage having been caused by his engine fire in Austria a fortnight ago.
Now that a penalty has already come his way, he admitted the team is likely to add further components to his car to drop him to the back instead, having topped FP2 ahead of team-mate Charles Leclerc.
"Well, it was definitely a positive Friday," Sainz said to reporters after practice. "I didn't do many laps on the short run on the low fuel, but I realised that I was super competitive.
"So it shows that the steps that we're taking and the direction that we're taking is going in the right direction, focusing more in the long run because I'm not going to be in that fight for pole position, given the amount of penalties.
"And in the long run, there's a bit of work to do. But at the same time some encouragement from the short run."
🚨 Carlos Sainz set for at least a 10-place grid penalty at the #FrenchGP after exceeding his Control Electronics season allowance #F1

— PlanetF1 (@Planet_F1) July 22, 2022
When he was then pressed about the amount of penalties coming to him, given one 10-place drop had been confirmed, he replied with a smile and said "We will see."
"I took 10 [places], no? So you can expect what's coming next," he added.
The Ferrari driver spent time trying to follow cars closely to get practice of what he will likely need to do on Sunday, as he acknowledged there will be plenty of ground to make up in the race.
Sainz found the going tougher than he had anticipated, however, given how the conditions played their part in lessening the impact of his overtaking aids.
"I tried a couple of moments with other cars to overtake because I know I'm going to need to overtake a lot," he admitted. "And I must say that that was a bit trickier than expected.
"Mainly because there's a tailwind on the back straight and with this tailwind looks like the slipstream and the DRS effect is a bit low.
"But I don't have any other choice, I need to find ways to overtake and the best medicine for that is to just be a bit quicker come Sunday.
"Let's see when everyone is running the engine modes flat out if we have the top speed to overtake. I hope we do, because I need to make up a lot of places."
Torquing Point: Mid-Season Awards with Josh Revell
Formula 1 YouTube star Josh Revell joins Henry Valantine to look at the best and worst of the 2022 so far, after 11 of 22 races.