Sainz: F1's future in good hands with young stars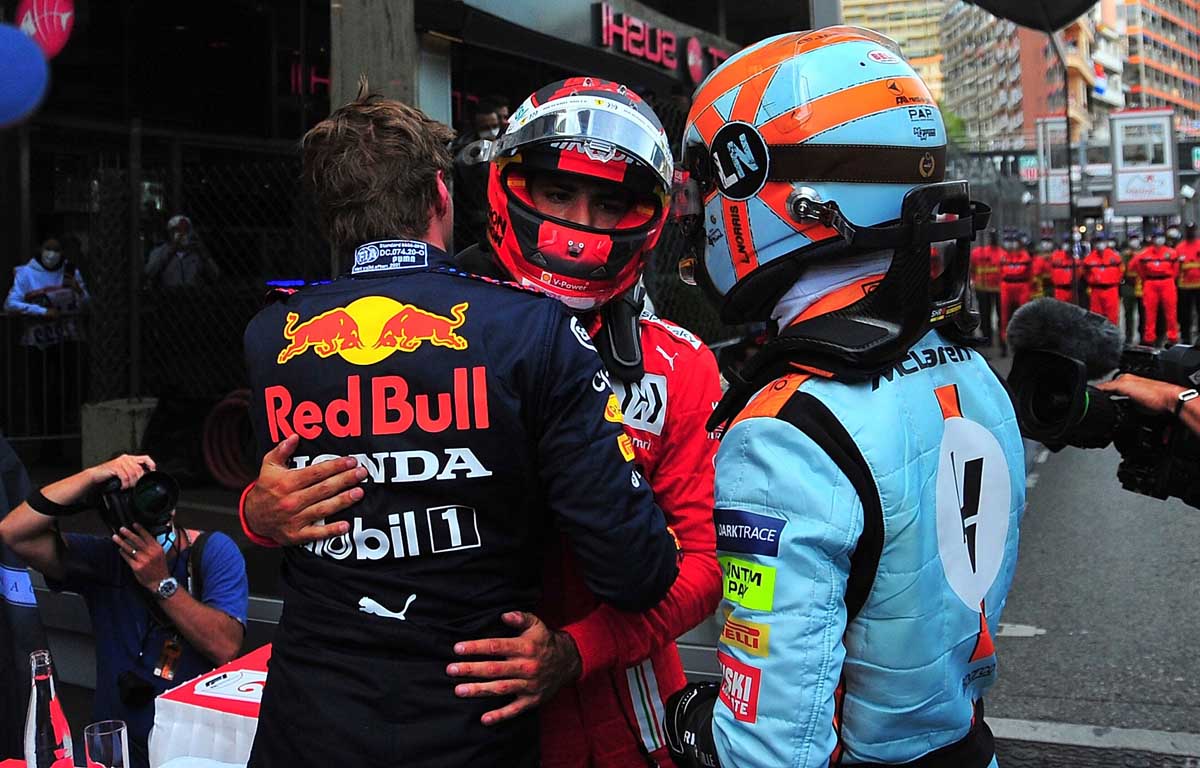 Carlos Sainz believes the future of Formula 1 is in safe hands, with the quality of young driving talent on the grid showing they can mix it with the best.
At 26, Sainz was the oldest driver on the podium in Monaco at the weekend after Max Verstappen's victory, standing alongside the Dutchman and Lando Norris on the rostrum.
Having experienced life as a team-mate of both drivers, as well as currently sharing the garage with another prodigious talent in Charles Leclerc, Sainz has first-hand experience of how strong Formula 1's future will be.
The three drivers were on good form in the post-race press conference after spraying each other with champagne following their performance in Monte Carlo, with thoughts starting to swirl about whether or not we are starting to see a changing of the guard in the sport – as some younger drivers have been getting the better of their more experienced team-mates so far this season.
When the point of their podium being one of the youngest in Formula 1 history was raised by a reporter, although not quite the youngest outright, Sainz was quick to respond on the subject of whether or not the three podium-sitters were a part of F1's generational shift.
Vamos @ScuderiaFerrari
–#Carlossainz #essereFerrari pic.twitter.com/PTcSiL45kX

— Carlos Sainz (@Carlossainz55) May 25, 2021
Carlos Sainz's Ferrari merchandise is available via the official Formula 1 store
Max Verstappen: Carlos, you ruined it man. You're too old.
Sainz: Thank you, thank you, Max. I knew you were going to say it. I knew it was coming. We were talking about it exactly 10 minutes ago!
MV: Lando…
CS: I can start because I've been team-mates with both of you…
Lando Norris: Elderly first….
CS: …and I can tell you these two guys to my left are quite decent behind the wheel of a Formula 1 car.
MV: Not a road car?
CS: A little bit young and inexperienced sometimes but they're definitely very, very quick. I think Formula 1 is in good hands for the future. I think the level of drivers this year in general is super high. When you see the qualifying laps, when you go into F1 Live and you check the qualifying laps of everyone and you see not only the young drivers but also people like Lewis etc, it's just an incredible level and I'm glad to be sharing this grid with so many talented people, and comparing myself against them and see how you can do because it pushes you like no other, and it's good as a racer to feel pushed and to feel like you need to always keep finding new limits.
Follow us on Twitter @Planet_F1, like our Facebook page and join us on Instagram!