Sainz targeting complete weekends with Ferrari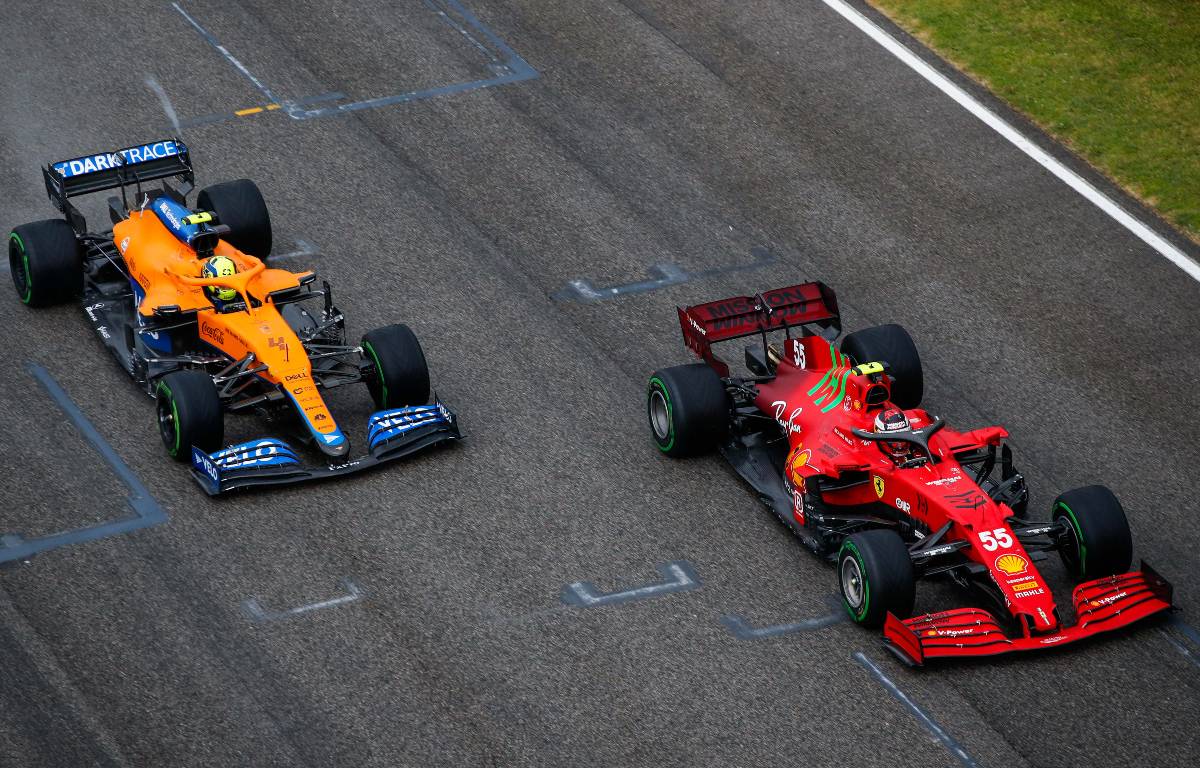 Carlos Sainz thinks one of the keys to Ferrari beating McLaren this year will be himself producing 'complete' race weekend performances.
The Spaniard switched from McLaren to Ferrari over the winter and is now in direct competition with the team at which he spent two enjoyable years.
They are embroiled in a battle for third place in the Constructors' World Championship that could not be tighter, locked together on 163 points during the summer break pending Aston Martin's appeal against Sebastian Vettel's disqualification from the Hungarian Grand Prix.
If Vettel is reinstated, it would cost Sainz and Ferrari three points and drop them to 160 at the theoretical halfway point of the campaign, but McLaren's tally would be unaffected.
Those three points also separate Sainz from his team-mate, Charles Leclerc, representing an impressive feat to currently be ahead of a driver now in his third year with Ferrari.
There appears to be a growing trend that Sainz's best displays come on Sundays rather than Saturdays, for he has crashed in qualifying a couple of times this season in Azerbaijan and Hungary.
Torquing Point - Ferrari and Mclaren battle for P3
Finley Crebolder and Charlotte Lines from Planet F1's Torquing Point podcast discuss the neck and neck race for P3 in the Constructors Championship between Ferrari and McLaren, with both teams going into the summer break with 163 points.
Kit yourself out in Ferrari colours via the official Formula 1 store
Without naming any specific improvements he needs to make, the 26-year-old has said being productive over a whole grand prix weekend will be important in the fight with McLaren.
"They are, I think, as competitive as us," Sainz told Channel 4 of his previous team.
"I believe as soon as I get a bit more comfortable and I start putting weekends together the way I used to do at McLaren, I think they will have a tougher time beating us than they are right now.
"But I'm getting there, and as soon as I get there, my target is to make their life more difficult."
Sainz famously enjoyed a friendly relationship with his former colleague Lando Norris, which still continues, and it has come as no surprise to him that Ferrari and McLaren are so evenly matched – even though the Scuderia are trying to make up a 71-point deficit from the 17-race 2020 season when they finished a miserable sixth in the standings.
Asked if it felt weird to be in competition with his former employers, Sainz said: "Well I kind of knew it was very likely McLaren and Ferrari would be fighting each other.
"In the winter I was talking to Lando, 'how is the new car going and all that?'
"His clues and my intuition made me think it would be good fun this year fighting them."