'Sainz engine failure could make Ferrari's life easier'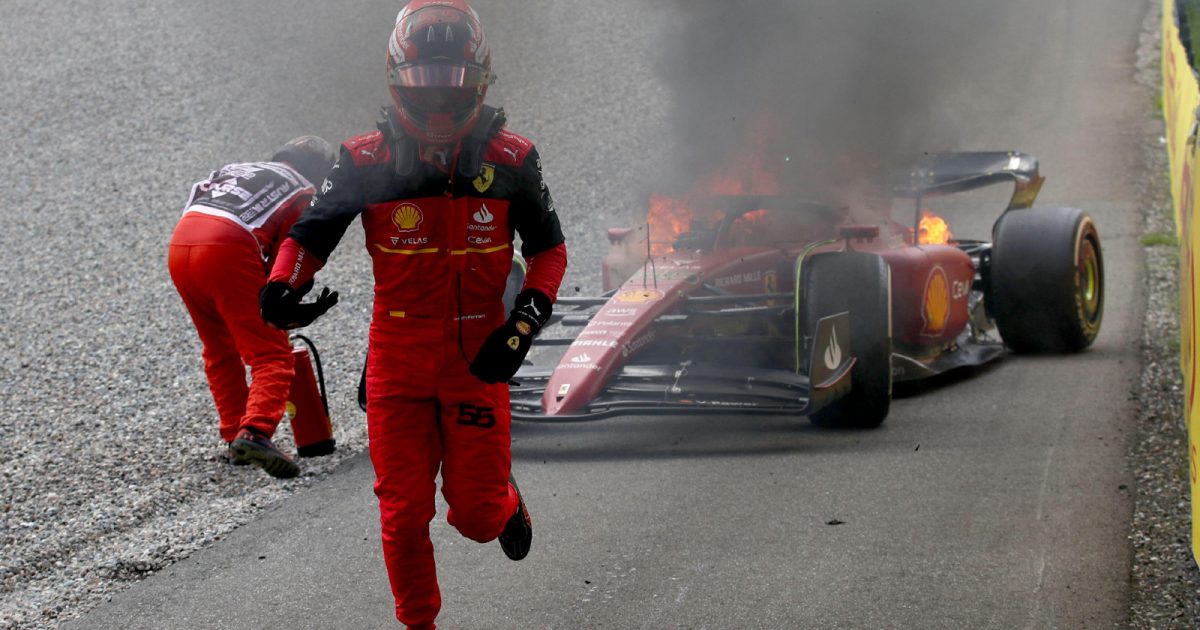 Carlos Sainz's engine failure in Austria could mean a difficult decision becomes easier to make for Ferrari in the second half of the season.
Following Sainz's retirement from the Austrian Grand Prix from third position, missing out on what had looked like an easy second place as he quickly hunted down Max Verstappen, a number of pundits believe the retirement could be the line in the sand for Sainz's hopes of a title bid.
The Spaniard had been only 11 points behind his team-mate Charles Leclerc heading to Austria but following his engine failure, is now 36 points adrift of Leclerc and 74 behind championship leader Verstappen.
With the season reaching its halfway point in Austria, the failure could lead to Ferrari starting to impose team orders to maximise Leclerc's results going forward having followed a 'let them race' policy in the first half of the season.
Speaking on the BBC Chequered Flag podcast, W Series champion Jamie Chadwick joined BBC journalist Andrew Benson and host Jack Nicholls, where all three debated the situation.
"One of the most striking things for me after Sainz's retirement was Mattia Binotto on the pit wall – the camera showed him with his head in his hands," Nicholls said of the Ferrari team boss' reaction to the failure.
"He's got black curly hair and his fingernails were scraping through it in that frustrated manner. And when he lifted his head up again, the colour was indistinguishable from his T-shirt, like it was really a pained situation for Binotto.
"Because not only has this happened and cost them second place and a 1-2, this will hurt Sainz further down the road. Leclerc has already had to take an engine penalty, surely this will affect Sainz on that front too."
With Leclerc having served an engine penalty in Canada as Ferrari have struggled for reliability on the power unit front so far in 2022, Benson said further pain probably looms for Sainz in the not-too-distant future.
"Sainz has already used his allocated three engines this season," he said.
"So we are now at the halfway point of the season and he's certainly got one engine penalty looming pretty soon. It looks like both he and Leclerc will have another engine penalty beyond that, given their engine usage at the moment. I've not heard Ferrari have a fix for this problem yet – they are managing their engines.
"So I think Sainz could even have an engine penalty at the next race in France. That's a real blow for his title hopes, which he thought he was in with a shot at after winning at Silverstone."
As a result, Benson suggested the moment could prove to be a catalyst in how the title fight continues from here.
"But actually, paradoxically, in terms of the championship, it actually gives them a clearer picture from now on at the halfway point in the season," he said.
"Leclerc now has quite a decisive advantage over Sainz. It might make their life a bit easier in terms of making Leclerc their definitive number one."
Chadwick said that while Ferrari may make that call, Sainz may not be willing to accept it easily.
"Maybe from a team point of view but from Carlos' point of view, it will probably have the opposite effect," she suggested.
"He will be even more frustrated by the situation and even more out for himself. Especially off the back of that win at Silverstone, which I think he would have felt was overdue.
"He will be very frustrated. He wants to prove he isn't number two to Leclerc because in his mind, he isn't. But of course the facts and race results and qualifying results and what-have-you show he has been second fiddle in pace, generally speaking. But if you try to tell him that, he won't take it for a second."
We know you gave it your all yesterday, @CarlosSainz55. Through the highs and lows, we're sticking together 👊 #essereFerrari 🔴 #AustrianGP pic.twitter.com/EEBmmO4IGu

— Scuderia Ferrari (@ScuderiaFerrari) July 11, 2022
Benson's riposte was that given the two engine failures that took Leclerc out of the lead at two grands prix, as well as the Monegasque's consistent pace advantage, Sainz is not in a position to argue.
"Leclerc has been definitively faster than him pretty much all year," he said.
"So Sainz couldn't really have too many complaints, given the championship picture, if Ferrari turned around and said 'Carlos, we really have to do that now'. I'm not sure they will because Binotto has been so definitive in his position about saying the drivers can race each other and as long as they maximise their points, they are not each other's competition. But that philosophy only works if you are actually beating Red Bull.
"But if you're facing a rival as imposing as Red Bull and Verstappen, I think they really have to start maybe thinking about whether they have to make that decision now."