Carlos Sainz rubbishes 'completely fake' suggestions Ferrari development favoured him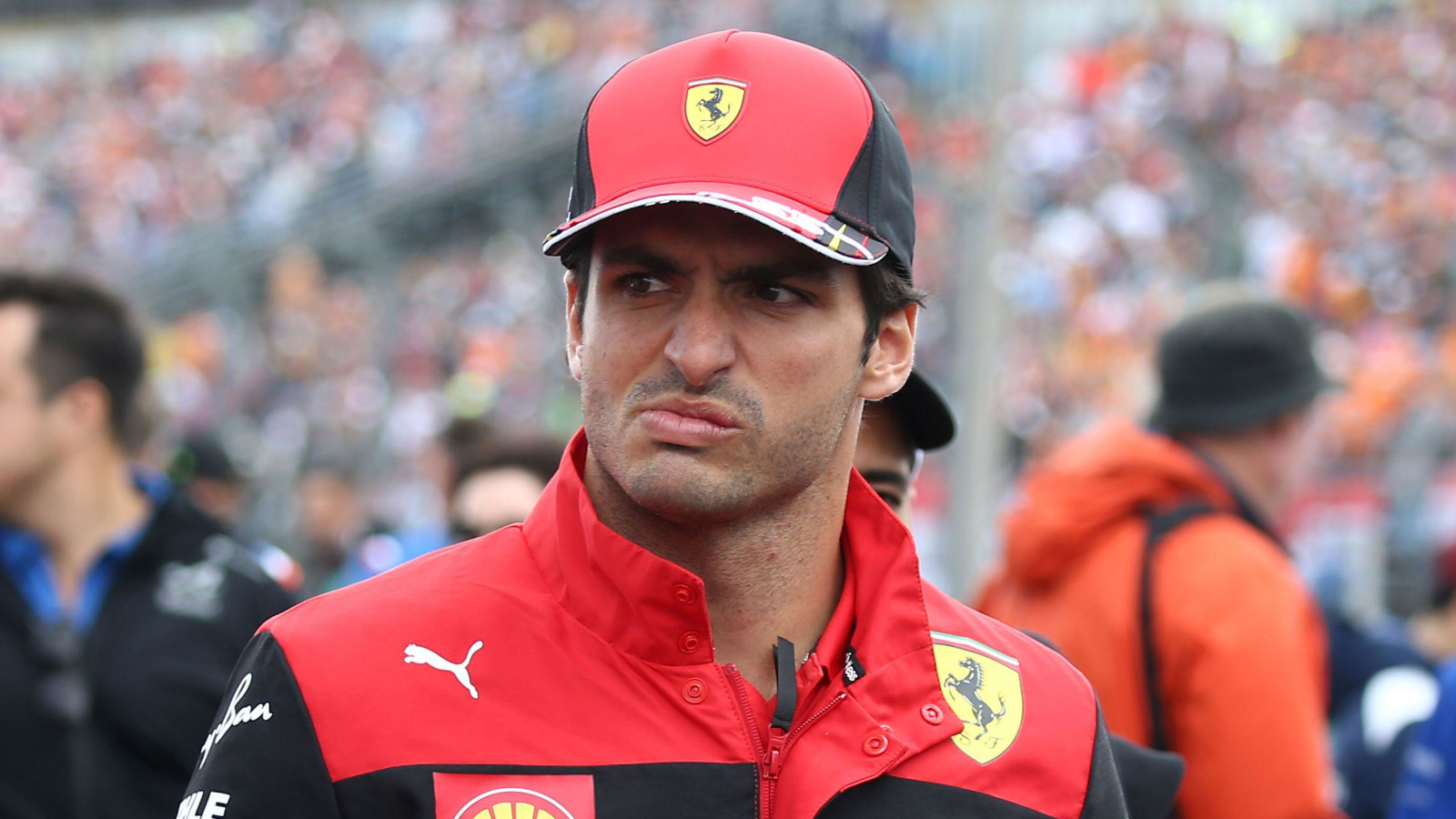 Carlos Sainz has rubbished suggestions Ferrari's 2022 development path favoured his style over Charles Leclerc's, the Spaniard saying that is "completely fake".
Ferrari went into this year's championship adamant both drivers would receive equal treatment, Sainz and Leclerc open to fighting for race wins and the World title.
But with Leclerc leading the way early in the season, pundits called for Ferrari to make the Monégasque driver their official number one and throw their full support behind his title quest.
Team boss Mattia Binotto, who resigned on Tuesday, made it clear that would not happen, Sainz given the preferential strategy at the British Grand Prix to clinch his first grand prix win while Leclerc went from leading to P4.
The 25-year-old was said to be irate at that, leading to rumours some team members on Leclerc's side of the garage had refused to attend the podium celebration.
There were other whispers along a similar vein that Ferrari were listening to Sainz when it came to the development of the F1-75, Binotto specifically favouring him over Leclerc.
Sainz was asked about the whispers after the Abu Dhabi finale, telling the media including PlanetF1: "I've read these somewhere, that they developed towards my style and I think it's completely wrong.
"The car feels exactly the same as at the beginning of the season.
"I just learned how to drive it, I changed my driving style, personally fine-tuned the set-up a bit more to my liking.
"But the car didn't develop in my direction or anything like that. So I hope this doesn't get pointed out there because it's completely fake and it's not the real story of the year."
That, he says, is "we simply got out-developed by Mercedes and Red Bull".
"Honestly" happy for Charles Leclerc's runner-up result
Although Ferrari fell short in the race for the championship titles, they did secure the runner-up spot in both with Leclerc pipping Sergio Perez to P2 in the season finale.
Ferrari also held on to second ahead of a charging Mercedes, 39 points ahead after the 22-race season.
Sainz, who finished fifth with just one win to Leclerc's three, says he is happy for his team-mate.
"Absolutely I think he deserves it, I think he deserves to finish second this year," said the Spaniard. "He has been super-strong all season with this generation of cars, he's been driving extremely well and he made me have to adapt and change a bit my driving to try and be closer to him.
"Congrats because he did a great season on his side with his driving and he deserves that."
The 28-year-old confirmed he would have been okay with doing his part to help Leclerc in Abu Dhabi if it had come to that.
"I had clear instructions before the race to don't even fight him at the start, don't fight him around the pit-stops," he said.
"We executed a good weekend in that sense and I'm happy for him, honestly, because I think he really deserves that P2. And we get on as well as we did two years ago or even better."
Carlos Sainz's status is in the hands of Ferrari's next team boss
Carlos Sainz's days as Charles Leclerc's equal could be on the line with news that Mattia Binotto has resigned, the Italian leaving the team at the end of the year.
According to reports, Alfa Romeo team boss Fred Vasseur is Ferrari's pick to replace Binotto, and he is a man who believes in hierarchy.
"For the last 25 years, all good projects have been built around a reference driver. Ferrari with Schumacher, Renault with Alonso, Red Bull with Vettel, Mercedes with Hamilton."
That is, it has been alleged, great news for Leclerc who knows Vasseur from his Sauber days, but bad news for Sainz. Vasseur is expected to declare the Monégasque driver the outright number one, with Sainz's job being to support his title quest.
With that in mind, Sainz has to come out of the blocks firing next season and assert himself above his team-mate if he wants any hope of fighting for the title.
After all, even if Vasseur wants it to be Leclerc, if Sainz shines brighter, the new team boss will have to back his challenge with a team, and a fanbase, desperate for success.
Read more: Conclusions from the F1 2022 season: Max Verstappen unstoppable, Ferrari's failure and more