Sainz explains Ferrari's French GP strategy mix-up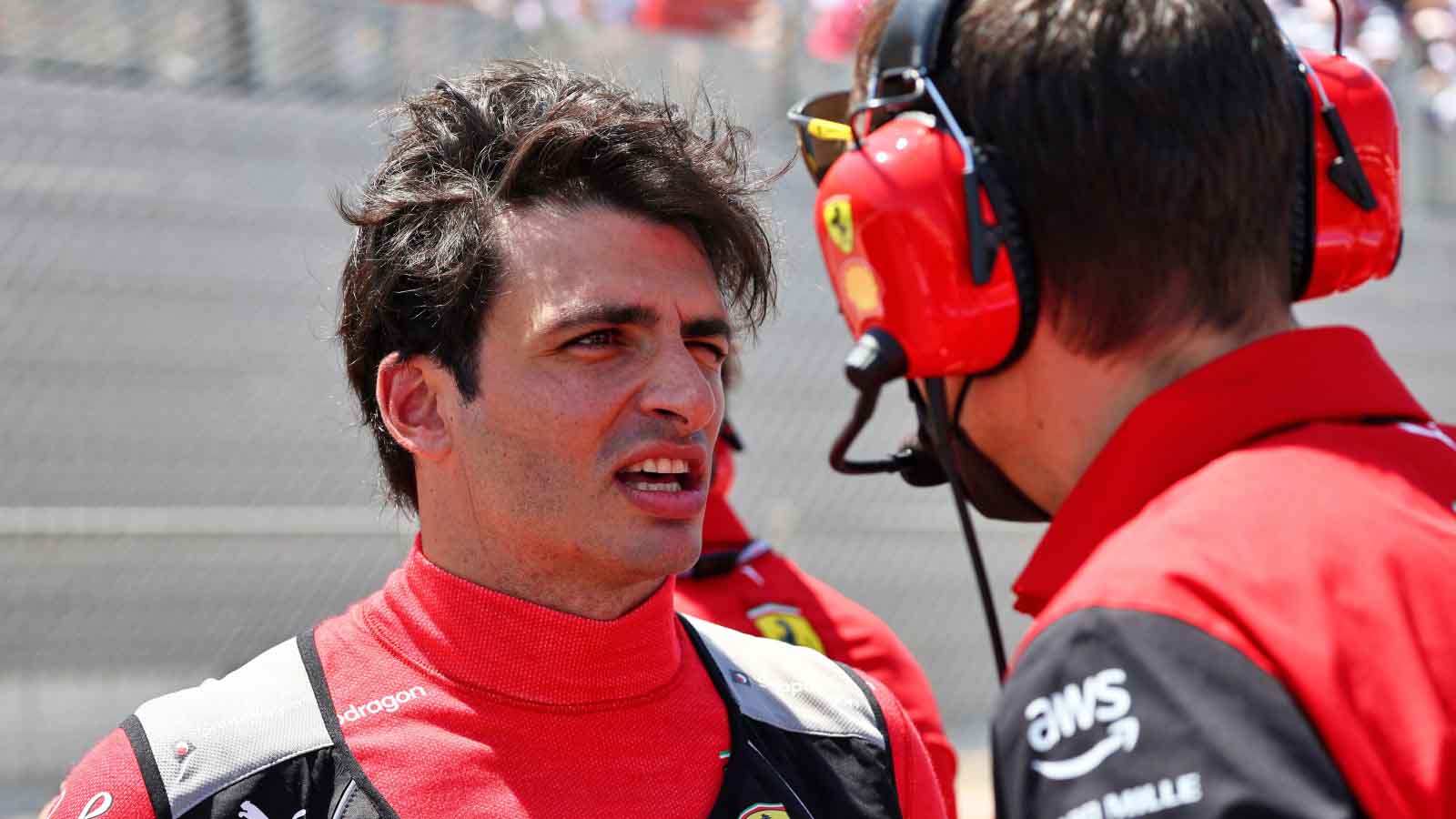 After confusion surrounding his strategy, Carlos Sainz said "we will never know what would have been best" for him in the French Grand Prix on Sunday.
Sainz took new engine components for the weekend after his fiery end to the Austrian Grand Prix a fortnight ago, which left him with a job to do to recover from the back of the grid.
He started on hard tyres and made solid progress through the field, before team-mate Charles Leclerc crashed out from the lead on lap 18 of 53 – which led to a Safety Car and a subsequent swell of pit stops, Sainz included.
Ferrari fitted medium tyres at that point, and had harboured ambitions for the Spaniard to see out the remaining laps on a softer, less durable compound, which would have been a significant risk on their part.
Sainz was communicating over team radio asking about his strategy, with a two-stop being Sainz's preferred option and, with a big enough lap count to catch up, he could have potentially made his way onto the podium.
But after being told to try and get to the end, he then battled and overtook Sergio Perez for the final podium position, but the team's instruction was for him to then pit with 10 laps remaining.
The radio messages between Carlos Sainz and the Ferrari pit wall today.

They are not just on separate pages but are reading completely different books. #FrenchGP #F1

— PlanetF1 (@Planet_F1) July 24, 2022
This left the Ferrari driver down in P9, with a 20-second gap between fourth and fifth. Sainz swiftly made his way back into the top five, but the lengthy gap to Perez and George Russell was too much to chase down in a short period of time.
Ferrari have since been criticised for their handling of Sainz's strategy, but having admitted "I don't understand" their call during the race, he was able to explain his and the team's thinking behind the decisions which were eventually taken after the chequered flag.
"My point of view was that if I couldn't pass Checo, I would box because I'm P4 and there's nothing really going on," Sainz told Sky F1.
"And [if] I cannot pass Checo, let's try and box and come back. The moment I passed Checo, I was like 'okay, I'm P3, let's see if I can pull away five seconds and make it to the end with these tyres.
"At that stage, our numbers said that [it was] impossible to make it to the end, plus the five-second penalty you risk even losing position to Fernando or whatever.
"So the team took it to play it safe, we knew P5 plus fastest lap is good points – and we took P5 plus fastest lap.
"In the moment maybe my feeling was different but until [now] I don't see the numbers and everything is impossible for me. I think we will never know what would have been the best."
The success of the F1 2022 regulations
So far, so good with the new F1 regulations