Does Carlos Sainz benefit from Ferrari pressure being on Charles Leclerc?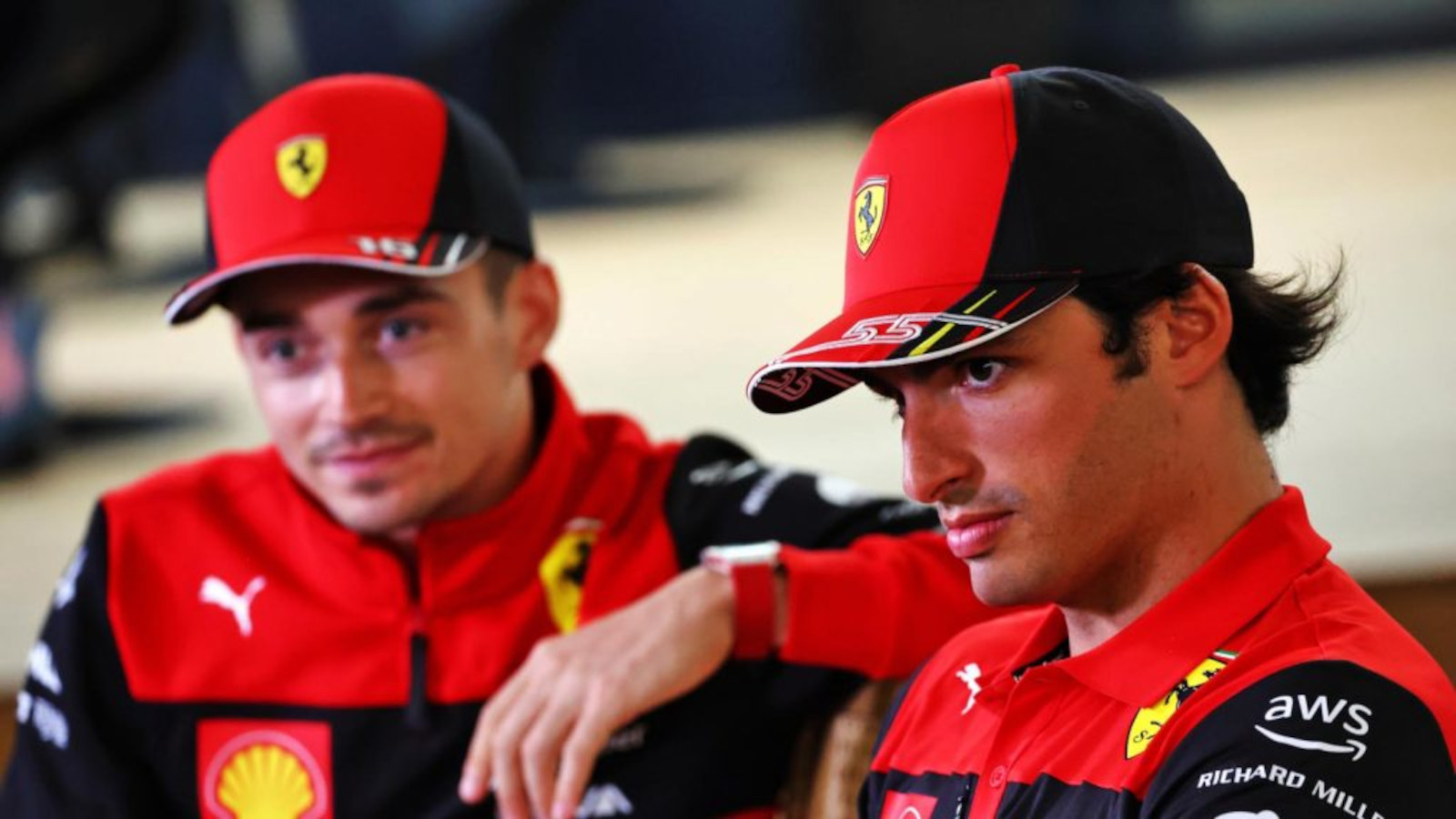 While the expectant Tifosi pile World Championship weight onto Ferrari golden boy Charles Leclerc's shoulders, a "relaxed" Carlos Sainz has been tipped to stake his claim for leadership at the Scuderia.
All eyes were on Leclerc in the early rounds of 2022, when the Monegasque won twice and built a commanding championship lead. Meanwhile, Sainz struggled to gel with the F1-75 and never did match Leclerc's searing one-lap pace.
But as Ferrari's title hopes collapsed in a blaze of embarrassing errors, reliability nightmares and Leclerc's own blunders, Sainz found something resembling rhythm in the chaos – celebrating his first F1 victory at Silverstone and upstaging Leclerc in mid-season.
Although the Spaniard finished 2022 with 52 fewer points than his team-mate, Sainz's old Formula 3 team boss Trevor Carlin believes his former drivers' third season in red could provide a breakthrough.
Sainz Jr has faced intense scrutiny from karting, to the Red Bull programme and into F1 thanks largely to name; made famous by rally icon father, Carlos Sainz Sr. Team-owner Carlin has watched the motorsport legend's son closely since signing him aged 18 in 2012, and knows it hasn't always been easy.
"It was the legacy of the Sainz name combined with being a Red Bull driver," Carlin told Sky.
"You also can't underestimate what a strong personality Carlos Sr is. He is a very strong man in every way and he expected a lot from his son. It was tough until Carlos got a chance.
"I was really pleased when he went to McLaren. I took a slightly more relaxed view of him.
"I think at Red Bull he struggled with the pressure. Now he is more relaxed and drives more naturally. Of course, Ferrari is another story. But at the end of the day, the expectations are not on him, but on Charles. Maybe that plays into Carlos' hands."
Although Ferrari's 2022 season will go down as a missed opportunity after their early title hopes disintegrated, since "resigned" principal Mattia Binotto did guide the Scuderia back to race-winning capability.
Sainz edged Leclerc as the Ferrari duo finished winless in fifth and seventh in the Spanish driver's debut year. Going into 2023 under new supremo Frederic Vasseur, the pairing will hope to be driving a machine capable of a genuine title challenge.
Remembering his stint working with Sainz in British Formula 3, Carlin remembers being impressed by the youngster's handling of tricky conditions. Sainz sealed five victories and nine podiums to finish sixth in that Championship.
"There were new cars that year. Everyone had to find their way around," Carlin added.
"The one thing you could always rely on with Carlos was that if there was rain in the air, we would be in front. He won his first race at Monza, dominating it in torrential rain."
Read more: Carlos Sainz explains benefit of Fred Vasseur-Charles Leclerc relationship for Ferrari