Sainz's fiery incident compounded by 'rolling' car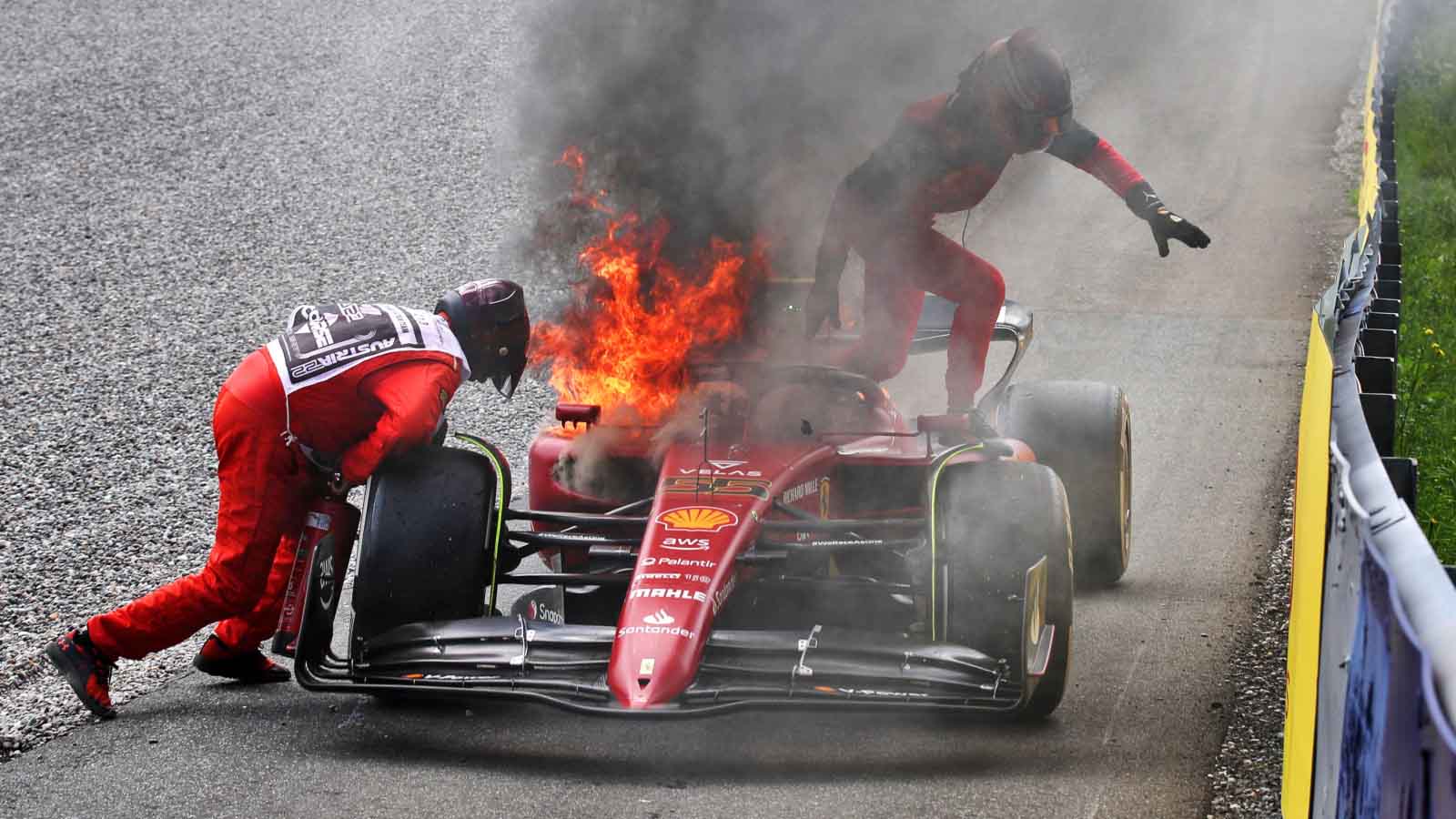 With his Ferrari engulfed in flames by the time a marshal was on the scene, Carlos Sainz wants faster action – but there was little more the marshals could have done with his car rolling.
Sainz's Austrian Grand Prix ended in disaster, the Ferrari driver's engine going out with a bang as he chased down Max Verstappen for second place.
A fire began on the right side of the car, minute to start with before the fire really took hold.
As marshals began to run towards the car, it rolled back not once but twice as it was stopped on Turn 4's slope.
That meant every time Sainz took his foot off the brake, the car rolled, but with the fire engulfing his car he eventually had to climb out. One marshal was on hand.
The Ferrari driver wasn't impressed with the speed at which they attended the scene.
"I think the whole process was a bit slow," he said. "And at some point, there was so much fire that I had to really get a move on and jump out independently.
"I think it was just at that time that the first marshal arrived and stopped the car."
when i said "carlos sainz is on fire today" this is not what i meant fucking power unit

— ً (@forsainz) July 10, 2022
The FIA are said to have responded to that by saying the rolling car made the situation more difficult.
The Race's Edd Straw reports that the 'FIA's position is that the fire and the fact the car was rolling away from the marshals made this more complicated, hence the additional time needed to reach the car, stop it and extinguish the fire.'
Pulling over onto the Turn 4 escape road, it was evident that he was having a problem with the car rolling backwards.
A marshal arrived at the scene with a fire extinguisher, but first tried to stop the car rolling – and all the while the flames were closing in on Sainz who was still in the cockpit.
As he eventually leapt from the car, the marshal finally put a block in place behind the front right tyre before spraying the car with retardant.
According to Straw, the FIA say the situation was 'conducted as per procedure'.
A much-needed Ferrari victory
Ferrari, and Charles Leclerc, really needed that win - even if the path was not a smooth one.