Sainz happy McLaren won from a 'historical' sense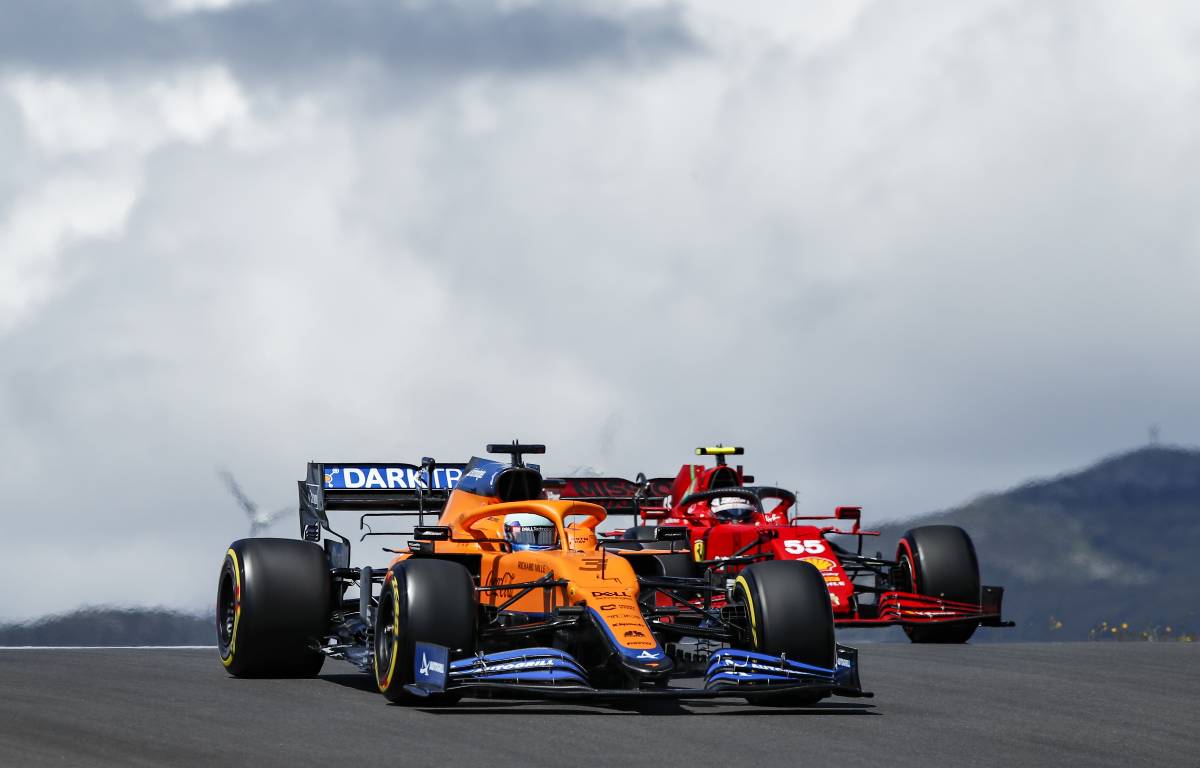 Carlos Sainz has admitted to conflicting emotions about seeing his former team McLaren end their nine-year victory drought at Monza.
On the one hand, Daniel Ricciardo's win at the Italian Grand Prix from his team-mate, Lando Norris, was the worst-case scenario for Sainz and Ferrari.
The maximum haul of 44 points collected by McLaren put them 13.5 ahead of Ferrari in the two-way chase for third position in the Constructors' Championship.
But on the flip side, Sainz still holds some affection for his previous employers, with whom he spent a happy two years before being unable to resist the lure of a move to the Scuderia for 2021.
It was McLaren's first triumph since Jenson Button won the 2012 Brazilian Grand Prix, while their previous one-two finish had been at Canada in 2010.
"McLaren are a team I really admire," said Sainz, quoted by Motorsport-total.com. "I'm really happy for my former engineers and the other people I worked with. I know how hard they worked for it.
"They have had tough times and it's nice from a historical point of view that McLaren wins again.
"But unfortunately, they are fighting for third place in the Constructors' Championship with us, and from that point of view it was of course the worst possible result for us.
"But we are still within reach. They took their chance. Congratulations, but we will try to fight back in Russia."
A @Ferrari never gets old! 🤩

–@ScuderiaFerrari #carlossainz#essereFerrari pic.twitter.com/zLY87TBPu0

— Carlos Sainz (@Carlossainz55) September 17, 2021
Carlos Sainz's Ferrari merchandise is available via the official Formula 1 store
Twelve months earlier, Sainz had been close to victory for McLaren at Monza himself, closing in on surprise winner Pierre Gasly in the closing stages but unable to get past.
Along with the strong qualifying performances of he and Norris on that occasion, he sensed Ferrari's current most direct rivals would be quick again.
"They were able to go at this impressive pace all weekend, they were competitive from the first practice session," added the Spaniard. "It had already dawned on us that they could fight for the podium.
"They were even faster than last year, when we also had good pace but not that good, and the combination of great starts and that great pace meant they ultimately delivered a solid weekend. I can only congratulate them on that."
Sainz finished sixth at Monza this time, two places behind his team-mate, Charles Leclerc, whom he trails by 6.5 points in the Drivers' standings, the duo rounding out the top seven.
Planet F1 verdict
McLaren v Ferrari - who will come out on top?
The battle for P3 in championship could come down to Ferrari's new engine upgrade and its reliability.