Sainz triggers red flags with Hungary Q2 shunt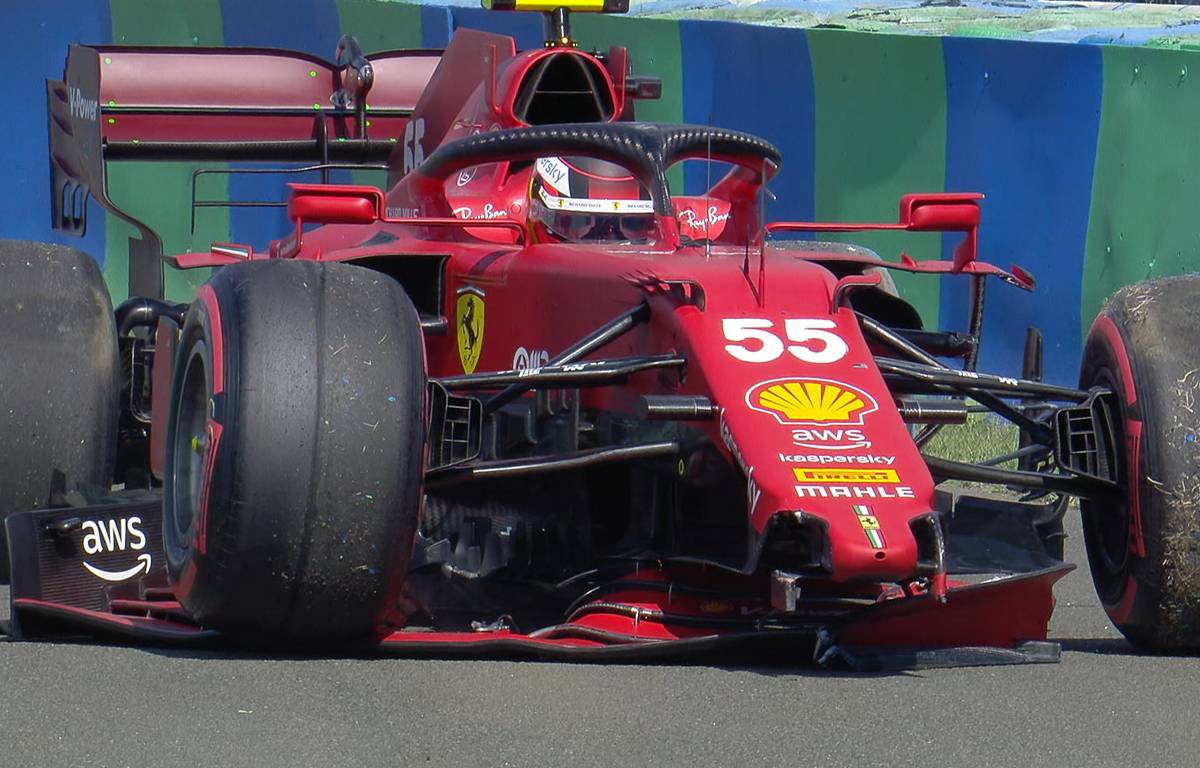 Carlos Sainz's Saturday came to a premature and disappointing end after crashing out of qualifying at the Hungarian Grand Prix.
Q2 threw up an interesting tactical battle as Mercedes and Red Bull made their initial attempts for Q3 on the medium tyres, keen to avoid the soft rubber which would limit strategy options for the Hungarian Grand Prix.
The midfield teams though were playing spoiler on the softs, led by Ferrari.
Charles Leclerc had jumped up to P2, and Sainz was following behind his team-mate, about to deliver a lap time of his own on the softs.
That plan went out of the window though when the Spaniard lost the rear end of his SF21 at the final turn, sending him into the barriers with a whack.
Sainz is ok, but his Ferrari has sustained a lot of damage #HungarianGP 🇭🇺 #F1 pic.twitter.com/3V4qER5f36

— Formula 1 (@F1) July 31, 2021
Kit yourself out in Ferrari colours via the official Formula 1 store
The red flags came out to stop the session, but incredibly Sainz was able to keep the car going after that impact, but with the front wing now stuck underneath, the Spaniard was left with no choice but to pull up and retire from qualifying.
Sainz had a new engine fitted into his Ferrari for qualifying in Hungary, but with the rear-end taking a heavy hit from the barriers, Ferrari will now be keeping their fingers crossed that there will be no need for another power unit change.
It was an incident which Sainz said "hurts", since it is not the kind of mistake which he has made often.
"I was honestly completely puzzled about it, because I didn't understand what I did wrong or did differently," he told Sky F1.
"If anything I went into the last corner slower than in the previous lap, my Q1 run one lap, because I felt like the tyre and the wind were a bit more different.
"So I went in slower than in the previous lap, and somehow I still lost the car, so I went with the engineers to have a good check, and we found out that instead of having a 10kph headwind I had a 35kph guest, and this probably made me lose the rear.
"But I'm not used to doing these sort of mistakes so it hurts quite a lot to do them, I apologise to the team and I'm not going to use the wind as an excuse, just take it on the chin.
"I think it is part of the learning process. Unfortunately it is the worst track to have this sort of issue.
"Tomorrow will be a challenging day and tonight I will study with the team what we can do to recover as much ground as possible.
"It's unfortunate because Q1 run one was so strong, and it was one of my strongest laps as a Ferrari driver.
"Then to have this problem here it hurts."