Sainz: Hamilton lacked rivals, but still among best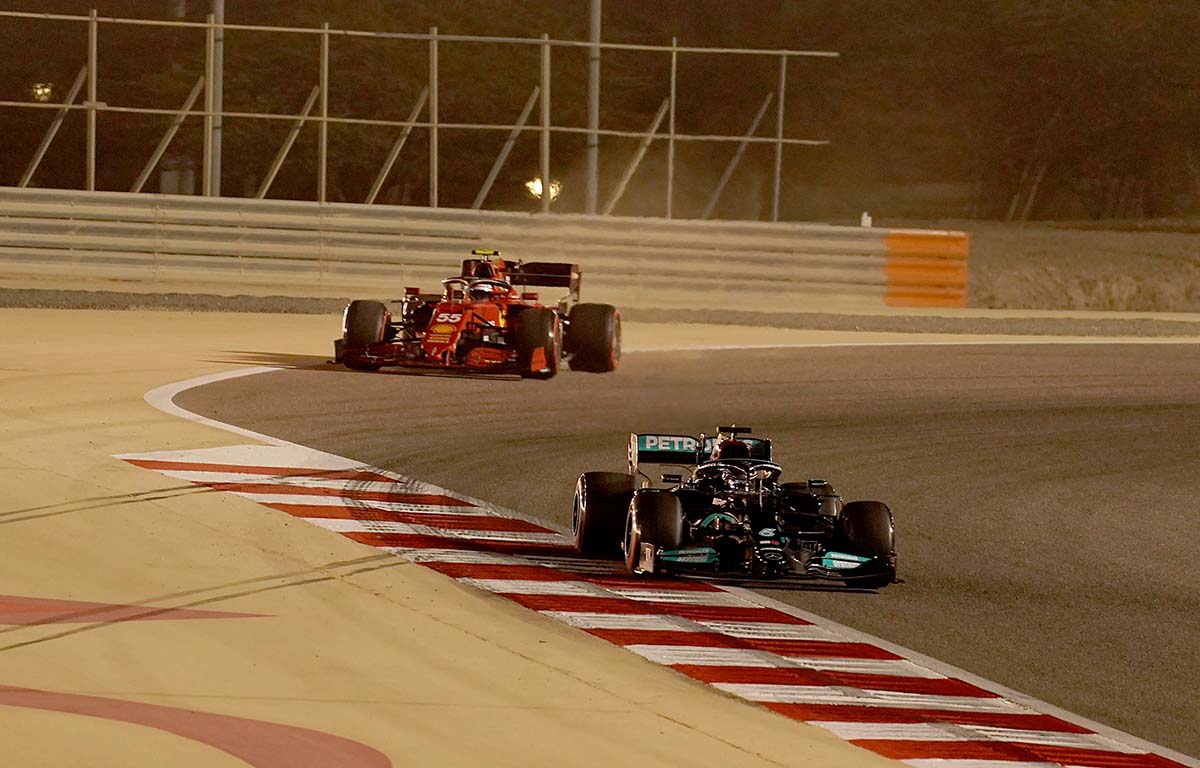 Carlos Sainz has said while Lewis Hamilton has "lacked competition" in some seasons, he still has all the qualities a Formula 1 driver would want to have.
At the 2021 Bahrain Grand Prix, Hamilton continued his streak of winning at least one race a season ever since he first arrived in Formula 1 back in 2007.
He also holds the record for the most wins in Formula 1, most pole positions in Formula 1 and has seven World Championships to his name, putting him joint top on the all-time winners' list alongside Michael Schumacher.
But despite all the accolades and continued success, Hamilton often finds himself as the major talking point in the car v driver debate and the argument as to whether he will leave the sport as its greatest ever driver will be argued over for eternity.
New Ferrari driver Sainz was asked for his opinion on Hamilton after he held off Red Bull's Max Verstappen, the favourite to win in Bahrain, with what was the second strongest car on the grid in the opening race.
Check out all the latest Lewis Hamilton merchandise on the official Formula 1 store
"He has all the qualities a driver would like to have," Sainz said in an interview with Corriere della Sera.
"He has no weaknesses, I see that on the track. Maybe he lacked competition in some seasons, he had to beat one-two opponents at most.
"But if we put everyone in the same car, Lewis would be among the best. Almost certainly the best."
While Sainz is an admirer of Hamilton's talent despite the lack of rivals in his eyes, he also has a lot of respect for his new Ferrari team-mate, Charles Leclerc.
Asked what makes Leclerc so special, he answered: "His history. He lost a friend, Jules Bianchi, then his dad. He became even stronger by overcoming tremendous dramas.
"That's why I admire him so much. I've followed his entire career."
Sainz and Leclerc form Ferrari's youngest ever driver line-up in Formula 1, but the Spaniard reminded everyone both he and Leclerc have the quality to take the Scuderia back towards the top of the pecking order.
"Some people think we are too young for Ferrari, but I am 26 and in my seventh season in F1," he said.
"I have the skills to help this team get back to the winning positions. Charles' value is already known, he has proven it.
"We are pushing hard in Maranello, we are always in the simulator, with engineers and mechanics. Two young drivers bring a great energy. We are excited and we want to win."
Follow us on Twitter @Planet_F1, like our Facebook page and join us on Instagram!