Carlos Sainz sees Max Verstappen as beatable in 2023 on one condition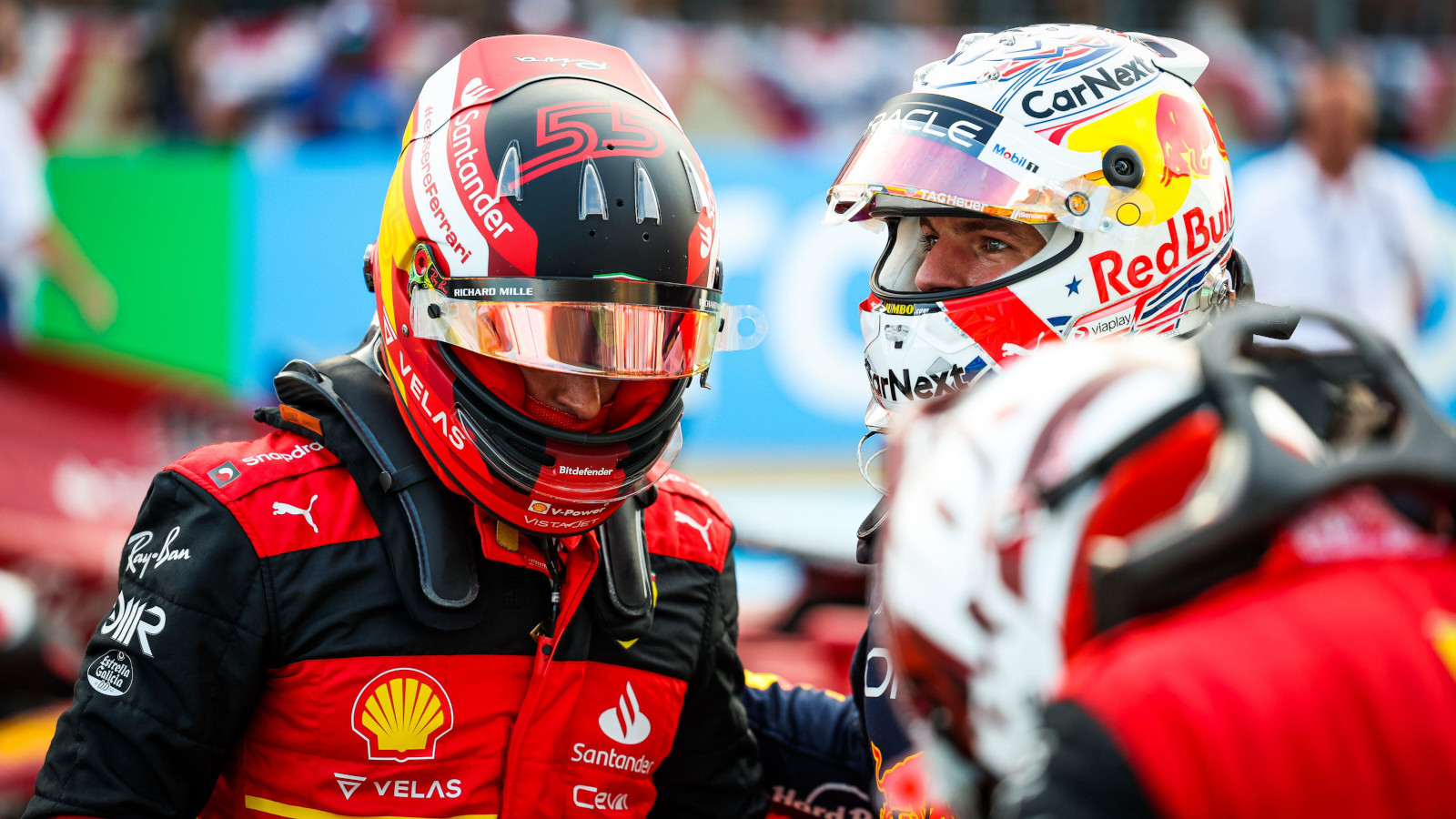 Carlos Sainz is convinced that Max Verstappen and Red Bull can be beaten in the 2023 Formula 1 season, but admits Ferrari will need a "perfect year" in order to do it.
Verstappen won a record 15 races as he stormed to his second successive World Championship in 2022, with the Dutchman widely tipped to make it three in a row this year.
Although he eventually dominated last season, Verstappen's task didn't look quite so simple after a rejuvenated Ferrari won two of the opening three races.
However, the Scuderia's strong start to the season was not sustained with a series of reliability issues and strategic mistakes leading to the departure of team principal Mattia Binotto, who has been replaced for 2023 by Alfa Romeo boss Frederic Vasseur.
Despite a disappointing second half to last season, Sainz has insisted that Ferrari – who claimed the most pole positions of 2022 – are not far away from Red Bull in terms of pure performance but believes the team must execute races in a smarter fashion.
He told Spanish publication Mundo Deportivo: "Unfortunately we couldn't keep up with them (Red Bull).
"They had a better package and the driver at the moment was better. I think with a perfect year, it is possible to beat Max, and also by improving in the first part of the season and in the races. That's the target.
"There are possibilities. Red Bull have dominated, but they haven't been clearly ahead in qualifying or race pace.
"I don't feel we're that far away in terms of development and performance, because for example in Austin I was on pole, we were 1-2, we're not that far away, we need a little bit more power, a little bit more downforce, and another step more in strategy and race execution.
"In terms of pure performance, we are not far away."
Despite claiming his maiden grand prix victory at Silverstone, Sainz endured a challenging 2022 season and suffered six retirements, eventually finishing 62 points adrift of team-mate Charles Leclerc in the Drivers' standings.
The Spaniard is content with the way he recovered from a difficult start to the campaign as he initially struggled to gel with the F1-75 car and is hopeful he can recapture the form he displayed during his productive first season as a Ferrari driver in 2021.
"It has been a challenging season," he said.
"A very tough first third, where I struggled with balance and driving style, the car didn't suit my style from the start. In the next two thirds I was happier and had more pace, but I had a lot of retirements and reliability problems.
"I've never had as many complications as in 2022, struggling a lot to change my driving, which was a bit off the pace at the beginning, and reset my driving style. I'm proud, because the easy thing to do was to give up and wait for next year's car, but I'm optimistic for 2023 and I've made progress.
"I'm happy with the progress we've made with the engineers, the way I've got my pace back. I will make sure that next year the consistent Carlos of 2021 will be back."
The ghost of Binotto could keep Ferrari in title contention in 2023
If we are to accept that Binotto's departure as Ferrari team principal was an unavoidable mistake – a gifted engineer promoted to a position of responsibility that saw him scapegoated after the Scuderia's latest glorious failure – the only positive was that it came so late in the year.
With his resignation announced at the end of November, the development of the 2023 car would have already been at a highly advanced stage.
If the loss of Binotto will hurt Ferrari's technical ingenuity going forward, it may only have a minimal effect on the here and now. Is that going to be the key to Ferrari's 2023 title hopes?
If you've ever wondered what would happen if a car designed and developed by Binotto was fielded by a race team drilled in the Fred Vasseur mould – a fusion of Ferrari's past and present – you might just be about to find out.
The result could be spectacular.
Read more: F1 rumours: Enrico Cardile linked with Ferrari technical director position