Sainz predicts Max will make same mistake as Leclerc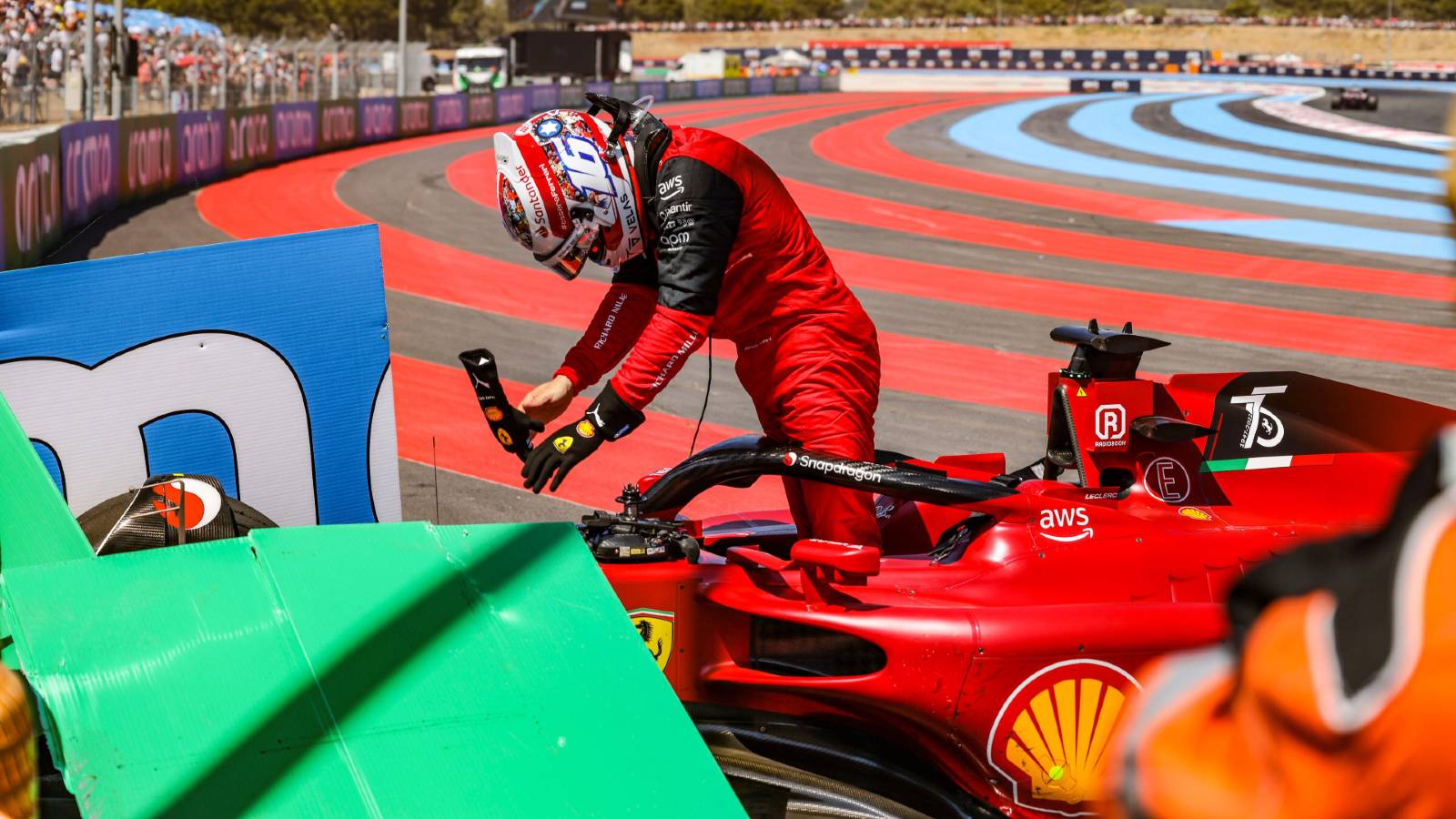 Carlos Sainz has predicted Max Verstappen will make a race-ending mistake like Charles Leclerc did at Turn 11 in the French Grand Prix.
In the lead and trying to thwart an undercut attempt by Verstappen, Leclerc spun his Ferrari into the barrier on lap 18 and was unable to continue after a nose-first impact.
It provoked an outburst over team radio from the devastated driver – completed by an agonised scream of "noooooo!" – who later accepted total responsibility for the crash.
Sainz, who had started from the back row of the grid due to an engine penalty, salvaged fifth place for Ferrari – although he could have finished on the podium but for a strategy fiasco heading into the closing stages.
Mishaps have littered Ferrari's season and Sainz himself similarly spun out of a race without any contact with a rival car in Australia.
On this occasion, he can comprehend why his team-mate made the error he did – and while Verstappen has been blemish-free this season on his way to a 63-point World Championship lead, Sainz believes that will not necessarily remain the case.
🇫🇷 Good recovery. I enjoyed going through the field and I gave everything out there. Unlucky in the pits, but we fought for the podium. Like always, we will review to try and improve and we'll keep pushing. On to Hungary.

–#CarlosSainz pic.twitter.com/IxCwpvibeL

— Carlos Sainz (@Carlossainz55) July 24, 2022
"It's a tricky corner," Sainz told reporters after the race. "We were very fast as a team all weekend in that corner, it's where we were very strong.
"I think at the front this year we are pushing flat out and not leaving anything on the table, and mistakes like that can happen because we are really pushing flat out at the front.
"It's crazy the risks we are taking, how much we are pushing, and I've done a mistake in a race before.
"Charles has done one today, Max will do one eventually, so it can happen."
Sainz's chances of finishing third centred around whether his tyres would last for the closing 11 laps after passing Sergio Perez for that position, and there was a disagreement between driver and team over whether he could get to the end without another stop – a discussion that was rumbling on while he was lining up a move on the Red Bull.
The stop he made on the next lap, compounded by a five-second penalty served in the pits, meant the 27-year-old could only work his way back up to fifth.
"I told them I didn't think getting to the end was possible, but then I passed Checo and I'm in clean air in P3," explained Sainz.
"After that, I thought 'let's try to finish on the podium' because I knew a
pit-stop would cost me 32 seconds.
"In the end, they have more numbers than me, so I followed the instruction of pitting and I'm sure we will analyse it together, they will explain to me why they took the decision."
Sainz gets 9/10 despite Ferrari strategy confusion
Carlos Sainz had a tough job on Sunday, but he fought back as well as he could in the circumstances.