Sainz suggests McLaren went 'too aggressive' with tyres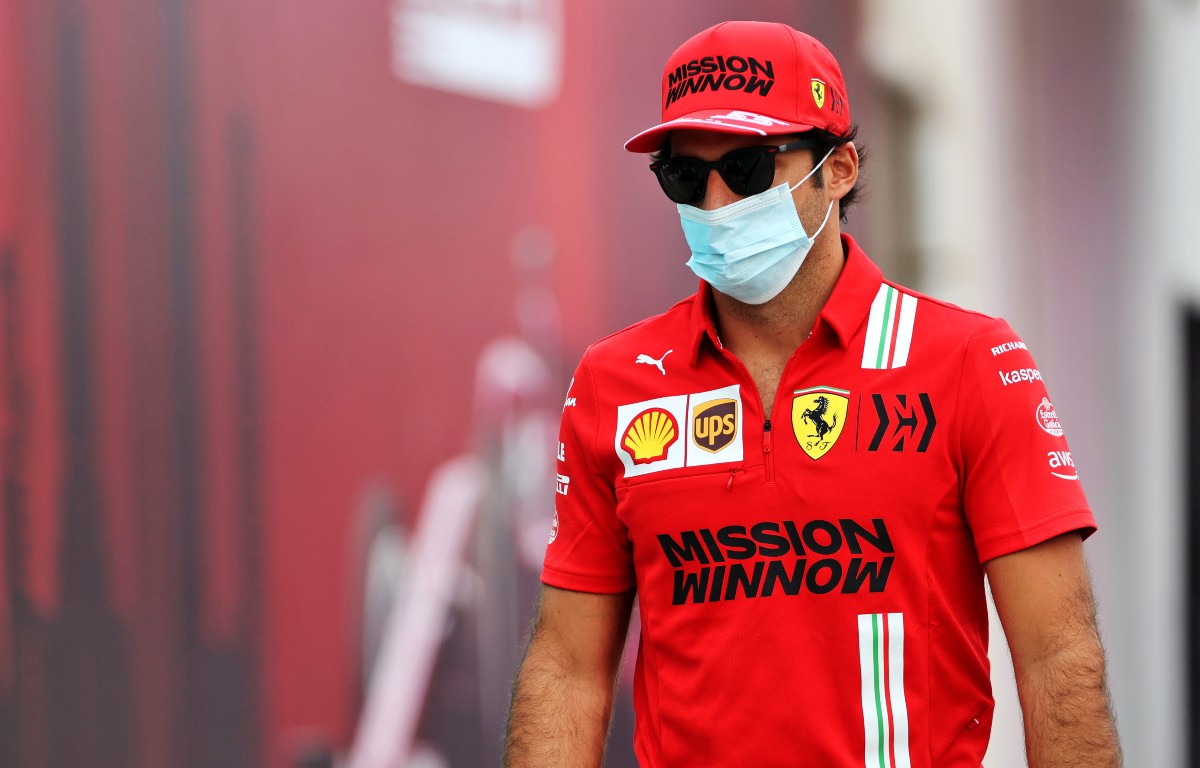 While Ferrari were conservative with their tyres in Qatar, Carlos Sainz believes their rival McLaren probably went "too aggressive".
The two teams are scrapping it out for P3 in the final Constructors' standings, and once the chequered flag flew at the Qatar Grand Prix it was Ferrari who emerged with the high ground, as Sainz crossed the line P7, while team-mate Charles Leclerc finished P8.
Struck down by an unexpected puncture, Lando Norris ultimately was the highest-finishing McLaren in P9.
For Sainz the initial damage was done at the start, as from P5 on the grid his used mediums created an instant disadvantage, while from then on Ferrari were reluctant to push their tyres too hard.
But also Sainz feels that strategy was key in getting the result over McLaren, which stretches Ferrari's advantage over McLaren in the Constructors' Championship to 39.5 points with two rounds remaining.
As for McLaren, with Norris suffering that tyre failure, it suggests to Sainz that his former team went overly aggressive with their strategy.
"On the medium tyre it's clear that I had less grip at the start and at the first two corners, it's like that," Sainz told Sky Italia.
"It cost us a bit for sure but it's what we chose yesterday. We knew it was a disadvantage especially because it was a used medium tyre, not a new one.
"It was a difficult start and from there on we went very conservative with the tyres, we were very scared for the front tyres. But, yes, it's been a very conservative race that in the end brought us points against McLaren, who instead went too aggressive maybe.
"Even with the hard tyre I was very conservative because we were scared not to finish the race so the first fifteen, twenty laps on the hard tyre I wasn't pushing, until the team told me to push at the end, and that's where we caught [Lance] Stroll very quickly.
"Later with the analysis we'll see for sure that we could have pushed more, but it's true the others went more aggressive and they paid for that, like [Pierre] Gasly and Norris."
LAP 33/57

Puncture for Valtteri Bottas! He's falling back through the field from P3 as he tries to make it back to the pits 👀#QatarGP 🇶🇦 #F1 pic.twitter.com/6crTO7zIl1

— Formula 1 (@F1) November 21, 2021
That is no criticism though towards the drivers who evidently pushed too hard, with Sainz stressing that a race such as this where tyre management was so dominant was "boring".
"It's been a bit of a boring race from my side because a race without pushing is not a race I want to do," he said.
"But the car had the pace, I've been very comfortable all weekend, it's just that we were slow to be conservative."
For Leclerc it was a strong recovery into the points from P13 on the grid, but while he was prepared for the dominant pace which Mercedes and Red Bull displayed, he had his concerns having seen AlphaTauri excel in qualifying, and then Alpine on race day.
Fernando Alonso returned to the podium for the first time in seven years with P3 in Qatar, while Alpine team-mate Esteban Ocon secured P5.
"The gap to the cars ahead, Mercedes and Red Bull, has been more or less as we expected, but it was a surprise to see some midfield teams going that fast, AlphaTauri, Alpine," Leclerc admitted.
"That was the bad surprise, so we have to understand why they went very fast this weekend."
And as for his own P8 finish, Leclerc said that there was no satisfaction to take from such a position.
"There's nothing to be satisfied with when you finish P8," he said.
"But if we look a bit more into the details considering yesterday's pace, the pace [today] was very good when I was alone on the hard tyres. So I'm quite happy about that.
"But we'll work to understand exactly what happened on the chassis yesterday because the feeling was much much better today."
Additional reporting by Luca Brambilla