Sainz: McLaren in 'class b', Racing Point 'another league'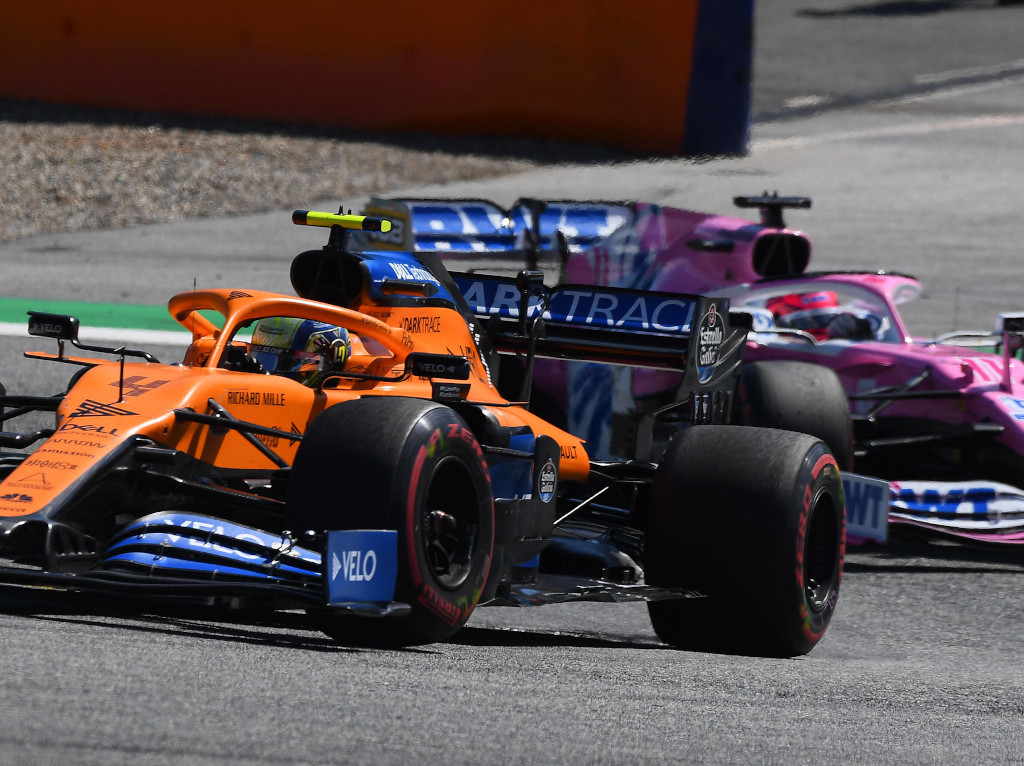 Carlos Sainz has once again ruled McLaren out of competing with Racing Point, but in Hungary it could come true.
Racing Point generated plenty of talk ahead of the season, and although they showed signs of being one of the strongest teams on the grid behind Mercedes at the opening rounds in Austria, Sergio Perez' pair of P6 finishes was the best they had to show for it.
McLaren meanwhile finished on the podium in Round 1 thanks to Lando Norris' P3, whilst Sainz made his contribution with P5.
But Racing Point have taken a stride forward in Hungary, locking out the second row with Lance Stroll qualifying P3 and Perez P4.
So now Sainz's latest claim that McLaren are not in Racing Point's league looks more believable.
"I'm not feeling quite the balance in sector three and always struggling with the rear end in the last part of the lap," he told reporters after qualifying P9 for the Hungarian GP.
"I managed to put a decent lap together, but again a lot of moving around in sector three.
"We are not quite there and P9 leaves me with a bit of a sour feeling because I would rather be P11 with a medium tyre tomorrow than P9 with the softs.
"Racing Point are very strong, it's in another league, much quicker than everyone else in the midfield.
"We are in class b now so we are going to struggle to beat them throughout the year."
Qualifying at the #HungarianGP is complete. 🏁🇭🇺

Lando finishes Q3 in P8 with Carlos in P9. pic.twitter.com/D74LOmmYHB

— McLaren (@McLarenF1) July 18, 2020
Norris will start on the fourth row from P8, and he feels Hungary gives a better representation of the true pecking order for the teams compared to Austria.
"I think this is a better representation," he admitted.
"It's still quite specific, you just throw everything you can at the car in terms of downforce, Austria is a bit more of a balance with the long straights.
"I think that's why we have seen Ferrari do lot better this weekend and have a quicker car than us.
"Mercedes are a long way ahead, so I think by being two-by-two the whole way we've seen a little bit more of what we can achieve as a team.
"It doesn't mean I'm disappointed, I'm pretty happy with P8, maybe could have done P7 if I nailed the lap, but nothing more than that.
"It's not as glorious as the last weekends in terms of qualifying position, but I think it's the best we could do."
On the grid Norris will be looking ahead at the Ferraris and Max Verstappen who managed only P7 after taking pole at the Hungaroring last year.
And Norris believes he can take the fight to them in the race.
"Absolutely we have a chance," he said.
"They're not up the road like they have been in the last two years, three, or probably seven.
"'It's our best chance to do it, but it's a very difficult track to overtake on, so it's going to be about the start, the first lap, the pit stops, and just nailing everything that's not driving.
"But you can still overtake if you get it right on-track and look after the tyres nicely.
"It's going to be a tough race especially if I get ahead of them at the start because they have the better race car, but I'll give it my best shot."
Follow us on Twitter @Planet_F1 and like our Facebook page.