Carlos Sainz expects a 'hectic' Italian Grand Prix as he looks to climb from P18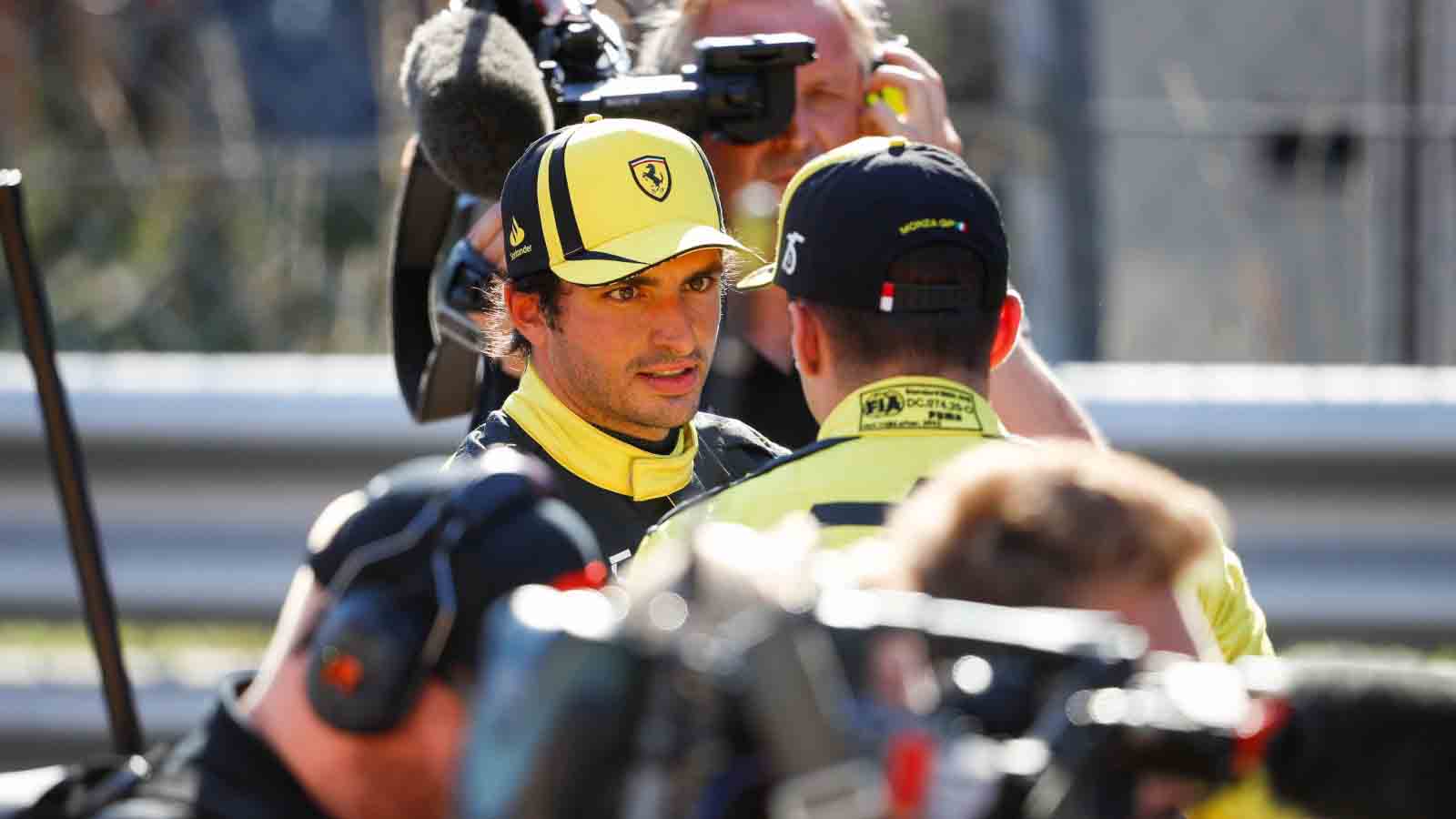 Carlos Sainz will line up on the ninth row of the Italian Grand Prix, but with a quick car underneath him, he expects a "hectic" first half of the race as he aims to find his way back to the front.
Sainz has shown promise all weekend in his Ferrari at the team's home race at Monza, in front of an expectant crowd that hoped to see the Scuderia take the fight to Red Bull and Max Verstappen.
The Spaniard qualified third fastest on Saturday, but he is one of a host of drivers to have been hit with grid penalties – meaning he will drop to P18 come lights out on Sunday.
He said he will be giving all he can in front of the tifosi to make his way back through the pack where he can, hoping to at least get himself into the top five and may progress in the early part of the race.

But with that will involve plenty of overtaking and, with many drivers having been demoted down the field, the Ferrari driver is not expecting a calm time of things.
"I don't know!" Sainz exclaimed in the post-qualifying press conference when asked how high he can climb on Sunday.
"I'm going to push obviously, flat out from the beginning, try to make as many positions at the start, and just get to the front as quick as possible.
"Because then, if there's a Safety Car or anything, then anything can happen around Monza. I think it's going to be a very mixed race, there's a lot of cars out of position.
"So, there's going to be a lot of battles during the whole race. It's going to be quite a hectic one, especially those first 20 laps, I think. But then everything should settle down.
"Where can I get to? I wish top five like in France would be a good result. But given how quick the Mercedes are lately, is going to be a bit more tricky."
Ferrari team-mate Charles Leclerc will start the race from pole, with the host of grid penalties promoting George Russell up to the front row alongside him.
There was a near four-hour wait for the grid to be officially confirmed after nine drivers took penalties, but multiple drivers are starting out of position in what is set up to be an interesting race on Sunday.