Sainz questions why Ferrari only team on softs in Q2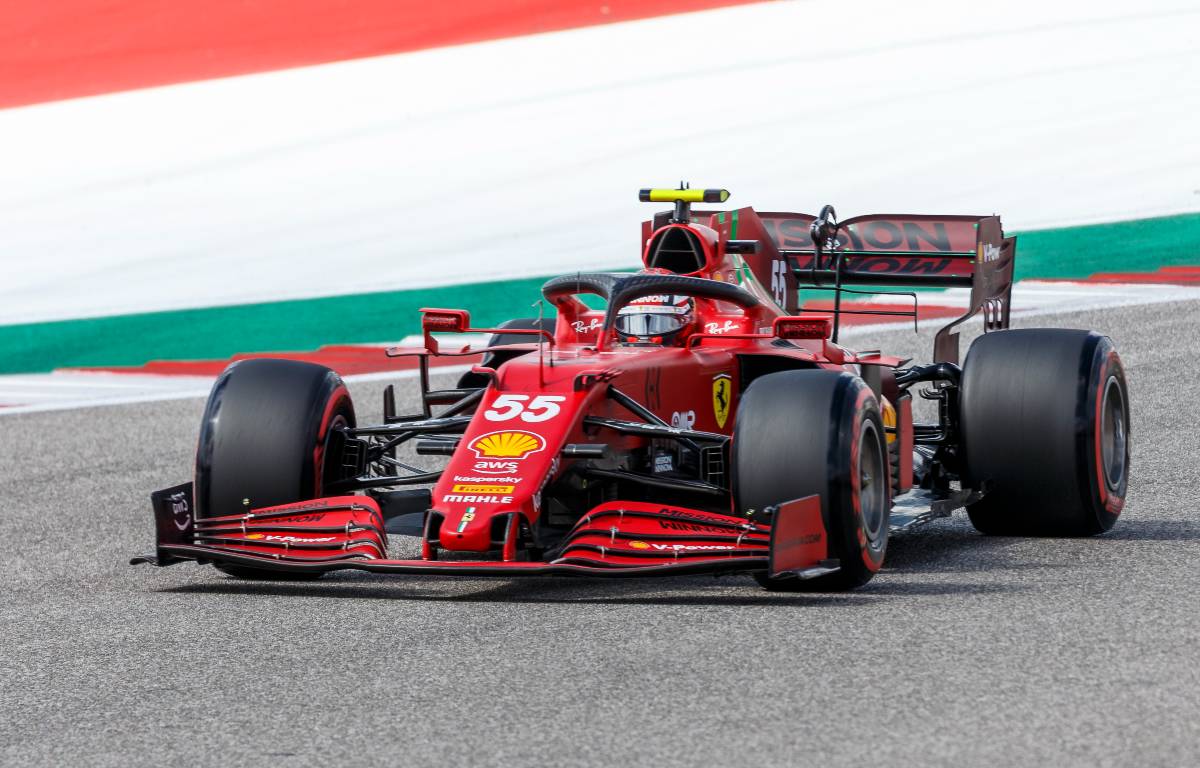 Carlos Sainz is the only driver who will start the United States GP in the top 10 on soft tyres, and he wants an answer from Ferrari.
It was a solid Saturday for the Scuderia in Austin, and on the face of it, P4 and P5 on the grid should put them in a great position for the race.
But Sainz has his concerns, since Ferrari put him on the less durable soft compound for his Q2 runs, meaning that is the tyre which he will start the race with.
And since everyone else in the top 10 will start on the mediums, Sainz fears he will begin the United States GP on the wrong foot.
"Already from the beginning of Q1 I had a good feeling with the car, I did a good lap that allowed us to go with only one set of tyres," Sainz told Sky Italia.
"In Q2 we have something to analyse because we were the only ones to start with the soft. Then the track got worse and I couldn't pass the second run with the medium tyre, which was the goal and all our simulations say that starting with the medium tyre is much better for tomorrow.
"So there is something to analyse there, for the rest we made a good lap in Q3. Charles had to do a good lap because my one was already very good. We both start ahead of McLaren, it's a good position."
Asked about the problems of starting on the soft tyre, Sainz replied: "Not being able to go long and then the race is long.
"With a short first stint then you're always on the wrong foot already from the start because you can't go long with the soft and the two stops you have to do become too early, and you have more tyre degradation than the others.
"But we have to come up with something there, because we're the only ones, we have to understand what happened with the track that was slower and if we had to risk a bit more."
As for the goal in the race, Sainz said that is to keep their rivals over P3 in the Constructors' McLaren behind.
Daniel Ricciardo lines up P6 with Lando Norris P7 on the grid in the other McLaren.
"It must be that," Sainz confirmed when asked if staying ahead of McLaren is the target.
"For me starting well will be important, being ahead with the soft tyre and then see how McLaren go. If they put us under much pressure, we have two cars to defend ourselves. That is the goal."
🇺🇸 P5, so good result overall. The only downside is starting on the Soft. We were confident track evolution was going our way but the wind picked up and the track got slower when we put on the Medium. Full focus on trying to make it work in the race!

👉https://t.co/6pGT14IseJ pic.twitter.com/vHBSlVxQzq

— Carlos Sainz (@Carlossainz55) October 23, 2021
Charles Leclerc was very happy with his qualifying showing, recovering from a failed experiment in FP3 to claim P4 on the grid.
"I'm very happy with today. At Turn 1 I made a small mistake, but then it was honestly a very good lap," said Leclerc.
"So I'm very happy with that lap, we will start P4 and P5 tomorrow, we'll try to take advantage of this opportunity as best as possible.
"We tried something in the second run in FP3 and it went very bad from my side. For sure the confidence was not great arriving in qualifying. That's why I did some more laps in Q1, to find the confidence.
"But anyway I got the feeling back. Then in Q1 I did not push that much, then in Q2 with the medium tyre we made a very good lap because we passed the first run with the medium tyre in Q2. So I'm very happy with today."
Only Max Verstappen, Lewis Hamilton and Sergio Perez will start ahead of Leclerc, but he does not expect to be able to contend with Mercedes or Red Bull in the race.
"No, not that much. Because also today when they put everything together, we struggled a bit, they are much ahead, but it's what we expected, no surprises," Leclerc admitted.
"We will work, we will try to make a good start tomorrow and then we have everything to do a good job compared to our direct competitors. It's a track where we expected to be less strong than Mclaren, but it's better this way."
Additional reporting by Luca Brambilla
Could Ferrari wrestle P3 away from McLaren in Austin?
Can Carlos Sainz and Charles Leclerc help Ferrari wrestle P3 away from McLaren?