Sainz responds to Ricciardo's Imola apology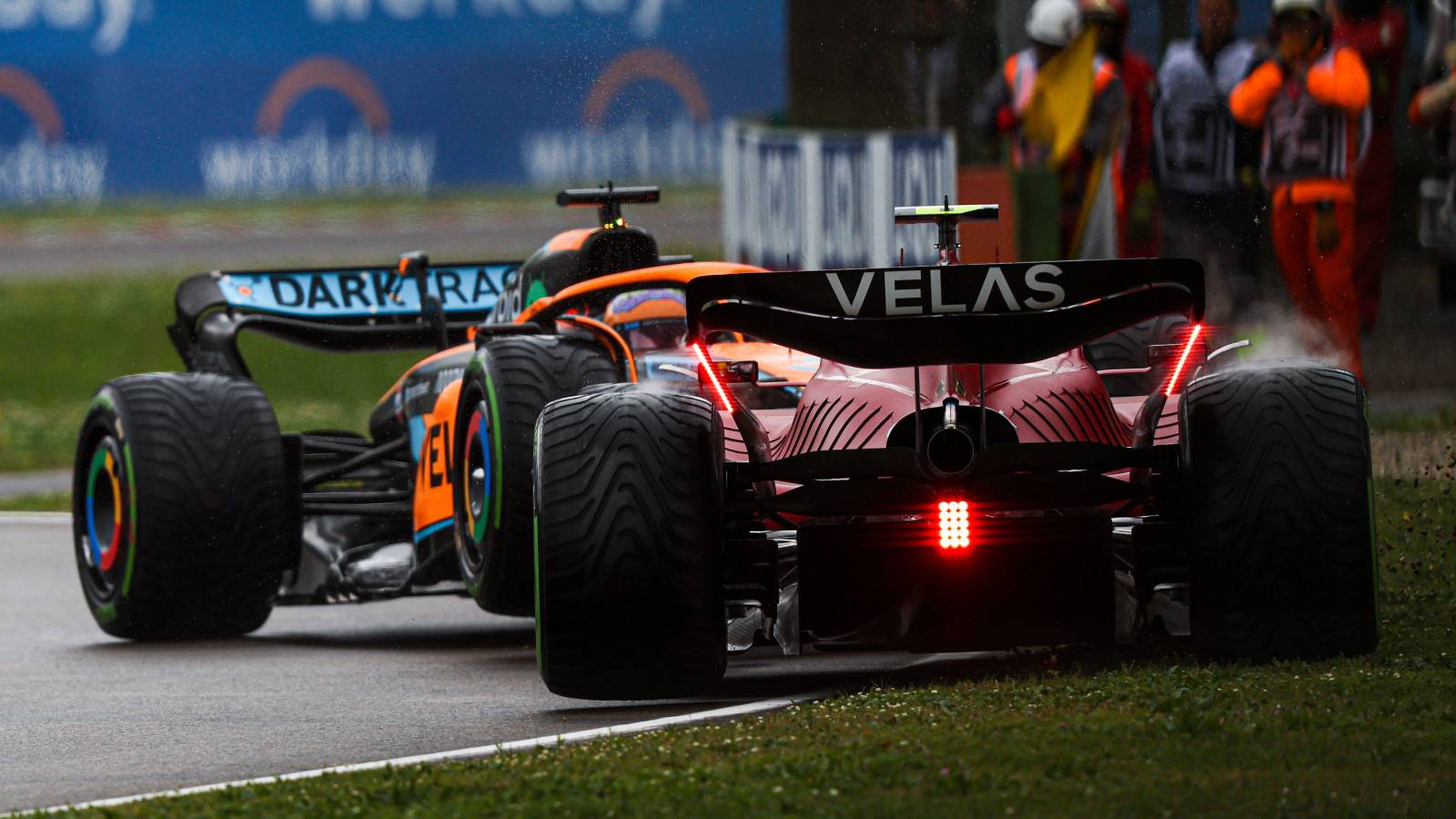 Carlos Sainz says it shows the type of sportsman Daniel Ricciardo is that he came to apologise after their Imola crash.
Sainz has endured a nightmare couple of races at the wheel of the Ferrari F1-75, the latest disappointment being the Emilia Romagna Grand Prix at Imola, where Sainz was tagged by Ricciardo coming out of Turn 1 at the start.
That put Sainz and Ricciardo in the gravel, but Ricciardo kept the traction to drive his McLaren back out of the gravel and continue in the race, while Sainz was beached and out.
This was the second time in as many races that Sainz's Sunday ended very prematurely, having spun out of the Australian Grand Prix two weeks prior.
Ricciardo would go to the Ferrari HQ to apologise personally to Sainz, a move which the Spaniard respected greatly.
Daniel went into the Ferrari hospitality to apologize to Carlos#ImolaGP pic.twitter.com/pkSMSIr7oJ

— tami. (@Vetteleclerc) April 24, 2022
"As a sportsman, Daniel is honoured that he came to the Ferrari pit box immediately after the race and apologised to me," said Sainz, quoted by Motorsport-Total.com.
"All the mechanics noticed that and thanked him for the gesture. Unfortunately, it was me who got hit, and that was immediately after the crash in Melbourne. That's just the way it is now."
Asked if the situation can be compared to his McLaren seasons in 2019 and 2020, where in the former Sainz did not score points in the first three races, while in 2020 scoring only one top-five finish in the opening seven races, Sainz can understand the comparison, but explained that from there he came back strong.
And now after a troublesome start to his second season at Ferrari, Sainz is confident of a similar recovery, believing that his speed is there.
"You can compare that. It's similar to the two McLaren years," he confirmed.
"But then the three quarters after the bad first quarter were always very strong. It's part of life and sport that things sometimes go better and sometimes worse. But I'm confident that I can turn it around.
"Those were two weekends now, in Australia and Imola, where the speed was there and I felt comfortable in the car. I think I have made a step. Now I've just had bad luck, but the good times will come. It's always like that in this sport. I just have to stay patient and not lose heart now."
Sainz had improved to P2 in the Drivers' Championship after finishing P4 in sprint qualifying at Imola, but that second DNF in as many races saw him fall down to P5, with the deficit to team-mate Charles Leclerc at the top of the standings increasing to 48 points.
Even after Australia there was talk that Sainz could now find himself playing the number two driver role at Ferrari, talk which only further intensified after Imola.
Sainz though believes that races where a driver is struck down by bad luck happens, and so does not believe that he is now in a supporting role like that.
"In a long season, there's always a race where you make a mistake. And there's also always a race where you get shot down," said the Spaniard.
"My bad luck now is simply that it happened twice in a row. That's why it hurts a bit more than usual. But hopefully we can get our act together now and concentrate on the rest of the year."
Sainz had signed a new contract with Ferrari prior to the race weekend at Imola, securing his future at Ferrari until 2024.
That announcement was confirmation of the quality which Ferrari see in Sainz, this backed up by team principal Mattia Binotto, who believes the key is to keep positive as he backs Sainz to now move on and get back on the right path.
"He was simply unlucky," said Binotto of Sainz's Imola collision.
"These things happen. And I refer to the statistics: He has now made a mistake or had bad luck twice in a row. Then it won't happen again in the future.
"I think we just have to take pressure off the situation now, put on a smile and get our heads up. I'm pretty sure this kid is a strong driver and knows what he's doing. He will do well.
"I'm not worried in the least. In such a long season, these things happen. That's all there is to it."
Troubles for Sainz Continue - Italian GP Conclusions
Carlos Sainz had a weekend to forget at the Emilia Romagna GP at Imola. His struggles to start this season partnered with his inability to get a proper handle of the Ferrari F1-75 is leading to problems for the Spaniard.