Sainz: Grosjean moved to cut me off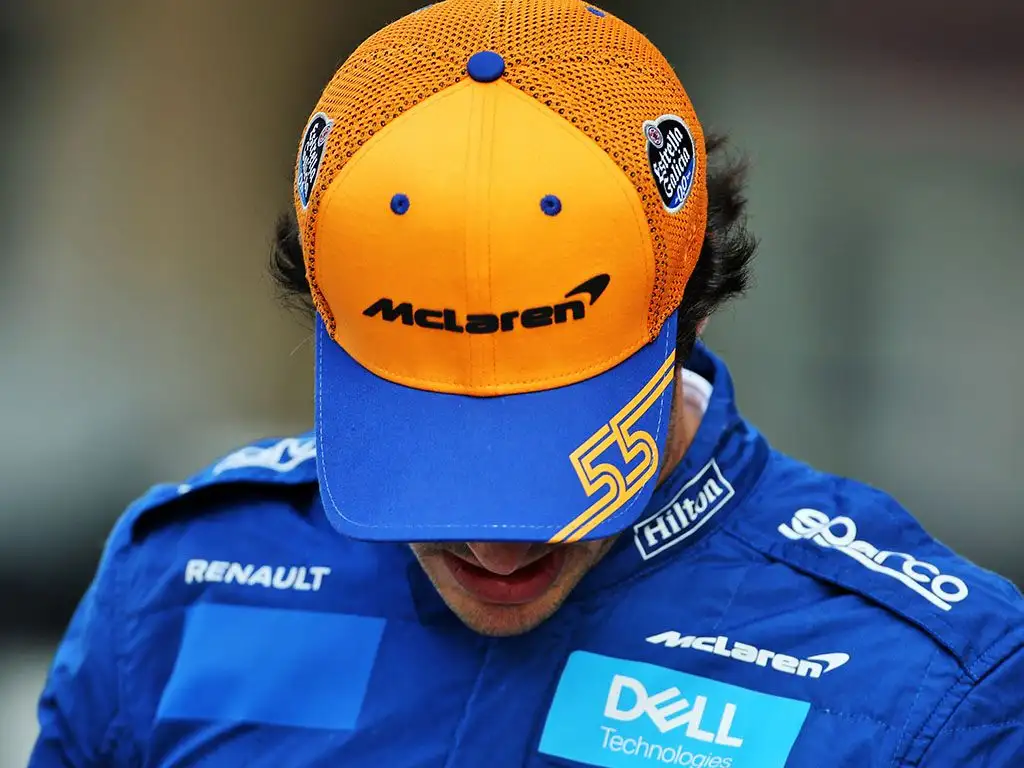 Carlos Sainz feels Romain Grosjean's driving at the British Grand Prix was "unacceptable" with the Haas driver moving in reaction to Sainz's line.
Elevated up the order when Haas opted not to pit him behind the second Safety Car, Grosjean found himself racing Sainz for position.
The McLaren tried to make a pass only for Grosjean to change lines and "cut" him off.
Grosjean moving over on Sainz almost caused an aeroplane crash on the one racetrack we go every year to that used to be an airfield. Yikes. #BritishGP pic.twitter.com/BiOtBwxPe1

— iGP Manager (@iGPManager) August 2, 2020
Sainz did eventually overtake the Frenchman but days later says he's still unhappy with Grosjean's antics.
"Personally I think it was unacceptable," said Sainz.
"From the driver's point of view, when you are behind someone, it doesn't matter if you leave a gap on the right hand side as he claimed he was leaving, I think you cannot react to a movement of the driver behind you.
"I think you need to commit to your defence, to your line, and not react to the driver that is coming behind.
"He was clearly waiting for me to make a move to cut me off the track, I think that is unacceptable.
"If I have a chat I will tell him, I think he will agree if he would have been in my position, although he probably will not admit it in the media.
"But we all know, with the speeds that we're doing in F1 nowadays and he probably knows that what he did is not correct."
Grosjean, however, feels he did nothing wrong in his defence against Sainz.
"On Carlos, I think he came on the radio, I don't know really. It wasn't that bad," said the Haas driver.
"There was plenty of room and plenty of margin.
"For us, it's not every day that we're in the top five racing, and as I say, I do my best for the team, I do my best for myself. I felt one was a bit marginal, but the first one, there was plenty of room."
Sainz wasn't the only driver to criticise Grosjean's driving at the Silverstone circuit with Daniel Ricciardo saying his block on the Aussie was "sketchy".
Grosjean pulls another late defensive swerve on Ricciardo this time! A shame to see him regress to doing some of the driving he's been memed for in the past. #BritishGP https://t.co/nFOfRf1kQM pic.twitter.com/GaZOhdlWYq

— iGP Manager (@iGPManager) August 2, 2020
"I think sketchy most people understand," said the Renault driver. "It's like sketchy, dodgy, little bit on the edge. Edgy, probably!
"So we were called into the stewards after the race to analyse it. And at that point I wasn't aware of his move with Carlos as well. So there's obviously two times which are a bit close in the race.
"I didn't want to… He's been doing it long enough, and I think when he saw the replay from our on-board, he understood that it was quite close, and a bit late. I think it's just about really, for us drivers, I think in defence, you make your move, you commit.
"I think responding to the car behind is always a bit on the edge, for the closing speeds and in the slipstream. The closing speeds, it's sometimes too much to react once they have.
"So I think really, if you're defending, it's really just about making a move first, making that clear and then we go from there. So it's just avoiding that grey area, which can be the sketchy area."
On that one Grosjean concedes he moved "a bit too late".
"I was defending as hard as I could," he explained. "It's my job, trying to stay within the limit.
"I had a chance to see the footage, and I do agree on Daniel, I moved too late. I was always going to give the room for one car, but obviously he doesn't know that when I'm moving.
"I moved too late and reacted to the right, and it was a bit too late."
Follow us on Twitter @Planet_F1 and like our Facebook page.