Sainz's third podium caps 'best weekend as a Ferrari driver'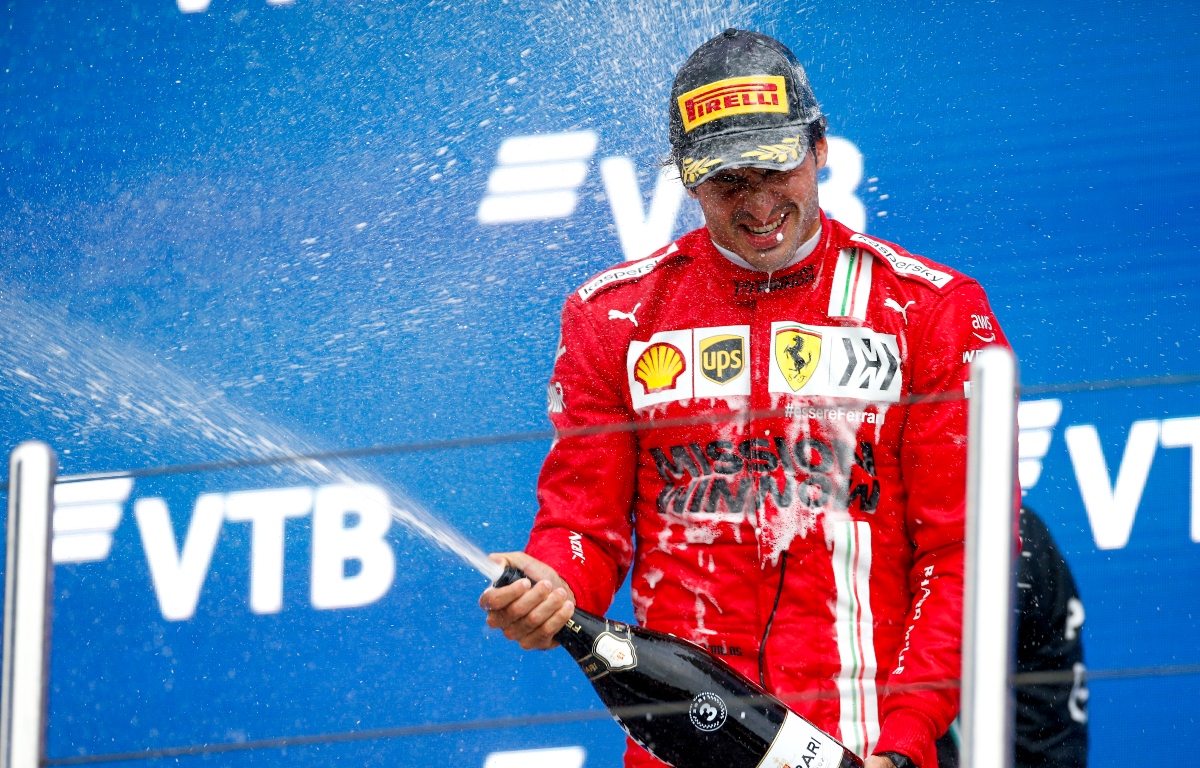 After finishing the race in P3, Carlos Sainz says the Russian Grand Prix was his best weekend since joining Ferrari.
The Spaniard enjoyed an excellent qualifying session, securing P2, and things then got even better at the start of the race when he took the lead from Lando Norris.
He couldn't stay in front of his former team-mate but did ultimately finish on the podium in P3 following the late chaos caused by sudden rain.
It's the third time since joining Ferrari at the start of the season that he has finished in the top three, and he says it was the best weekend of them all.
"It's a good moment, of course," he said in the press conference afterwards.
"It's been a challenging year, obviously, changing teams and adapting to a completely new car with a completely new team but so far this year, obviously three podiums is not bad at all.
"This weekend, I think, was probably my best weekend as a Ferrari driver. I managed to put together a very strong lap in qualifying, a good start, a good pace management in the race so yeah, hopefully I can keep improving."
P3! Perfect start and strong race overall. Lost the lead after graining the fronts on the mediums but recovered well on the hards before the rain. We did the right call for the inters to secure a podium we had fought the whole way. Vamos!

👉https://t.co/HzshpAbfYS#CarlosSainz pic.twitter.com/o9LYVCUuiZ

— Carlos Sainz (@Carlossainz55) September 26, 2021
Carlos Sainz's Ferrari merchandise is available via the official Formula 1 store
After taking the lead at the start, Sainz initially managed to stay ahead of Norris, but lost pace towards the end of his first stint and was overtaken shortly before pitting earlier than most of his rivals at the front.
Tyre management is one area in particular that he'd like to improve going forward to ensure the same thing doesn't happen again.
"There are still a lot of things to work on, mainly the tyre management side and obviously a bit the top speed there to make sure we are not so vulnerable when we are leading a grand prix," he added.
"Because I want to make sure next time I have the opportunity to lead a grand prix, I am not suffering that much with the front tyres, we are not so vulnerable on the straights and, as Ferrari, we need to keep working to be a team that we want to be – that is winning races.
"Today we got the opportunity to lead but we didn't make it stick, to win the race so yeah, next time I really want to enjoy that and try and make it stick."
PlanetF1 verdict
Another Ferrari podium at Sochi
Carlos Sainz earned P3 for Ferrari in a chaotic race in Sochi.