Carlos Sainz opens up on his second season struggles with Ferrari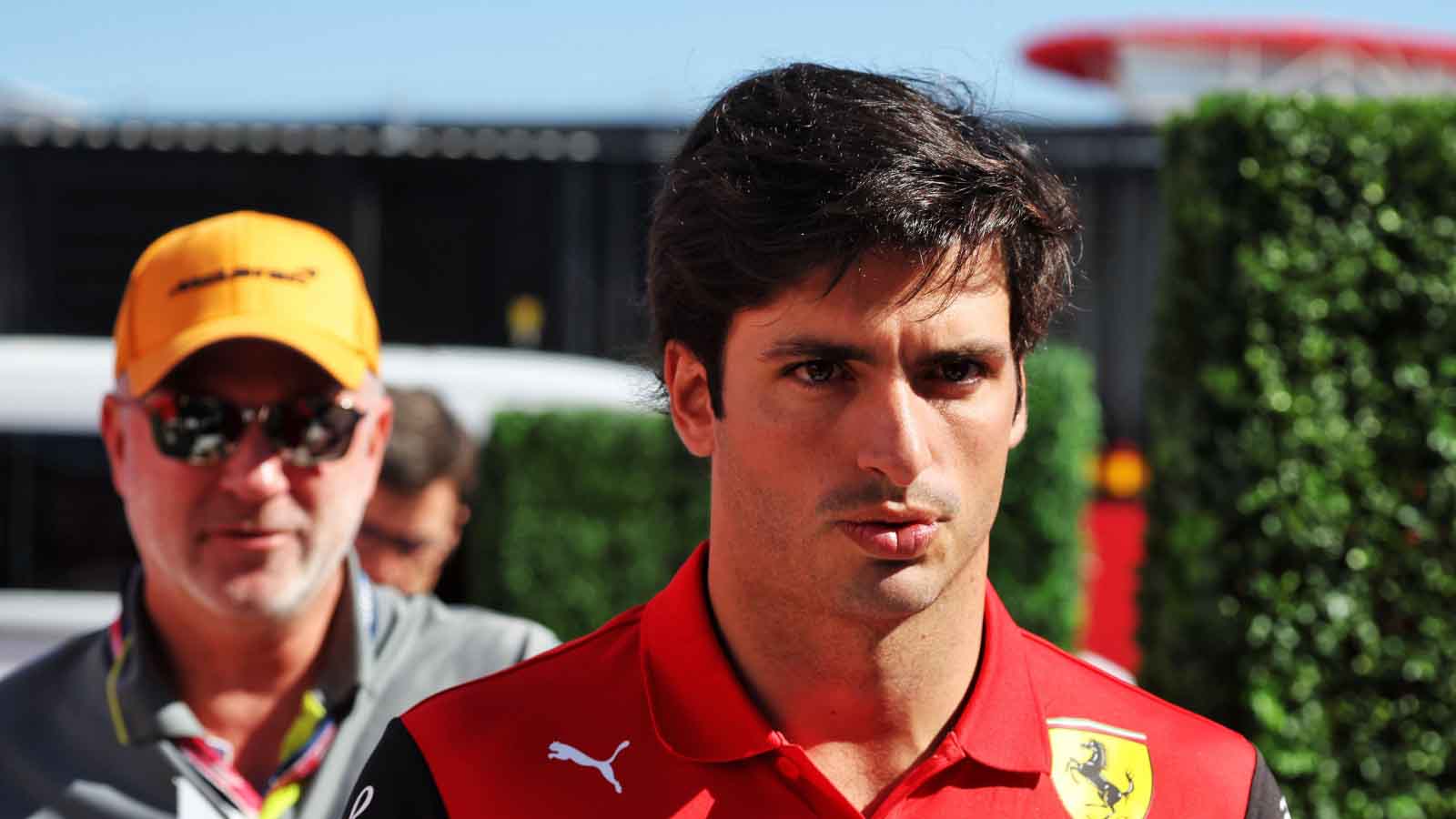 Carlos Sainz has spoken about where he feels he has struggled in his second season at Ferrari, believing he has required "a lot of headspace" while working out how best to drive the F1-75.
Sainz arrived at Ferrari and out-scored Charles Leclerc at the team last season, but the Monégasque has largely had the better of things within the Scuderia – having out-qualified his team-mate 14-4 so far and an 11-7 overall race head-to-head record.
Leclerc has converted only three of his nine pole positions into victories, while Sainz took his first Formula 1 win at Silverstone earlier in the year.
But while he had been gradually closing the gap to his team-mate over mid-season, Leclerc has moved further away from Sainz again in the Drivers' standings – holding a 50-point lead over his Ferrari colleague heading into the final four races.
Where Sainz struggled to get going by comparison to his team-mate, the Spaniard explained that slower start is where he lost out most in the early title race.
"Probably the start of the season," Sainz told reporters in Austin when asked where his biggest struggle has been this year.
Sunsets 🤝 track rides #essereFerrari 🔴 #USGP pic.twitter.com/5uDRyLk9Ew

— Scuderia Ferrari (@ScuderiaFerrari) October 21, 2022
"Those first six or seven races when the car was the most competitive, [Leclerc] was doing the pole positions and winning the races, you know?
"Lately obviously I got a lot of more up to speed and I'm driving a lot better the car, but also it's true that the car is not maybe at the level that it was at the beginning of the year, or let's say Red Bull has stepped it up and it's not as easy to score a pole position or a win as it might have been at the beginning of the year, no.
"But he's done a better job to me this year clearly, both in driving and race execution and yeah, he felt straight away more at home with the car than me. And I've been in this fight through the whole year to try and get myself to a level similar to last year.
"Am I there? I don't think so. I think I still have a few things with this car that still don't come naturally and I would need to change a lot of things.
"But yeah, I'm now at a decent level where I'm confident that I can score some good results and be consistent with it. But yeah, I look forward also to next year's car and see if I can get straight away more on the pace."
Given how different the cars are in 2022 with the arrival of the new technical regulations, some have taken more time to get up to speed than others in the ground-effect aerodynamic era.
But when it comes to having to adjust his driving style, Sainz admitted he is unsure about what piece was missing as he struggled to match Leclerc early on.
"I don't know," he said. "There's just cars where you drive them and you know without even looking at the lap time, you know you've done a good lap and you know there's not going to be your teammate or someone else going quicker than you.
"And then there are other cars that you think you've done a good lap time but you know it's not going to be enough because you've done some mistakes here or there. And then there are cars that you need to think while driving and there's cars that you drive naturally.
"And this year while driving I need to think a lot. I need a lot of headspace to know that this kind of corner, I need to do it that way, this kind of corner, I need to do it the other way. And I'm sure there's hundredths, thousandths of seconds that go away while you're thinking about the corner that is coming.
"It's OK, I can do it. I mean, I've been pretty quick lately, especially over one lap, but it's still not ideal for a racing driver."
Read more: The 15-year anniversary Ferrari won't want to be reminded of