Sainz joins Hamilton in call for fan refunds at Spa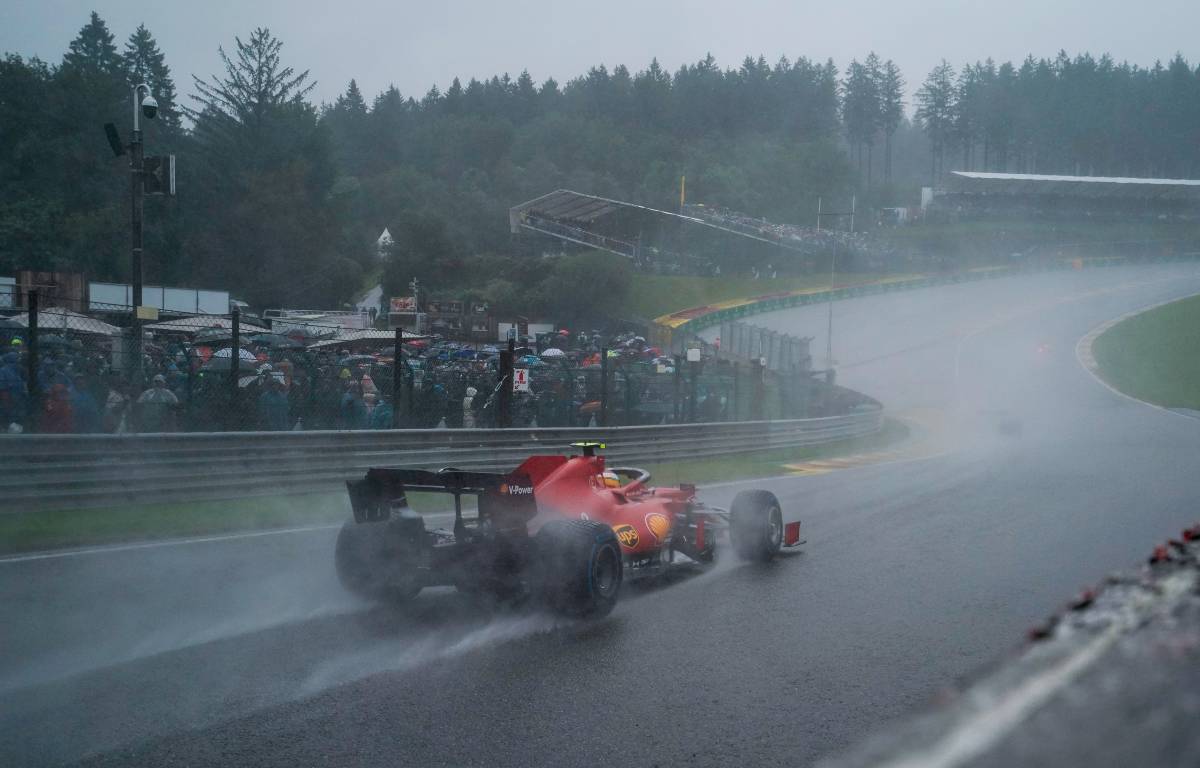 Carlos Sainz has joined the calls for the Belgian Grand Prix crowd to be recompensed for the farcical events on race day at Spa.
A soggy weekend in the Ardennes hills ended with a near total washout, the grand prix comprising two short stints behind the Safety Car nearly three hours apart – after which a result was declared, a podium ceremony took place and half-points were awarded.
But that outcome was no consolation at all for the thousands of hardy fans who lined the circuit getting soaked by the continuous rain, and being denied the exciting contest they had turned up to see.
Lewis Hamilton was the first to say he thought the spectators should be given their money back and even suggested Formula 1 ought to try to squeeze a return visit to Spa into this year's calendar – although the TBC race on the schedule is likely to take place in Qatar.
The situation for regular visitors to the Belgian venue was exacerbated with last year's grand prix having been staged behind closed doors.
Now Sainz, who collected 0.5 of a point for being classified 10th, has offered his sympathy to the fans and also his view on how they should be compensated.
"Honestly, that's the worst thing," said the Ferrari driver, quoted by AS. "They got the worst of it, they were soaking for four hours and they didn't see a race they deserved to see.
"They had paid for it and we've had a tough few years because of Covid-19 and this was an escape route to have fun and have a good weekend plan.
"Unfortunately, the weather in Belgium didn't let us race. It wasn't F1, it wasn't the drivers and we have to move on.
"I hope we can pay them back in the future with a good race, or a double race in Spa. And that they get their money back, because the poor things…"
🇧🇪I'm really sorry for the fans out there, but there was nothing we could do given the conditions we had today. Visibility was zero and it was simply too dangerous. Safety must always be the priority. Looking forward to Zandvoort now.

👉https://t.co/lrN6KcHfXw#CarlosSainz pic.twitter.com/mwGzTuUgtM

— Carlos Sainz (@Carlossainz55) August 29, 2021
Carlos Sainz's Ferrari merchandise is available via the official Formula 1 store
Sainz has now participated at seven Belgian Grand Prix weekends in Formula 1 and remarkably, in four of them he has not even completed a racing lap.
That includes the last three, with this year's debacle preceded by two failures to even get off the start line for McLaren in 2019 and 2020.
"Clearly there's something not clicking," said the Spaniard. "Before I came to F1 it was the circuit I liked the most. I qualified very well in 2015 and I couldn't start the race because my engine broke (he started after the rest of the field and completed 32 laps before retiring).
"In 2016 I got a puncture on the first lap and now I haven't even started for three years in a row.
"It's a very bad statistic that I hope will change soon because it's not normal at my favourite circuit."