Sainz ends first Ferrari season with 'symbolic' podium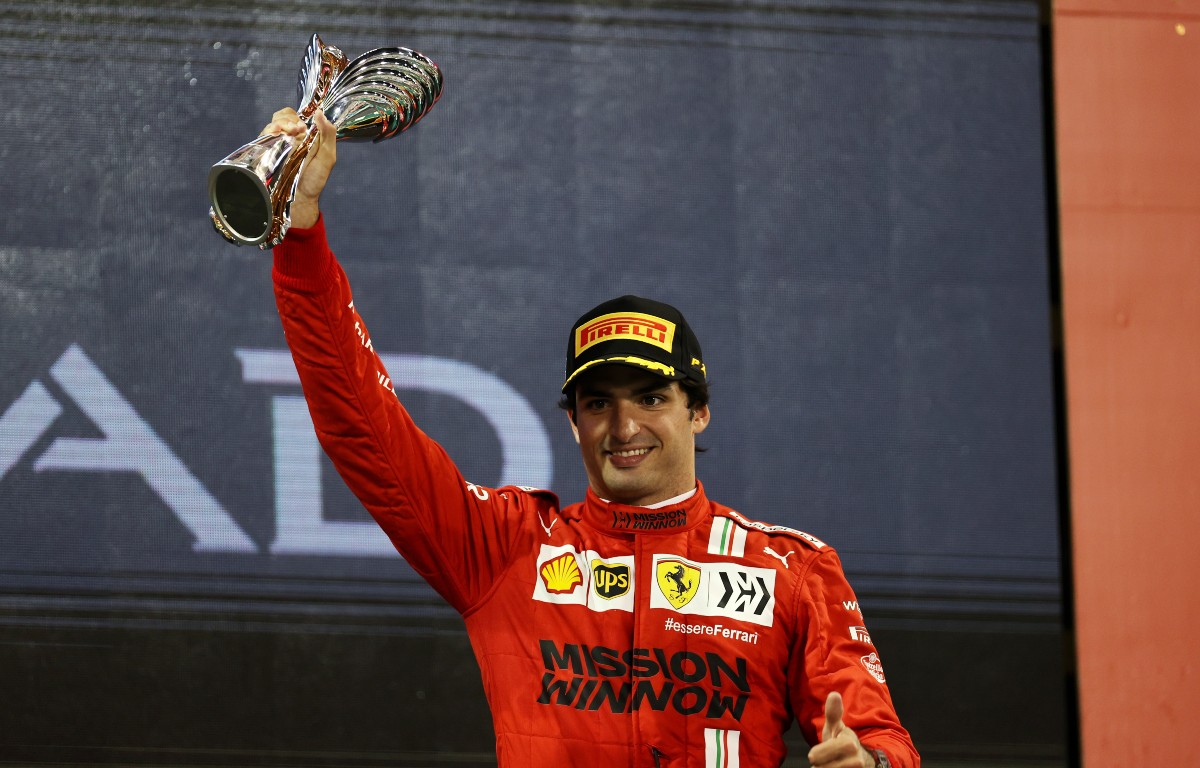 Third place in Abu Dhabi is not life-changing for Carlos Sainz, but it provided the perfect ending to a year of learning with Ferrari.
This was Sainz's first campaign in the red of Ferrari, a season of progression for the Spaniard with arguably Formula 1's most iconic team.
And while there were lows, Sainz also had plenty of ups and finished the 2021 season with four podium finishes and P5 in the Drivers' Championship – an achievement that sees him triumph over his team-mate Charles Leclerc, who signs off in P7, 5.5 points adrift.
Sainz felt his final third of the season had been strong, and so to finish the year with a podium in Abu Dhabi was "symbolic" of this progress in his eyes.
Team-mates 🤜🤛

We definitely have the best duo in the paddock ❤️ @charles_leclerc @carlossainz55 #essereFerrari🔴 #AbuDhabiGP @missionwinnow pic.twitter.com/Y9qadCe5qX

— Scuderia Ferrari (@ScuderiaFerrari) December 12, 2021
Speaking to Sky Italia about the expectations he had for the season, Sainz said: "I don't know what the expectations were, honestly. My expectations were quite high.
"What I'm sure about is I'm very happy to have had a positive beginning of the season that put me on the right foot to start the season.
"And then that led me to have a nice growth as a driver here at Ferrari, to do a very strong last third of the season that allowed me to finish with a podium, a perfect race, and P5 in the championship, which is a good result that does not change my life. It's more symbolic.
"With this podium I managed to put together everything I learned during this season – the first lap, the tyres, everything to achieve this P3."
It is understandable then that Sainz is now slightly reluctant to be heading into a completely new era for F1 cars next season.
Ferrari hope the new regulations can fire them back to title contention, but at this stage Sainz said it is impossible to say if that will happen.
"Let's see how these new cars are," he said of his aims for 2022.
"At the simulator they are very difficult and interesting to drive. So it will be a completely new challenge – all the drivers will have to adapt.
"Just as I was starting to like driving this car, they change it. But I'm sure I can do a good job next year too and I'm really confident and ready for what will come."
And if Ferrari deliver on their aims, Sainz counts on himself to mount a title challenge.
"If we are ready to fight for a championship, you saw I am ready," he said.
Additional reporting by Luca Brambilla