Sainz thought he was going to make Perez spin twice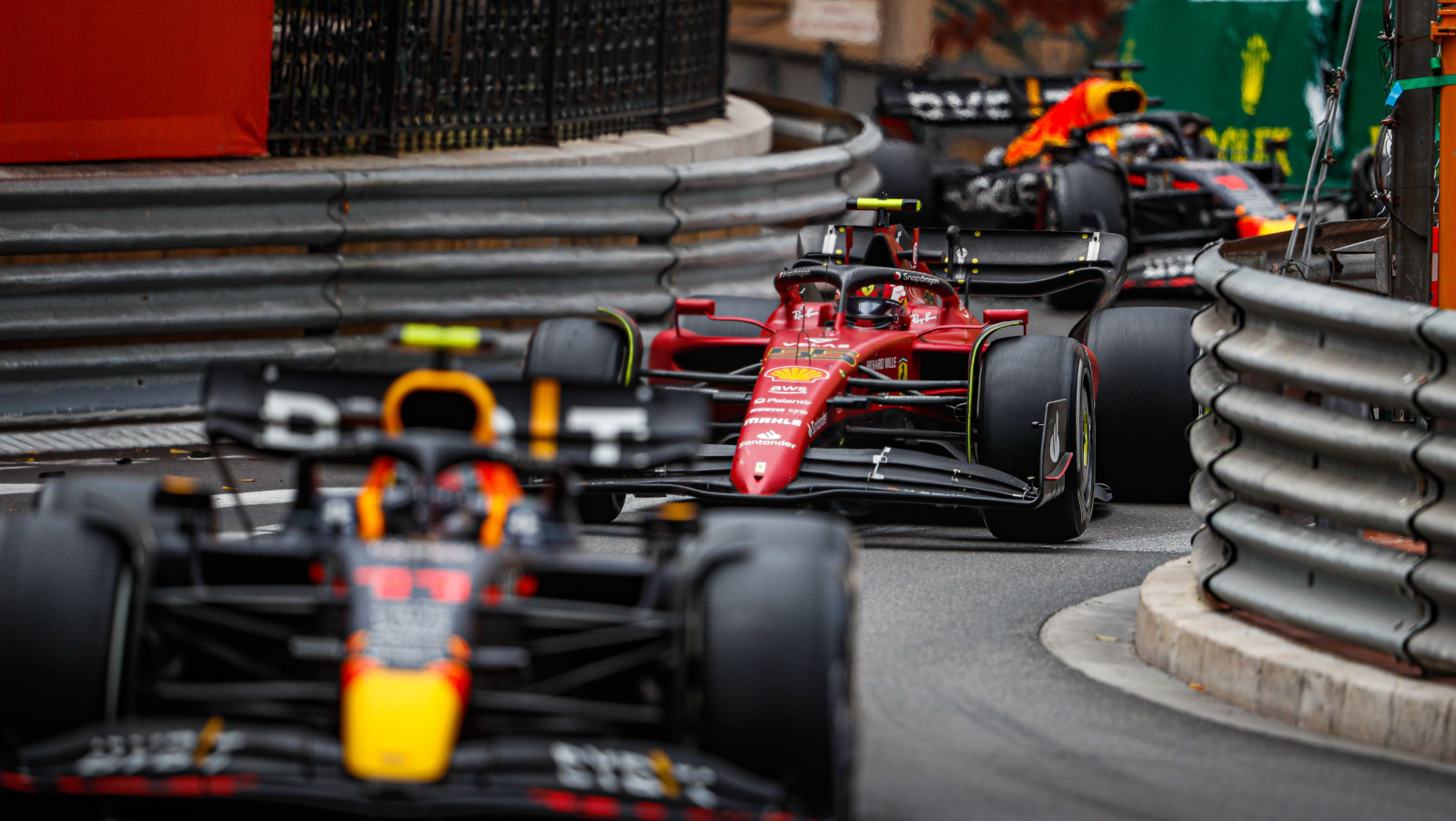 Running with roughly half a second between each of the top four cars in the final ten laps of the Monaco Grand Prix, Carlos Sainz says there were two occasions where he thought he was about to pitch race leader Sergio Perez into a spin.
As the pit stops played out in Sunday's Monaco Grand Prix, the event a timed race after two red flags, Perez was leading ahead of Sainz and Max Verstappen with Charles Leclerc on the Red Bull's rear wing.
Such was the ferocity of the battle into the final 15 minutes that the four were separated by just over two seconds with Perez, on his graining tyres, doing his best to keep them behind him.
He managed to do so, the Mexican driver taking his first win in Monaco ahead of Sainz and Verstappen.
But it could have been a very different result, more like their end to qualifying where Perez crashed with Sainz then hitting his car and Verstappen stopping metres behind them.
how am i gonna tell my kids that this was 2022 monaco podium😭 pic.twitter.com/U7r5p0R5af

— E𓃵 (@escrp1) May 29, 2022
Speaking during the post-race press conference, Verstappen admitted there were a few times he got a little to close to the back of Sainz in their race battle.
"If I wanted to, I could have bumped Carlos a few times in the hairpin. Maybe he would have liked it," he said.
But while Verstappen stayed off the Ferrari's rear wing, Sainz didn't do the same with the other Red Bull.
Pointing to Perez, the Ferrari driver said: "I think I… did I bump you? Because two times I said 'I'm gonna make him spin' because you were so slow."
Verstappen added: "You were doing it also at one point a different line, in the hairpin."
That line for Perez protected his lead, the driver revealing he "could park my car and there is no room for anyone to go."
That wasn't Sainz's only moment with Perez as earlier in the race, after a pit stop, he tried to attack Perez for position.
But with that moment taking place while the track was still wet, the Spaniard almost lost it and had to pull off one of the best saves of the season so far to keep his car out of the barrier.
That played on his mind as he thought about a late-race move on the Red Bull driver for the lead.
"It was tempting," he said. "It was tempting into the chicane but unfortunately the track was still a bit wet on the inside. So if I go and brake late in there, it would have been a bit of a mess.
"And I probably could have taken Checo out with me. Tempting in a couple of other places.
"But realistically, with these big wide cars, the spaces are really narrow and even on a drying track, where there's damp patches offline, It's almost impossible.
"And I tried everything I could to nearly launch a move, but even when I did, I nearly took him with me. So yeah, I think I did everything I could."
Ferrari cost themselves the race win
Ferrari had the makings of a perfect Grand Prix, but the rain mixed things up, and ultimately they ruined the race for themselves.