Sainz reveals Ferrari issue that cannot be fixed in 2022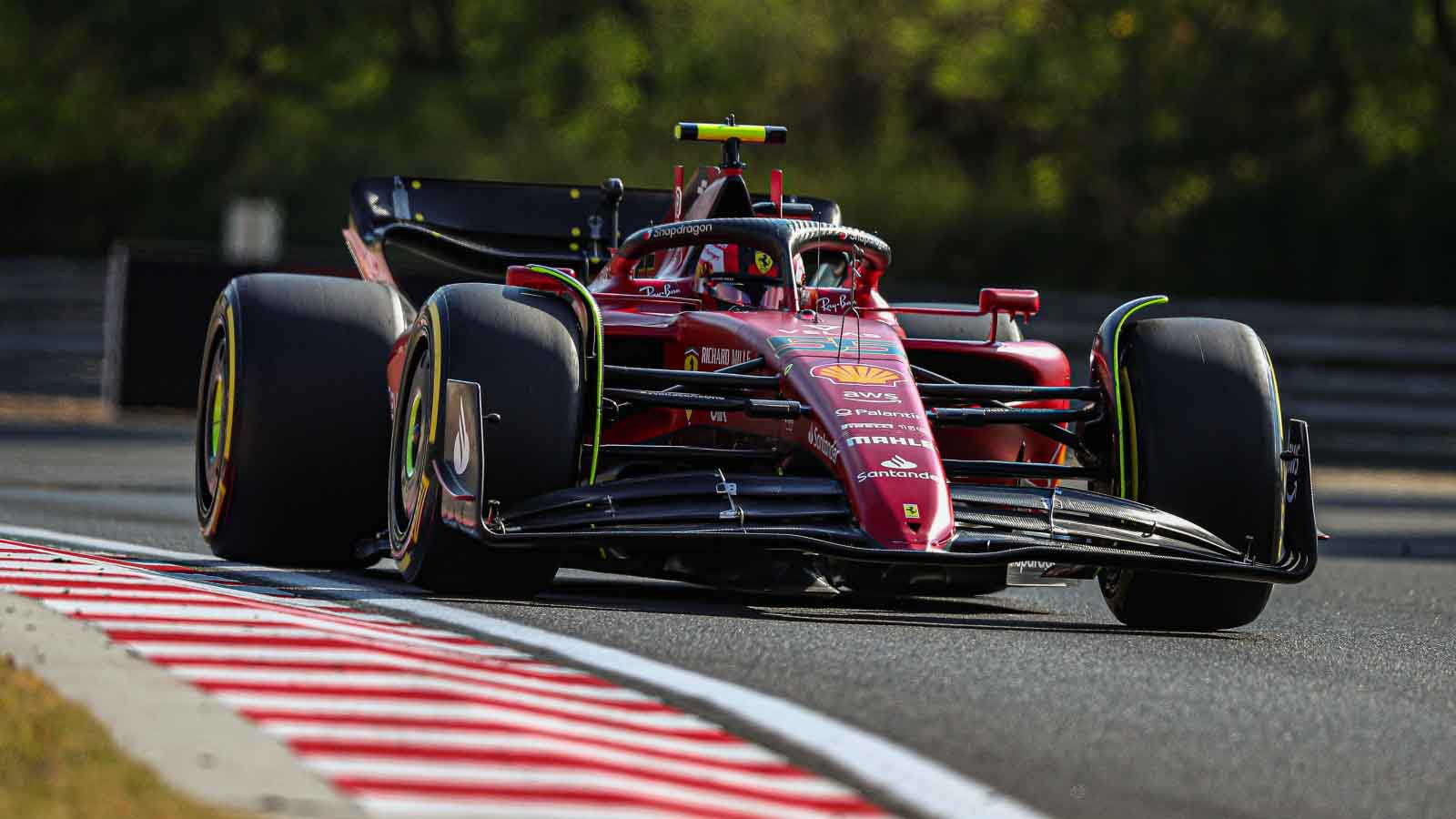 Carlos Sainz has said Ferrari have an "underlying" problem in the car, which has hampered some of their race starts so far this season.
He added that the problem cannot be fixed before the end of the year, so he will go into Sunday's Hungarian Grand Prix hoping to be able to start well from the front row.
The Ferrari driver looked set for pole position on Saturday, with team-mate Charles Leclerc unable to beat his time towards the end of Q3, but George Russell sprung up out of the blue to pull off a shock pole lap, the first P1 start of his Formula 1 career.
Sainz did not believe his time was good enough for pole regardless, but he did think the driver to beat him would have been someone different.
"No, honestly," Sainz admitted to Sky F1 when asked if he thought he would hold on to pole.
"My lap in Q3 was good at the beginning, and in the second run of Q3, it was nothing special.
Mr Saturday is back – and then some! #HungarianGP @GeorgeRussell63 pic.twitter.com/hyrUT957CW

— Formula 1 (@F1) July 30, 2022
"And as soon as I went across the finish line, I knew someone was going to beat that because I had done a few mistakes during the lap. I knew I wasn't going to be on pole and I was pretty… not happy, straight away.
"The thing is, I expected to be beaten by someone else, not by George, so congratulations to him because he must have done a great lap."
But given how hard it can be to overtake around the Hungaroring, getting away well at lights out will be a big moment in deciding Sainz's fortunes on Sunday.
While he thinks a victory is still possible, he knows that an issue on the F1-75 could rear its ugly head at the start.
"I think the start will play a key role, but we are up against a Merc that are getting very good starts this season and we are not particularly good at them for a problem that we have," Sainz explained.
"But still, if we nail the start and nail the strategy, we can win the race with the pace we have. So we'll focus on that."
When pushed on how Ferrari are looking to deal with their problematic getaways at times, he added: "Yeah, but there's an underlying issue that we cannot really get rid of this year.
"So we know we need to work in for next year and this year we are maximising what we have.
"Some starts are pretty good, others are a bit on the limit, but hopefully tomorrow is one of those days where the starts are pretty good.
"I'm not going to go into detail, but it's something underlying in the car."
Looking ahead to the Hungarian Grand Prix
The Hungarian Grand Prix is the final race before Formula 1's summer break.