Sainz left frustrated by 'undeserved' half point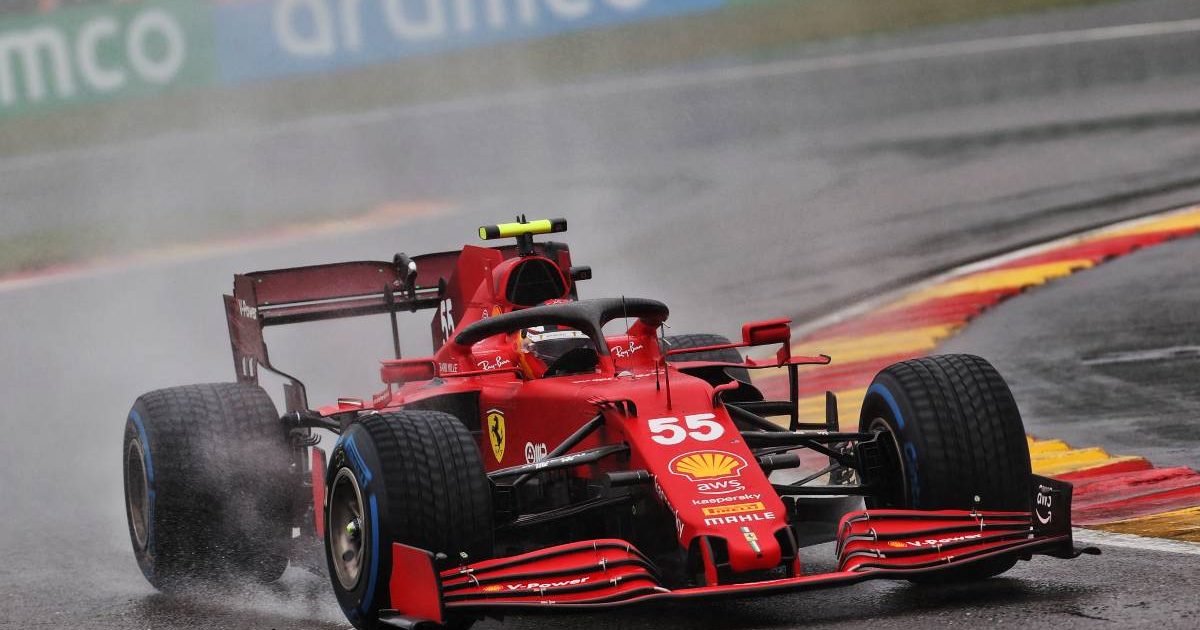 Carlos Sainz supported how race day in Belgium was handled by the FIA, except for the decision to award half points.
Attempt one to get the rain-soaked Belgian Grand Prix underway proved unsuccessful, with the cars soon returning to the pits with the race red flagged.
Hopes were that a clearer period in the weather would emerge, and so the drivers returned to the track after a long day with the FIA hoping that a one-hour race could be possible.
After two laps though it was back to the pit lane, and with the mandatory laps for a race result now complete, it was decided that the Belgian Grand Prix would not be restarted.
Sainz had no issues at all with the process to reaching that decision, though what he did not like was the fact that half points were awarded.
Classified P10, the Spaniard scored half a point, something which he said was not deserved.
"For me today all the decisions made have been correct, the conditions were too difficult, you couldn't see anything, really anything," he told Sky Italia.
"Then when we do 300 km/h and you don't see anything, you can't drive like that because you risk too much, you risk a very major incident in a circuit in which we know major incidents can happen.
"It's a pity, I don't think the points have to be scored in a race that didn't happen.
"I'm not happy with that half a point, because I don't deserve it. For me a race that didn't happen doesn't have to score points. For me that's the only thing.
"I agree we had to try to go out to see how the conditions were, but not for the intention to take the points.
"Starting [the race] to see if we could drive, we saw it was not possible, but not to let the regulation give the points, because for me the points in this way must not be scored."
Race will not resume ❌

It's @Charles_Leclerc P8 and @Carlossainz55 P10.

We are very sorry for the fans, safety comes always first 🙌#BelgianGP pic.twitter.com/K70vXXF18U

— Scuderia Ferrari (@ScuderiaFerrari) August 29, 2021
Kit yourself out in Ferrari colours via the official Formula 1 store
Sainz's team-mate Charles Leclerc said that there was "absolutely no visibility", and so was glad to see the race stopped before any potential major incident happened.
He did though feel bad for the fans who stuck it out in hope of seeing some racing.
"I feels for the fans, them being [there] already in the parade laps in the bus, massive respect to them that stayed until the start of the race hopefully for the race to start, but it never started," he told reporters.
"There was no visibility. At the end we are all here to race, but sometimes you just have to accept that today there was absolutely no visibility.
"And I think in those cases it is better to stop it before something bad happens."
Fortunately during the multiple-hour rain delay there was some activity going on, whether it be hilarious radio messages, choke holds or even some slipping and sliding.
As for Leclerc, he passed the time by playing chess with Sainz.
"I was busy with Carlos because we played chess. I won, so at least I brought home a victory today," he told Sky Italia.
Additional reporting from Luca Brambilla