Sainz convinced he will 'come out of' crashing phase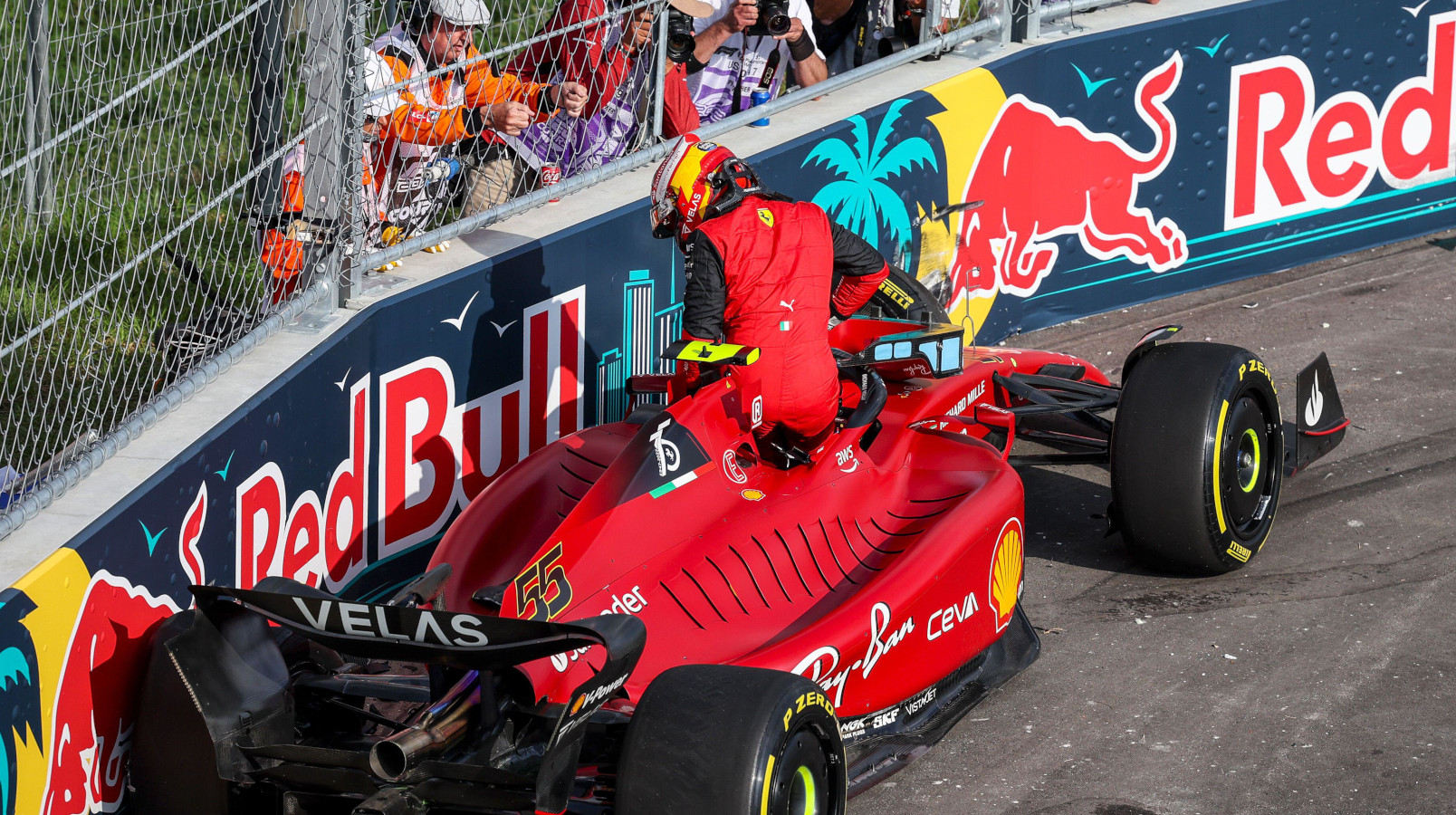 While Carlos Sainz is racking up quite the repair bill, the Spaniard is adamant that he will "come out of it".
Sainz has crashed several times this season, his latest coming in Friday's second practice for the inaugural Miami Grand Prix.
It was his fourth over the course of the last three race weekends, the Ferrari driver recording two successive DNFs as he crashed on the opening lap in Australia and again at Imola where he also had an accident in qualifying.
It is not the first time in his Formula 1 career that Sainz has had a stint of crashes, in the barriers three times in four races midway through 2021 – Hungary, the Netherlands and Monza. He broke that run with a podium at the Russian Grand Prix.
Speaking after his Miami FP2 crash, he said: "I am the first one that is not happy with the last two crashes… and I am the first one that is analysing it and trying to take conclusions from it.
A premature end to Carlos Sainz's FP2 session 💔#MiamiGP #F1 pic.twitter.com/Daz29vaFD1

— Formula 1 (@F1) May 6, 2022
"I remember going through a very similar scenario last year where I crashed a couple of times and right after them came my best run of races in Formula 1. So I know how to come out of it.
"I think I'm still learning a lot of this car. This car is still surprising me, I'm not going to lie, it's still things that are, let's say, a bit out of my control that are surprising me, and as soon as I get on top of them and learn them, I think as you saw, I can be quick in any given lap."
Friday's crash meant Sainz finished the session down in 11th place having been P6 in the day's opening practice.
"The pace is still there, I'm pretty fast out there," he added. "Just obviously disappointed because it's not the way you want to start a weekend, by giving the mechanics extra [work]."
The Ferrari driver lost it at Turn 14, spinning and hitting a concrete wall.
"I hit the barrier probably in the worst possible place; there was no Tecpro there, I hit straight into a concrete wall which, even at the speed I was going, felt quite harsh, so the car has damage," he said.
"I've given everyone a bit of a rough Friday night, which is not ideal."
Unluckiest F1 driver of 2022: Carlos Sainz?
Carlos Sainz was your overwhelming choice for the unluckiest driver of the F1 season so far.