Sainz: You can only imagine the nerves at the final restart!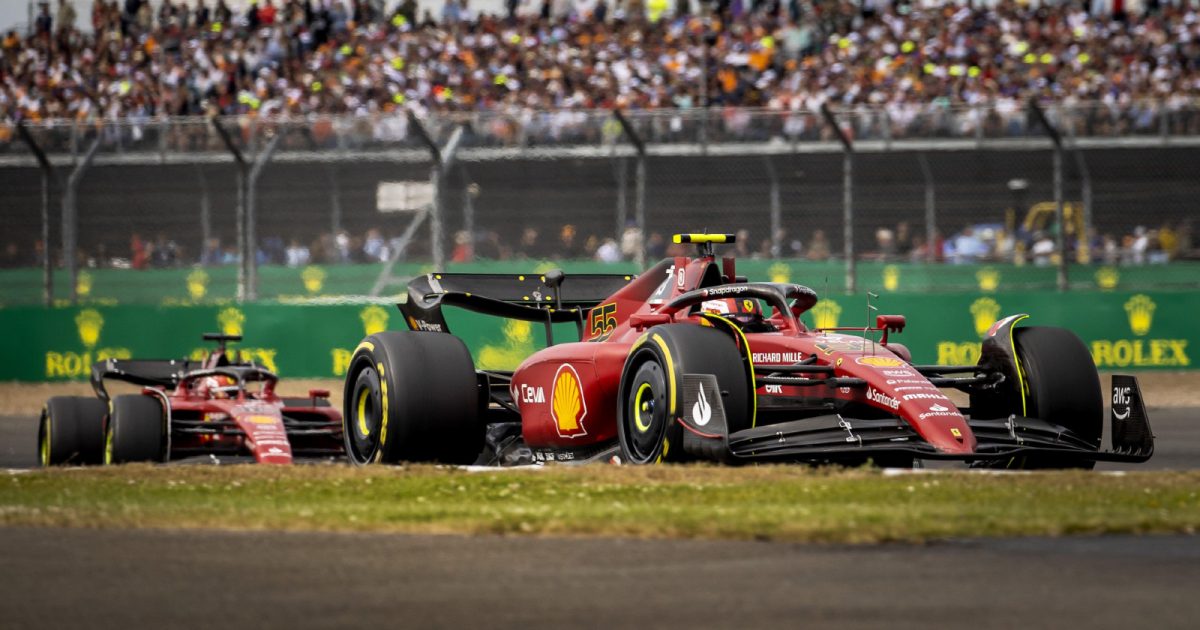 Ferrari's Carlos Sainz has admitted to feeling very nervous as the race prepared to resume after a Safety Car intervention.
The Spaniard claimed his maiden Formula 1 victory at the 151st time of asking, winning a dramatic and intense British Grand Prix at Silverstone after overtaking Ferrari teammate Charles Leclerc in the closing stages of the race.
Having started from pole position, Sainz looked set to settle for second place after being passed by Leclerc as the Monegasque proved the quicker driver in a tense duel with Mercedes' Lewis Hamilton.
But a late Safety Car restart reset the race and allowed Sainz to dive in for fresh Soft tyres while Leclerc was stuck on aging Hard tyres for the final 10 laps of the race. Sainz quickly despatched Leclerc and was able to pull away while both Sergio Perez and Hamilton managed to clear Leclerc to push him off the podium.
With Sainz wrapped in a Spanish flag as he spoke to media as an F1 race winner, he said it was a day he'd never forget.
"I don't know what to say," he beamed.
"It's amazing. First race win, 150 races later, with Ferrari in Silverstone – I cannot ask for more. It's a very special day, a day that I will never forget. [It's been] a very special weekend in general.
"Thank you everyone for the support, for the cheers. Lewis was on it today, I heard – it was one of his days, but we managed to hold on and I'm incredibly happy!"
Having struggled for pace in an undamaged Ferrari versus the pace Leclerc showed in a mildly damaged F1-75, Sainz explained what had happened to him early on in the race as he lost out in battle against Red Bull's Max Verstappen.
"It was not easy," he admitted.
"I struggled quite a bit with the balance, especially on the first stint with the Medium tyre. Max was forcing us to push a lot through the high speed and I opened the front left.
"But even with all that, I stayed believing that it could still happen. I needed to stay in the race like I was trying to and then, all of a sudden, the Safety Car gave me the opportunity to get back on it, and then… we did it! You can imagine the nerves on that Safety Car restart, knowing it was my chance and then getting it done and then the win!"
With Sainz climbing into the winner's circle for the first time, the Spaniard said Silverstone is becoming a very special place in his heart.
"Silverstone has been a bit of a special place for me, my first ever race win here in Formula BMW back in 2010," he explained.
"[I had my] first pole position back in 2010 and then, suddenly, 12 years later, I achieved exactly the same but in Formula 1 with Ferrari. So it's a special place for me and I thank the whole crowd for being part of it and cheering me on."