Carlos Sainz admits being 'worried' over Ferrari reliability with Leclerc grid penalty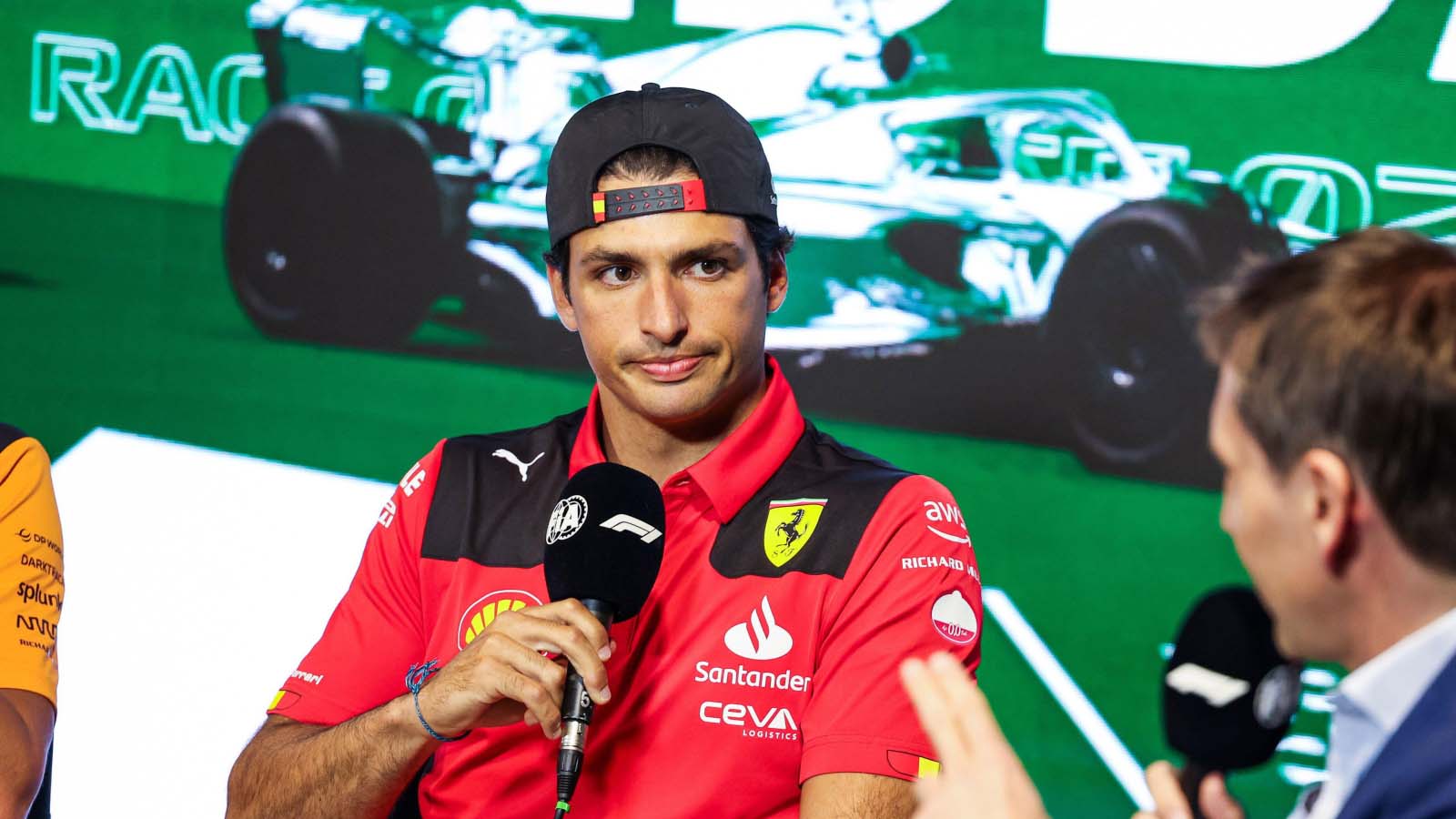 Carlos Sainz has admitted he is "worried" about the prospect of reliability-related grid penalties coming his way this season, with Ferrari team-mate Charles Leclerc taking a 10-place drop at only the second race of the year.
Leclerc retired from the Bahrain Grand Prix with an issue surrounding his control electronics and, having taken his second of two ECU components allotted for the season when his first was damaged earlier in the weekend, Ferrari took the decision to bring a new one to Saudi Arabia, prompting a grid penalty for Leclerc at Round 2 of 23.
With Sainz sharing a garage with his Ferrari team-mate, and the same parts, he is naturally concerned about what the future holds for him as he looks to get by this season.
After almost matching Red Bull in qualifying trim in Bahrain, the Scuderia were further off the pace in the race last time out, with Sainz being overtaken by Aston Martin's Fernando Alonso for the final podium place after Leclerc retired.
But the Saudi Arabian Grand Prix will bring the drivers to a completely different style of circuit this time around, and the Spaniard is hopeful that the SF-23 will be more competitive around Jeddah.
"I think we have reasons to believe that this track should be a bit better for us," Sainz explained ahead of the weekend to Formula 1's official website.
"It's less tough on the tyres, there's more straights, high-speed corners that we were actually okay in Bahrain.
"So yeah, let's hope that this is a better overall situation for us knowing still that there is a track in the season that is Bahrain that we are half a second away in race pace, so we had better start the development now and try to get better in that sort of conditions."
PlanetF1.com recommends
Further grid penalties loom as Charles Leclerc claims ECUs are unsalvageable
FIA confirm the lengthy list of track changes made at the Jeddah F1 circuit
Ferrari warn rivals they have 'mega room for improvements' ahead of Saudi GP
When pressed about the reliability of his car, however, he was quick to highlight that Leclerc getting a penalty so soon is far from an ideal situation for the team.
But he also pointed out that the issue caught Ferrari totally off-guard, given how well pre-season testing went for them at the same circuit just a week beforehand, and he is keeping the faith in his team as they look to improve on the durability front.
"No, obviously worried because it's not the way you want to start a season with a 10-place grid penalty on your team-mate," Sainz said.
"Because you know that you are also exposed to that and, sooner or later, there might be an issue also in your car, but I trust the team [and] the steps that we're doing in this area.
"Obviously it's a weakness that we haven't seen ever before in the car, so it surprised us completely after a smooth testing.
"But we will see. I think we have very clear targets in mind where we want to improve."