'Charles Leclerc a better bet for 2023 F1 title than Lewis Hamilton, George Russell'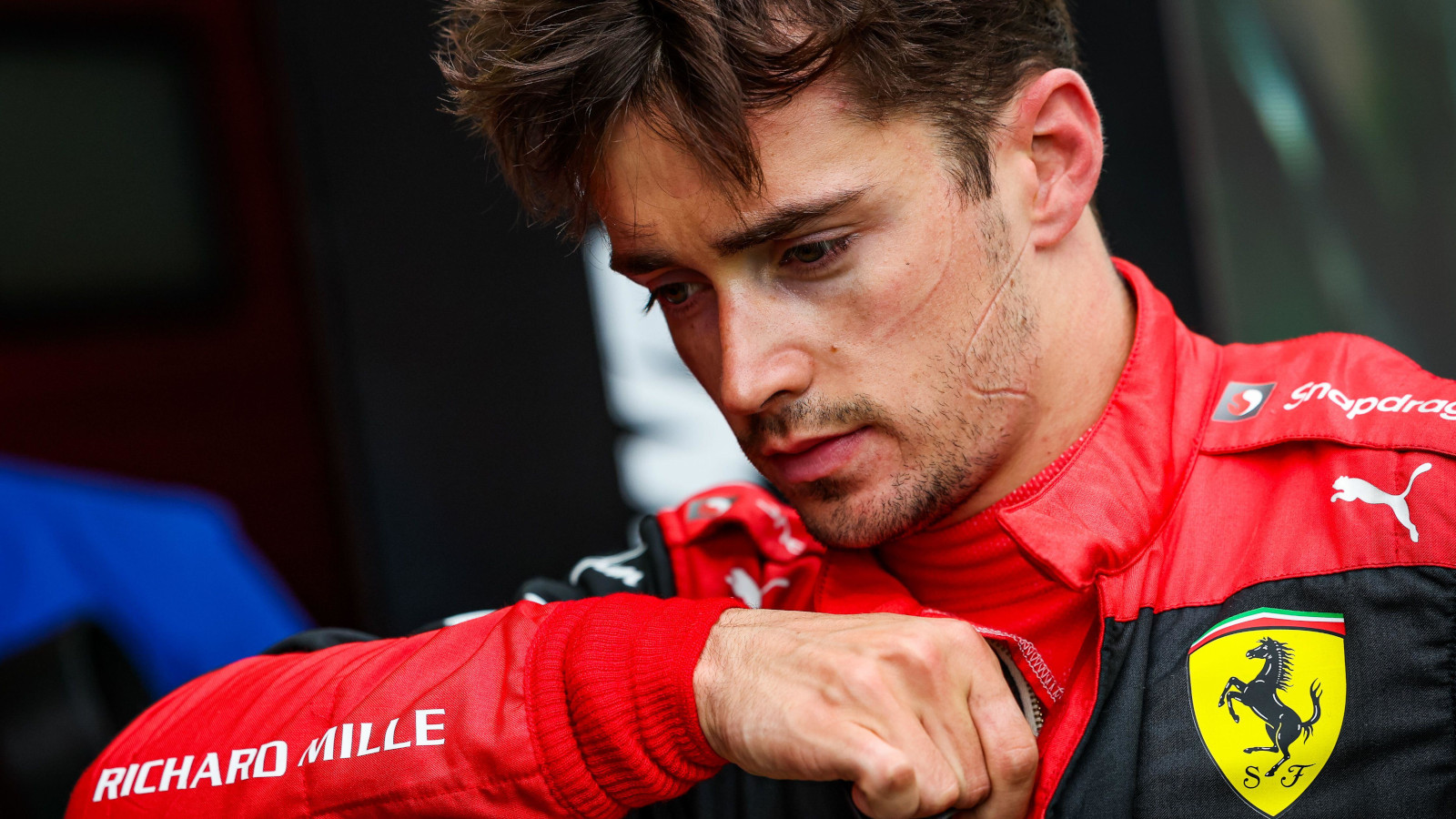 A respected Formula 1 observer believes Ferrari driver Charles Leclerc is a better bet to be crowned World Champion in 2023 than Mercedes pair Lewis Hamilton and George Russell.
With a record 15 victories in a single season, Max Verstappen eased to his second title in 2022 but the Red Bull driver is expected to face a tougher challenge this year.
Leclerc, who was ultimately forced to settle for second in 2022 despite leading Verstappen by 46 points after three races, will be expected to lead Ferrari's charge ahead of team-mate Carlos Sainz under the stewardship of new team principal Frederic Vasseur, while Mercedes are poised to hit back after being restricted to just one victory last season.
Speaking via his Twitch stream, former Williams and Ferrari team manager Peter Windsor sees Verstappen as the strong favourite to make it three in a row in 2023, but sees more scope for improvement at Ferrari and Mercedes as F1 enters the second season of the ground effect regulations.
He said: "As far as how [Ferrari] will go in 2023, I'm not sure that is in the hands of either Charles Leclerc or Freddy Vasseur. It's in the hands, ultimately, of the technical team.
"No matter how much the new coach can say, 'we've all got to work hard, we've got to focus on this, we've got to do this, we've got to do that', ultimately it comes down to talent and it comes down to brainpower.
"It doesn't come down to resources, it doesn't come down to money. It comes down to talent and brainpower, which is why Red Bull are as good as they are because it's ultimately Adrian Newey's design team that creates that car.
"So how good a car will the technical department at Ferrari create in 2023 based on what they had in '22 and bearing in mind the regulation changes are relatively small and we're fixed now on power units? The logical thing to say is that Ferrari will be a bit nearer Red Bull probably.
"Red Bull are pretty near the ceiling [of the regulations] and Ferrari and Mercedes are going to get somewhere near Red Bull because Red Bull haven't got a lot more scope with which to play. They're just about at the limit of what you can do in these regulations. That's the way I see it.
"So I think it'll be more competitive. I don't imagine in a million years that Ferrari will have a better car race in, race out than Red Bull, but I think it'll be a car that will be quite capable of winning races certainly.
PlanetF1.com recommends
Williams had a 'two-year' F2 plan for Logan Sargeant, deny F1 has come to soon
Five great F1 career moves: Hamilton to Mercedes, Schumacher to Ferrari and more
Lewis Hamilton car collection: Take a closer look at his incredible private garage
"How many races? I would guess six, maybe Sainz will win a couple of those. But I'd be surprised if they win more than six because I think Mercedes is going to win races as well, more races. So I think they'll have a pretty good year and it'll be fun to watch.
"If you wanted an outside bet, I guess 'Charles Leclerc to be World Champion' isn't a bad bet to have.
"I'd put more money on that than I would on Lewis – or George for that matter. But I think, right now, it would be weird not to think about Max winning again."
Vasseur's appointment as team principal – the fifth man to hold the position since Ferrari last won the Drivers' Championship in 2007 – was among the biggest stories of the winter break following the resignation of Mattia Binotto.
Windsor feels the Binotto regime was guilty of gravitating too much towards Sainz, with the arrival of Vasseur – a long-term ally of Leclerc – set to benefit the Monegasque's title aspirations.
He added: "I think the relationship between Carlos and Charles was slightly imbalanced when Binotto was there because he just leant towards Sainz. He just liked the way Carlos was, he listened to Carlos.
"When Carlos said, 'this car's got slow-speed understeer' and Charles said, 'yeah, but you can get around that and really we don't want to hurt the traction by improving the front end', in that situation my understanding is that Binotto would lean towards the Carlos Sainz solution.
"I don't think that will happen anymore. I think now it'll be, 'right, this is the logical thing' and in his mind, even if he never says it, Fred Vasseur will know that Charles Leclerc is a serious racing driver.
"He knows what he's doing and he's going to have the edge over Sainz in the under-pressure moments at the end of Q3 or in variable, changing conditions during the race – fuel load, tyres going off, whatever it is. That's when Charles is always going to be the class act.
"Lap for lap, new set of soft tyres in Q2, Carlos Sainz will be right there with Charles Leclerc when there's no pressure.
"But when the pressure's on or when the car is suddenly difficult to drive, that's when Charles Leclerc – like Lewis Hamilton, like Max Verstappen – will come into his own with his slightly wider palette of tools.
"That's something that Freddy will be aware of because he's a bright guy.
"I think he's bright enough to know that if he's going to win a World Championship in 2023, more likely it's going to be Charles Leclerc that's going to win the Championship for him.
"It's just a question of letting him relax and get the best from the car and the best from the team at any given moment. That's what Fred will be very good at doing and what Mattia probably never did. He probably never thought that way and Charles could probably feel that.
"I would say it was 50:50 [between Leclerc and Sainz] in terms of absolute mechanical preparation, but in terms of subtleties and nuances, and maybe strategy calls, maybe it's 51:49 now in the favour of Charles Leclerc."