Charles Leclerc v Carlos Sainz: The battle to be No.1 didn't go in anyone's favour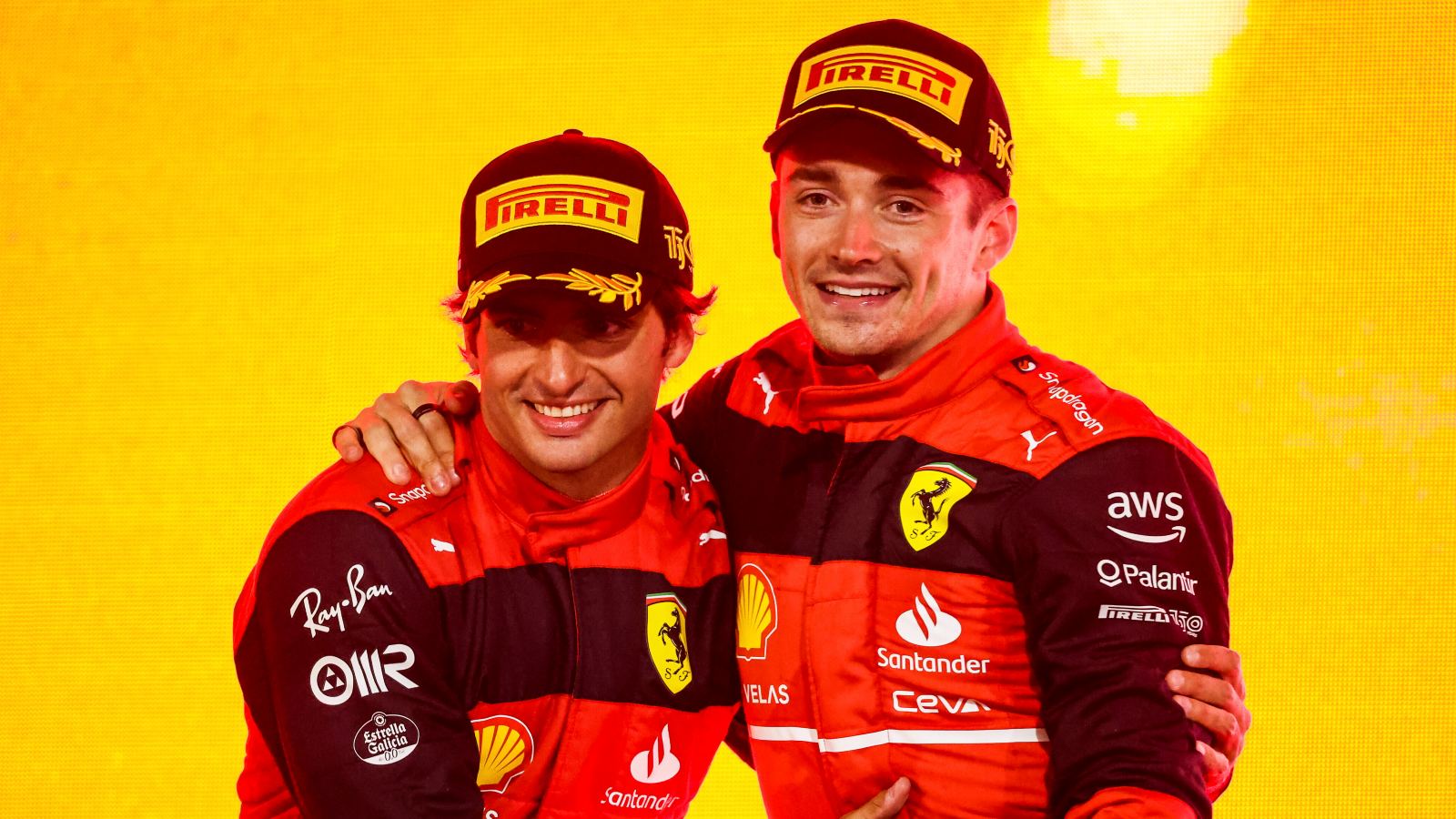 Qualifying: 15-7
Races both finished: 7-7
Points: 308-246
Ferrari's 2022 intra-team war was a bit like Highlander. 'There can be only one', or at least that's what the whispers in the paddock suggested.
In the end that wasn't settled, with the 2022 championship going down as a disappointing season for both Charles Leclerc and Carlos Sainz. Perhaps a weird thing to say given both drivers claimed grand prix wins, the first since 2019 for Leclerc and a first ever for Sainz.
Last year, their first season as team-mates, Sainz pipped Leclerc in the Drivers' Championship by 5.5 points and took four podiums to his team-mate's one. None of those, though, were race wins with the two having an amicable first campaign together.
This year with their all-new F1-75 proving to be a race winner from the get-go it was all Leclerc – ahead in qualifying in which he also took nine pole positions to Sainz's three, ahead in podiums by two, ahead in race wins by four to one, and ahead in the points standings as well.
Behind though, is has been suggested several times, in confidence in the team boss after Mattia Binotto refused to put all the Ferrari horses into his stable for a one-man title tilt. Did the Italian foresee what was to come when pundits and fans, as Max Verstappen began to close the gap, called for a number one like the Ferrari of yesteryear?
Leclerc's 2022 season could not have began any brighter if he had written the storyline himself, the Monégasque driver winning two of the first three races, Bahrain and Australia, taking the chequered flag for victories he had to fight for ahead of Verstappen. That he was P2 in the one he didn't win, Saudi Arabia, which saw yet another thriller between the two, added to the dream. But it was one that quickly soured into a pipe dream.
A mistake at the Emilia Romagna Grand Prix cost Leclerc points, the driver falling from third to sixth, while for Sainz it was his second successive race out with crash damage. They bounced back in Miami with a double podium but with Verstappen taking the win he closed the gap on Leclerc and by Spain, when Leclerc retired with a turbo issue while leading and Verstappen won, it was the Red Bull driver who was ahead by six.
The calls for Ferrari to back Leclerc alone for a title quest began, growing ever louder as Ferrari botched his strategy in Monaco where Sainz, it must be noted, bucked what Ferrari wanted him to do and set himself up for a P2 to his team-mate's P4. The gap between the team-mates slashed two races in a row and Binotto seemingly justified in refusing to bet on one over the other.
A double DNF followed in Azerbaijan, again engine related and again Leclerc was leading when his PU gave up the fight. The problems and pressure were piling on. So too were the engine penalties. But the worst was yet to come, at least for Leclerc, his misery Sainz's moment in the spotlight.
At round 10, the British Grand Prix, Leclerc was leading when there was a late Safety Car and Ferrari chose to leave him out, saying track position, but pitted Sainz for fresh rubber. The Spaniard, as well as Sergio Perez and Lewis Hamilton, went flying past Leclerc at the restart with Sainz taking the victory, his maiden P1 in F1.
What should have followed was a week's worth of headlines praising Sainz, instead it was whispers of dissension in the ranks and analysis of Binotto's finger wag towards Leclerc post-race. Sainz, though, had done his bit to show the world he wasn't anybody's wingman.
Leclerc bounced back with a win in Austria, Sainz recording retirement number four, but with Leclerc then out of the French Grand Prix, his own fault for crashing out of the lead, it was game over for the Ferrari title challenge. The only thing left to fight for was pride and even that was in short supply.
Neither Scuderia driver would add to their wins tally in the final 10 races, Binotto's claim about seeing "no reason why" they couldn't win all 10 coming back to bite him. With just podium finishes as well as two additional retirements for Sainz to come even the fight to be named Ferrari's number one fizzled out, no-one cared when the prize was just to finish runner-up.
Leclerc achieved that, beating Sergio Perez at the Abu Dhabi Grand Prix to snatch it by three points, a career high for the driver, while Sainz was fifth, matching his position from the previous season. And yet there was nothing to celebrate. For Sainz it was a year with a first pole position and first race victory, for Leclerc it was a career-best P2 and the most number of wins he's taken in a single season, but all the focus was on what could have been.
Next season Leclerc and Sainz will have a new as-yet-unnamed team boss after Binotto tendered his resignation with Fred Vasseur reportedly leading the running. It's been suggested he'll be quick and blunt about picking his number one and his past relationship with Leclerc from his Sauber days has the 25-year-old the favourite for the job.
But unless Ferrari can resolve their reliability issues as well as take a quick lesson in Race Strategy 101, being number one at the team may just be a case of first loser.
Read more: George Russell v Lewis Hamilton: Russell beating Hamilton is not so 'irrelevant'