Leclerc says Ferrari 'cannot afford' another Sainz battle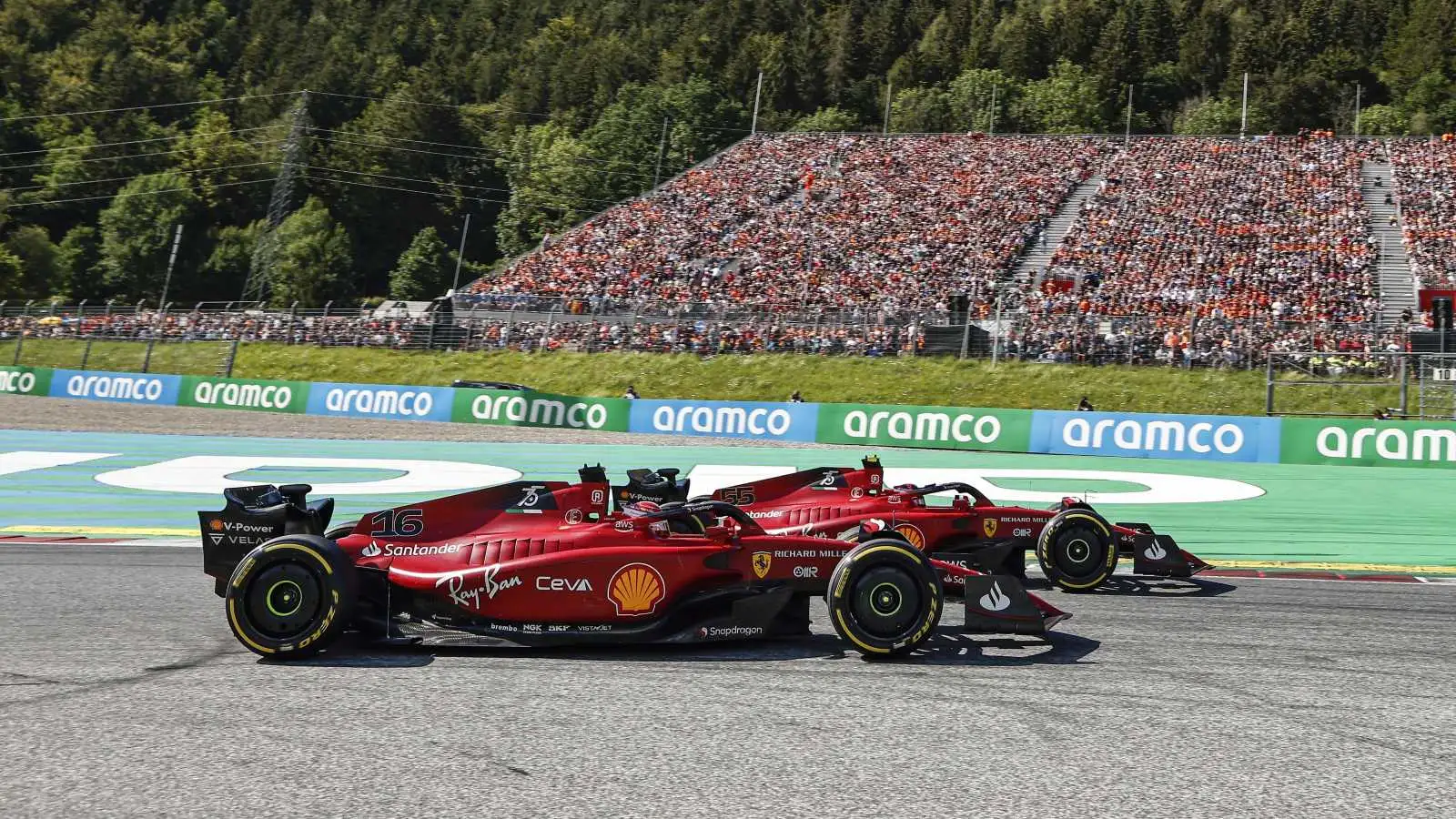 After slugging it out with his Ferrari team-mate Carlos Sainz early in the Austrian Grand Prix sprint, Charles Leclerc says a repeat cannot happen on Sunday.
Sainz got the jump on Leclerc at the start of sprint qualifying in Austria, offering a brief challenge to Red Bull's Max Verstappen before focusing exclusively on Leclerc.
That was great news for Verstappen, who was able to establish a comfortable lead and turn the sprint into a stroll to the chequered flag.
It turned into a smooth remainder of the sprint for Ferrari too once Leclerc had made the pass and Sainz dropped out of DRS range, but Verstappen was already in the clear, adding eight further points to his Championship tally, while it was seven for Leclerc.
With Verstappen now 44 points ahead of Leclerc in the standings, Leclerc says he and Sainz cannot hinder each other again in the Austrian Grand Prix on Sunday.
"I think tomorrow will be a long race and tyre management will be quite a bit more important compared to today," Leclerc told reporters.
"Probably tomorrow we cannot afford to do what we did today.
"Whether this was enough to get the win? I don't think so because Max was also managing the tyres once he had the gap.
"So we will never know what would have happened. But yeah, the work today, it's the way it is."
As for whether Ferrari needed to put down some clear rules of engagement for their drivers, Leclerc said that ultimately would be the responsibility of team principal Mattia Binotto.
"Yeah, I don't know for the rules of engagement," said Leclerc. "Obviously we are not the ones to decide. It will be more Mattia."
Sainz concurred: "Mattia will decide, and the team."
Where Sainz did not agree with Leclerc though was when it came to the impact of their battle.
While he admits Ferrari must ensure they are closer to Verstappen at the beginning and end of the race on Sunday, he did not feel a great deal of time had been lost as a result of scrapping with Leclerc.
"I think today there was very little to gain or lose by the fighting," Sainz suggested.
"We are talking about one point more, one point less because the sprint, there's not many points going on. And also Max looked very in control the whole race up front. So it's not like we lost out,  basically.
"But we need to make sure we stay closer at the beginning of the stint and we are closer at the end of the stint. I think this is what we need to try and do tomorrow."