Leclerc to avoid 'anything stupid' with Sainz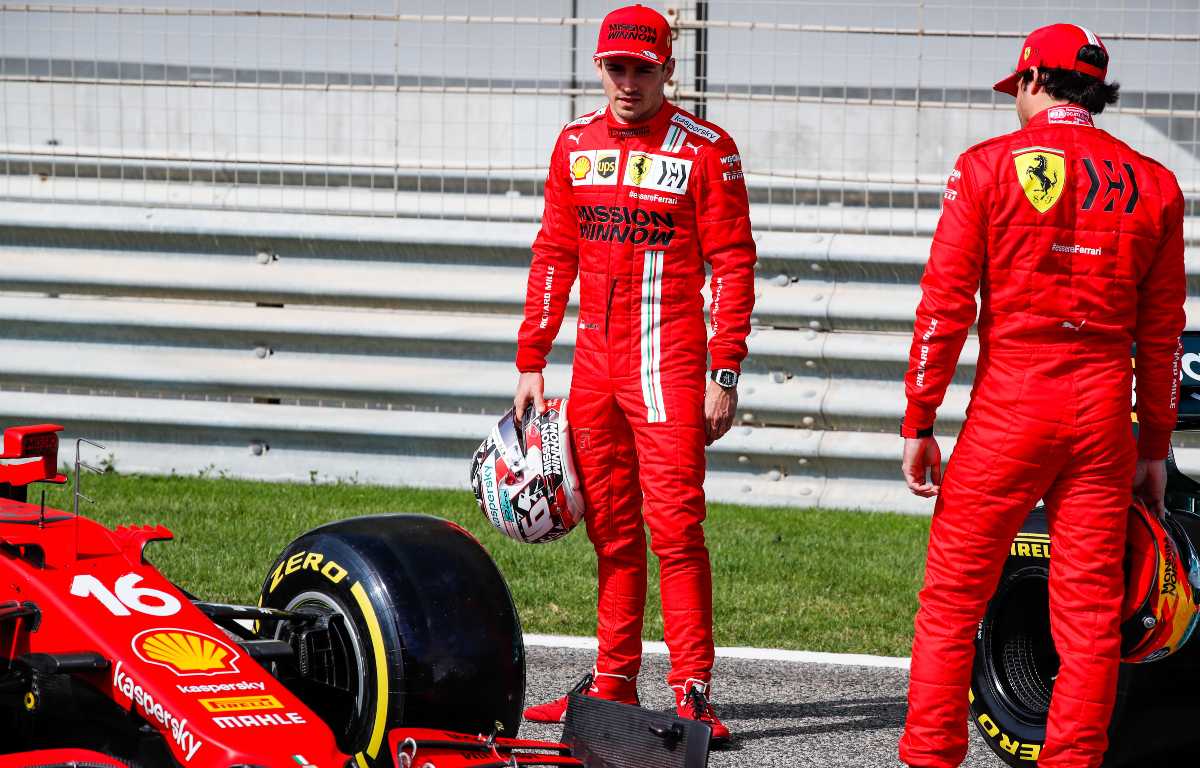 Charles Leclerc said he and new team-mate Carlos Sainz must not do anything "stupid" at Ferrari this season.
Leclerc came into Ferrari for the start of the 2019 season with the status of number two driver to Sebastian Vettel, but after matching, and at times outperforming Vettel from the start, tensions started to rise.
There were numerous comings together and flashpoints between the pair until Vettel left the team at the end of 2020, and Leclerc said recently that there was a "strange atmosphere" at Ferrari in the early stages of 2020.
Last season was slightly more well-mannered on the track between Leclerc and Vettel as they no longer had the car to fight for wins, but Ferrari now very much see 2021 as a year to build for a better future under the new regulations in 2022.
And so, Leclerc does not want to get into any "stupid" situations with Sainz.
"We are about the same age, we have the same interests," he said of Sainz in an interview with Code Sport Monaco.
"It promises to be a lot of fun. We get on really well and we can't wait to be able to fight on the track, without doing too much stupid things together.
"It's going very, very well with Carlos. I don't think I've spent as much time with him as with any other team-mate. We are very motivated."
𝘽𝙀𝙃𝙄𝙉𝘿 𝙏𝙃𝙀 𝙎𝘾𝙀𝙉𝙀𝙎 🎬#essereFerrari 🔴 @Charles_Leclerc @CarlosSainz55 @F1 pic.twitter.com/3y8cEp2Mtp

— Scuderia Ferrari (@ScuderiaFerrari) March 15, 2021
Get your hands on a Ferrari Checkered Flag T-Shirt made by Puma!
Leclerc's 2020 campaign was very impressive with the Monegasque driver scoring 98 points in the SF1000, including two podium finishes.
And from that season where the car beneath him was not competitive, Leclerc he learned a lot, and to continue giving "200%" is his main objective for the new season.
"It was important for me to prove that even in a difficult season like that, I gave my best on track," Leclerc explained.
"Yes, there were mistakes and it won't be the last ones for sure, but I learned a lot.
"Every time I do a mistake, I analyse why and what I have to do, so that it won't happen again. So I learned a lot in 2020.
"My objective remains exactly the same as before, I always have to give 200% when I'm in the car, bringing the car to the highest as possible. That was the case last year and it is still the case. My mentality hasn't changed, my motivation remains the same.
"I'm highly motivated. The team has to fight for wins and at the very least for podiums. This gives me a lot of motivation to try to push everyone in Maranello, to work in the right direction and to get back to where we want to be, which is in a winning position."
Follow us on Twitter @Planet_F1, like our Facebook page and join us on Instagram!