Leclerc being 'pushed very much' by 'amazing' Sainz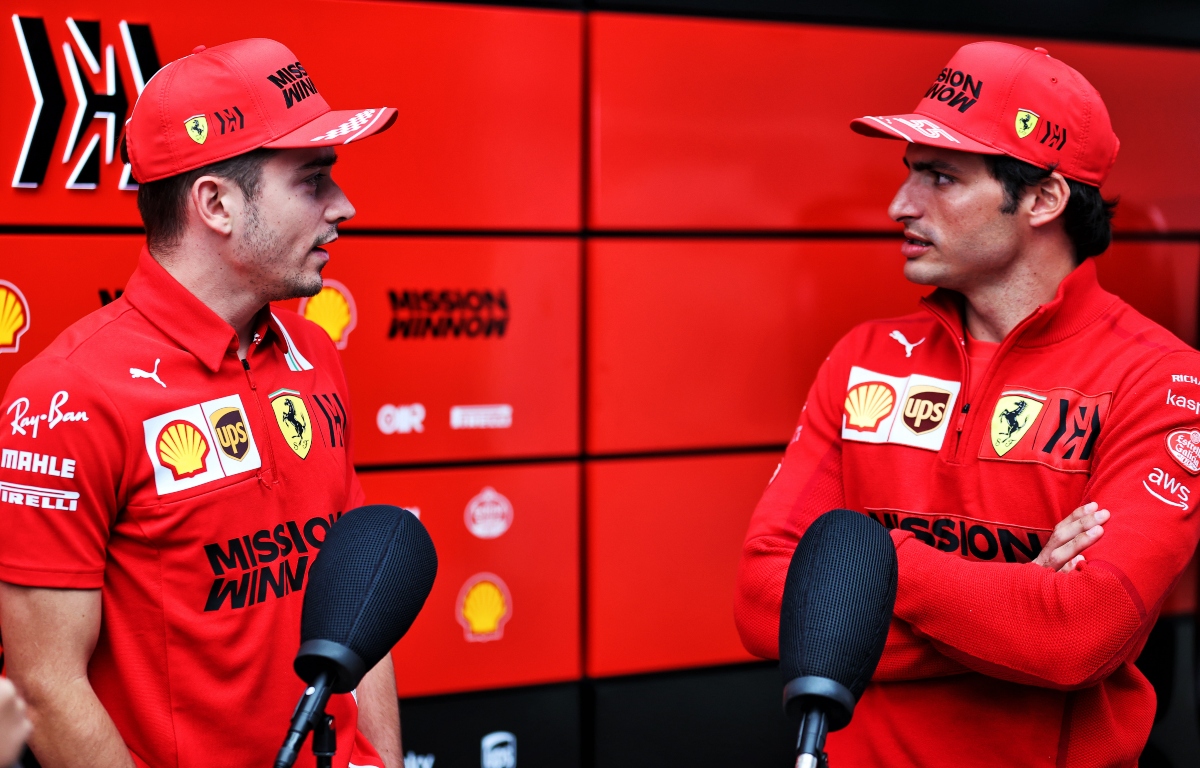 Charles Leclerc feels "very much" pushed by Carlos Sainz and says his team-mate has made him a better driver. 
Many expected the Spaniard to play second fiddle to Leclerc when it was announced he would be replacing Sebastian Vettel at Ferrari for the 2021 campaign and beyond.
However, that was not the case at all in their first year together as team-mates. While Leclerc finished ahead of Sainz more often than not on both Saturdays and Sundays, it was the 27-year-old Spaniard who scored more points.
It was the first time in his F1 career Leclerc had been outscored by a team-mate and he admits he is being pushed a huge amount by him.
"We learned a lot," he said, quoted by Motorsport.com.
"As always when you have a new team-mate you always learn, [such as] the new ways Carlos is approaching race weekends, the way he works, his talent, his raw speed also, the way he takes the corners.
"He had an amazing year, so he obviously pushed me very, very much to try and perform better at every race and it's just been extremely interesting."
Carlos Sainz: "I firmly believe there are seven or eight world champions on the grid right now."

Which eight drivers do we reckon was he thinking of? #f1 pic.twitter.com/ELDkPTl9zd

— PlanetF1 (@Planet_F1) January 1, 2022
Leclerc is widely considered one of the best qualifiers on the grid and that remained the case in 2021, for he was usually comfortably faster than Sainz and achieved a number of impressive results including two pole positions.
Things were always much closer between the two of them on race days though, with Sainz often enjoying stronger Sundays and making fewer mistakes than the other Ferrari driver.
Leclerc says his own performances in races were where he needed to improve heading into the campaign and feels Sainz's strength in that department has helped him to do so.
"I think maybe one of the strong points of Carlos is the race management and tyre management, and that was probably my weakness in 2019," he added.
"I progressed a lot as a driver in 2020 and again last year, and part of last year was thanks to Carlos."
While they kept things clean and often obeyed team orders, the two did go wheel to wheel occasionally in 2021 and Sainz says his team-mate is one of the drivers he enjoys battling with.
In his eyes, the Monegasque, as well as Lando Norris and George Russell, is "on a very good level" and also keeps things clean and fair.
Leclerc compliments 'amazing' Sainz
Charles Leclerc says he has learned a lot from Carlos Sainz in their first year together at Ferrari.