Charles Leclerc and Carlos Sainz vow to 'work together' to beat Max Verstappen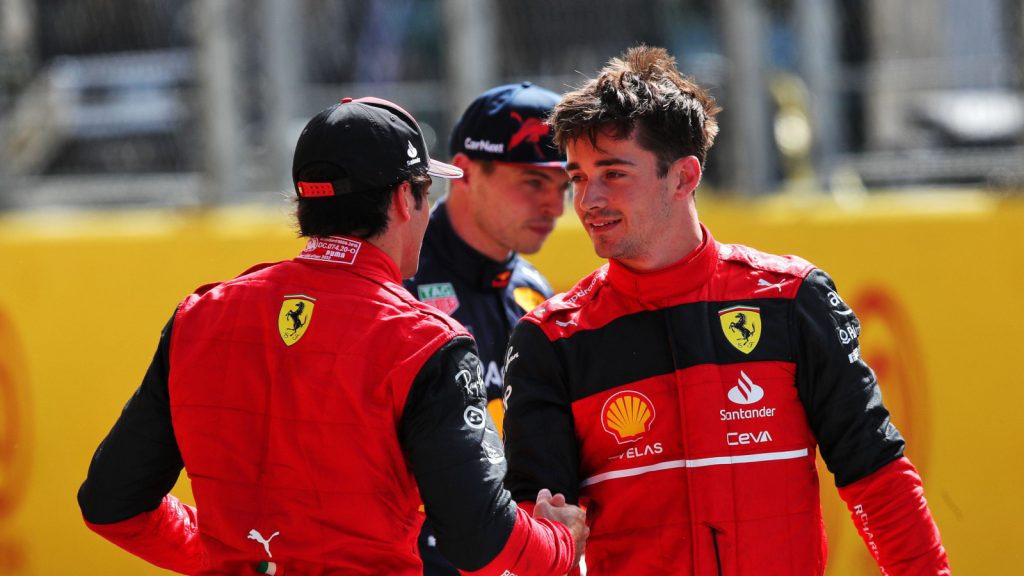 Charles Leclerc says he will work with Carlos Sainz in the Dutch Grand Prix, the Ferrari drivers teaming up to try and beat Max Verstappen.
Verstappen lines up on pole position on the Zandvoort grid chasing a fourth successive race win, which would be the Red Bull driver's longest ever winning streak.
But with the Ferraris starting right behind him, he faces a two-pronged attack.
Leclerc is starting P2, the driver missing out on pole position by 0.021s after a mistake at Turn 10 on his final hot lap, while Sainz is third.

Leclerc says the team-mates will work together to end Verstappen's run.
"It will be close with Red Bull," he said. "But we just need to do a great start and then we'll see.
"The easy way would be a great start, P1 in Turn 1, and then leave Max behind. But if that doesn't happen, Carlos and I are in the front, so let's see what we can do there.
"I think you always try to work together whenever you are in this position."
He added: "We will discuss the options available. To be honest, I haven't looked at all the possibilities completely.
"Obviously Max with a new set of softs will be strong whenever he uses it because here from a scrubbed to a new [set], at least for our car, is quite a bit of a difference as the degradation is very high. So we will need to check how we can do it."
P2! Potential is here, flat out tomorrow 💪 pic.twitter.com/DmooVTHe31

— Charles Leclerc (@Charles_Leclerc) September 3, 2022
Sainz says Ferrari will probably "play" with their strategy as they have one thing against them – neither driver has a brand new set of softs available to them.
"I think it will be an interesting day," said the Spaniard. "There will be a lot going on, even if it's a difficult track to overtake on. There will be many options with strategies.
"I think we can pretty much work together. We can play around with strategy.
"It's also true Max has a set of new tyres that we don't have, that gives him a bit of an edge, but even with that I'm pretty sure we can at least challenge him and make his life a bit difficult."
Sainz, however, reckons Verstappen will not be Ferrari's only challenge on Sunday given the pace shown by the Mercedes with Lewis Hamilton P4 on the grid and George Russell sixth.
"I think they will be at least as quick as us in the race," Sainz said of Mercedes. "And I think they will be in the mix around the pit-stops. And yeah, it will be a good fight with the other five cars."
Leclerc starts the grand prix 98 points behind Verstappen in the race for the World title, Sainz a further 20 points off the pace.