Leclerc will not 'lose confidence' despite hitting Jeddah wall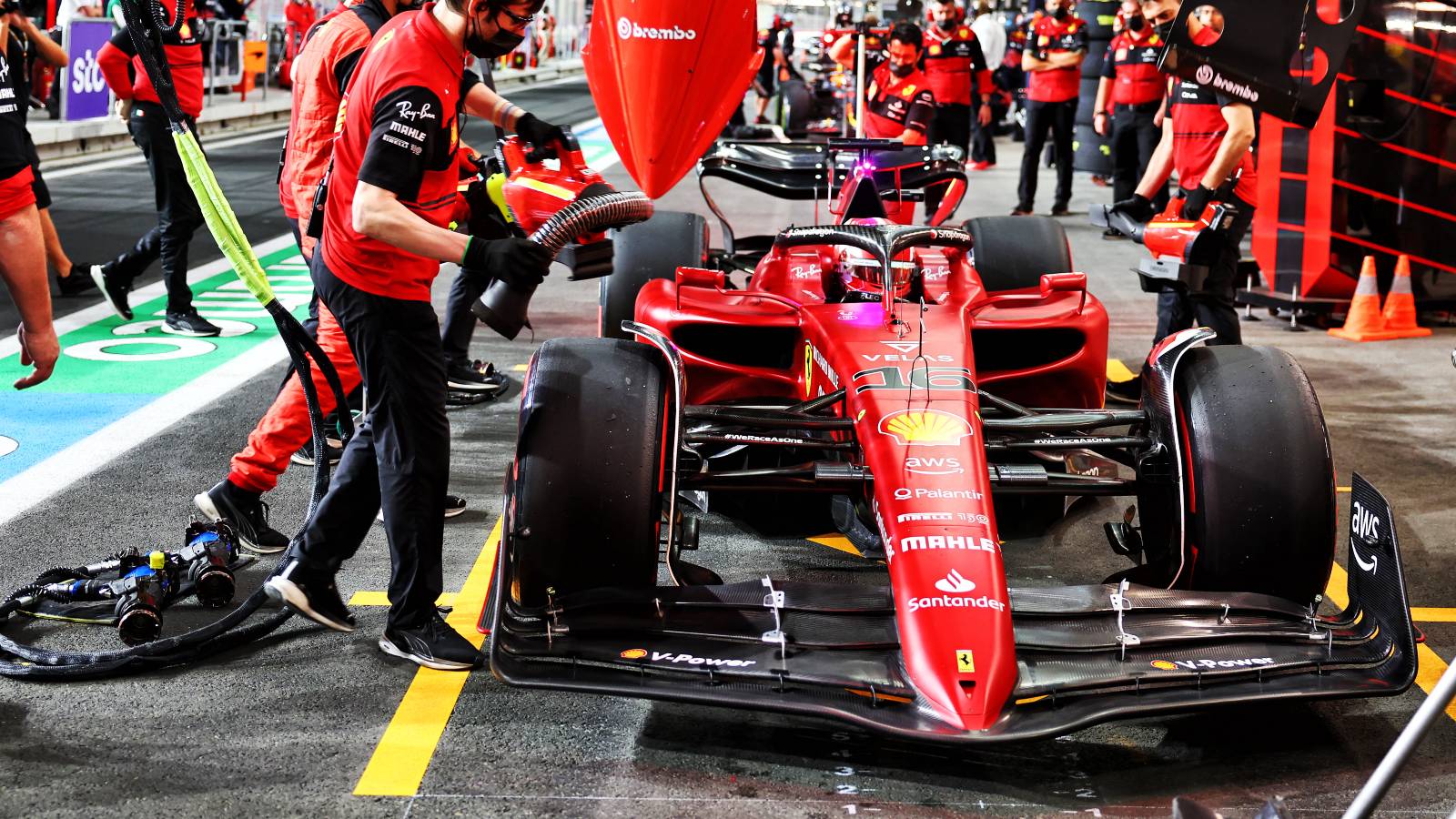 Despite an early end to FP2 in Saudi Arabia after whacking the wall, Ferrari's Charles Leclerc says his confidence has not been dented.
Leclerc made a winning start to the 2022 campaign, claiming victory at the Bahrain Grand Prix as he led home a Ferrari one-two ahead of team-mate Carlos Sainz.
And in Saudi Arabia he would pick up where he left off, topping both Friday practice sessions, though FP2 did come to a close for Leclerc sooner than he would have wanted.
On his race simulation Leclerc would suffer a heavy scrape along the wall at Turn 4, causing damage to the front steering arm, meaning his session was over with not enough time remaining to complete the repair.
Around Formula 1's fastest street circuit, the driver who dares carry the most speed and threads their car between the walls with precision thrives, so if the confidence is lacking even slightly to get right up to the walls, then lap times will suffer.
Fortunately though, Leclerc's confidence has not been knocked at all by the incident.
"It was an unfortunate end to an otherwise good day," he told the Ferrari website.
"In FP2 it was a small mistake, but not one that makes me lose confidence. I expected the front to slide around more and I clipped the inside wall at Turn 4."
Leading the way on Friday. Let's keep going 💪#essereFerrari 🔴 #SaudiArabianGP pic.twitter.com/7XCLoT158G

— Scuderia Ferrari (@ScuderiaFerrari) March 25, 2022
But looking ahead to qualifying, Leclerc is confident that the performance is there in the F1-75 to put Ferrari "in the mix" for pole.
"Focusing on tomorrow, I think the pace is there," said Leclerc.
"It's a bit of a shame we couldn't get the high fuel laps done, but we should be in the mix for tomorrow."
Leclerc was not the only driver who needed some repair work doing on his Ferrari, since Sainz also hit the wall in FP2.
While the impact was not as severe as his team-mate's, Sainz nonetheless finished FP2 early due to the resulting damage.
"Unfortunately, we didn't do the long run at the end of FP2 after I brushed the wall and we had to stay in the garage," said the Spaniard.
"As expected these cars are behaving differently here in Jeddah compared to Bahrain and we keep learning more about how to set up the car for different conditions and corners."
Sainz also encountered some 'porpoising', something which Ferrari appeared to have largely under control in Bahrain, though it is not a cause for concern to Sainz's mind.
"Porpoising was a bit of an issue at a certain point but I'm not concerned," he said.
"As last year, understanding which is the best tyre for the race is important for the strategy."