More brutal Charles Leclerc criticism: 'He's driving beyond his capabilities'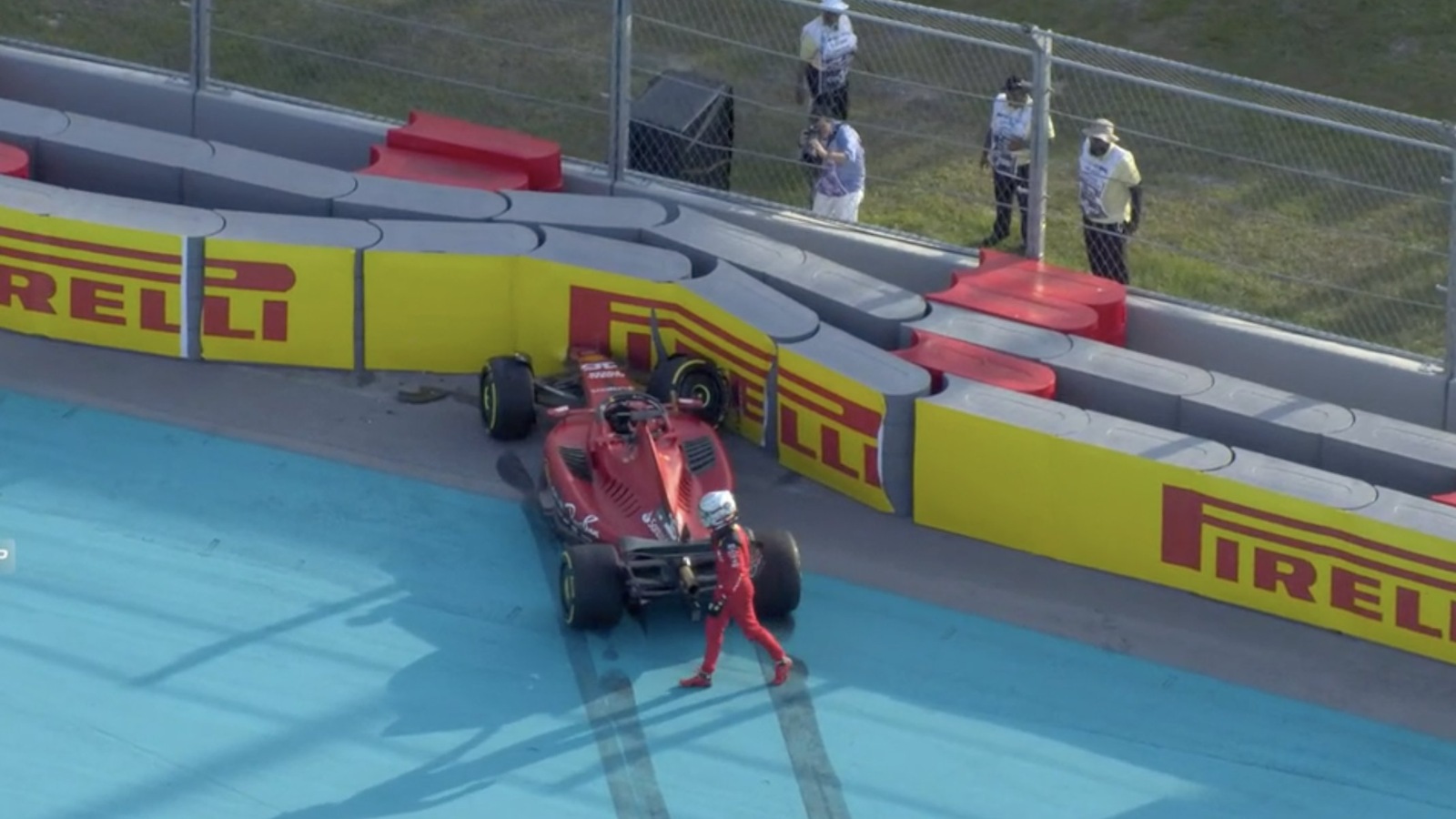 David Coulthard believes the recent mistakes from Charles Leclerc are evidence that he is "driving beyond his own capabilities" at the moment.
Leclerc crashed out at Turn 7 during free practice in Miami, but in an attempt to try and dethrone the Red Bull drivers in qualifying, made the same mistake at the same corner in Q3, sending his car into the barrier and bringing out the red flags in the process.
The Ferrari driver lamented his own errors after qualifying finished, but this has led to several prominent voices in the paddock criticising him for pushing too hard in search of performance from his SF-23, with Red Bull the clear front-runners in Formula 1 as it stands.
For ex-Red Bull and McLaren driver Coulthard, he dubbed that tendency to go one step too far a "chink in his armour" as he goes in search of a first World title.
Once that happens, the Scot thinks Leclerc will be an altogether different proposition to go up against, but for now, he feels he is driving in a "desperate" manner.
"It's not acceptable and that's a chink in his armour," Coulthard said of Leclerc's errors on Channel 4.
"He's brilliantly fast, he extracts a lot from that car, but he makes too many mistakes and there's too much damage.
"He knows it, the team will know it, they'll accept it because what else can you do? You know, you're not going to fire him, he's the strongest asset they have there in terms of extracting the last little bit from the car.
"But I think that all he needs is a World Championship and then he will be the complete package.
"Right now, he doesn't have that World Championship. Therefore, he's driving a little bit desperate and driving beyond his own capabilities."
PlanetF1.com recommends
Concerns voiced over Charles Leclerc's driving ability: 'He's win or bin'
'Charles Leclerc doesn't have maturity nor consistency to win World title'
Criticism of Charles Leclerc nothing he is not saying to himself
For all the critiques of Leclerc's driving that are coming his way at the moment, one of his longest-held characteristics is how critical he is of his own mistakes.
Thinking back to his "I am stupid" radio message after putting his car in the wall in Baku several years ago, or the times he goes on the record to chastise himself after mistakes happen is a good way of admitting fault where other drivers in the paddock would not.
But given how hard he is on himself, hopefully he is finding a way to distance himself from his recent errors, otherwise they may begin to eat away at him mentally bit by bit.
"It was unacceptable," he told Sky Sports F1 after qualifying last Saturday. "It was the same mistake in the same corner [so I am] really disappointed with myself.
"I know also that I'm taking more risks than others probably in Q3 and that's why most of the time I'm doing good Q3s but this is too much and again, very disappointed with myself. I did the same mistake yesterday and this shouldn't happen."
It is worth remembering that, sandwiched in with the comments from Coulthard and others about his mistakes, all have praised how fast and naturally gifted he is behind the wheel.
As with so many highly-rated talents before him, the sooner he can channel that speed into just the right amount of aggression consistently, he will be a force to be reckoned with.