Ricciardo's resurgance is 'bad news' for Ferrari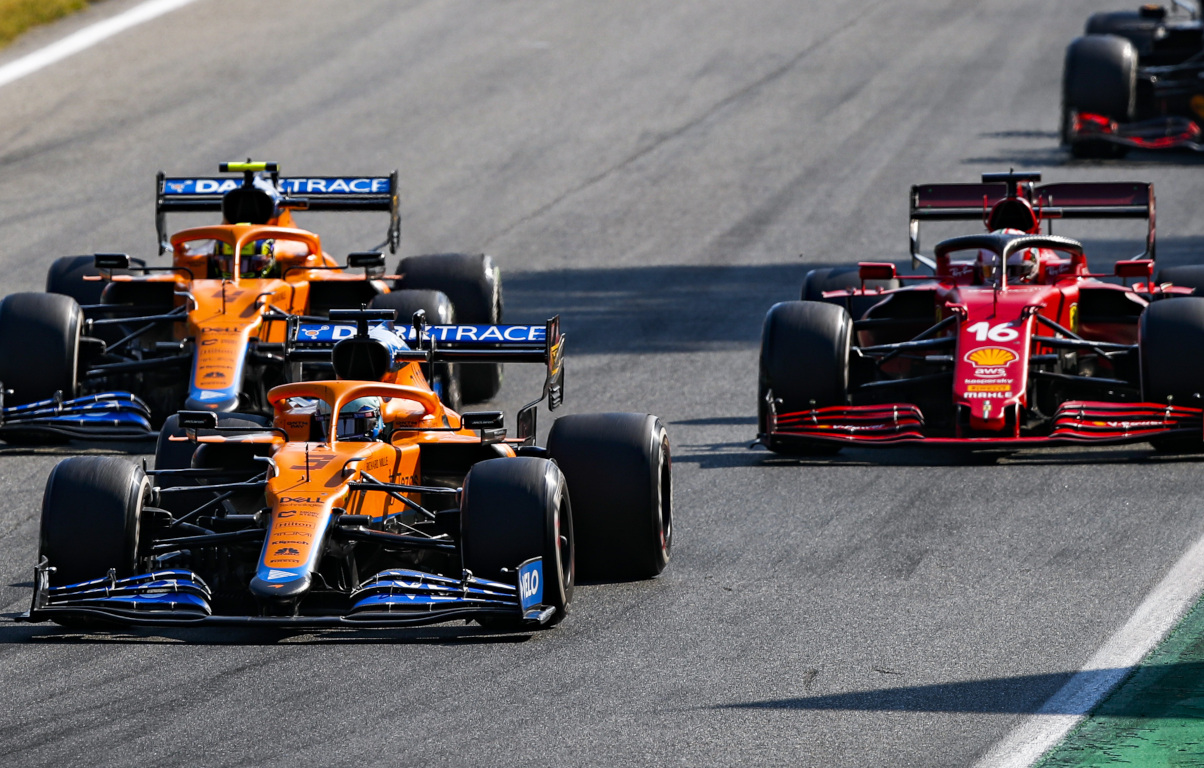 Charles Leclerc says it is "bad news" for Ferrari if his Italian GP win is a sign that Daniel Ricciardo has rediscovered his mojo.
Bouncing back from a disappointing start to his McLaren career, Ricciardo bagged his first front row grid slot with his new team at Monza, starting P2 alongside Max Verstappen.
The Aussie vowed to attack and that's exactly what he did, out-dragging Verstappen to the first corner to take the lead, and ultimately take the win.
It was Ricciardo's first P1 since 2018 with the 32-year-old jokingly saying he has "just been a sandbagging S.O.B the whole year".
But if that turns out to be the case, not because of sandbags but because he is finally comfortable in the McLaren, Leclerc fears Ferrari could be in for a tough time.
"Days like this shows they are really on it," Leclerc told Sky Sports F1.
"I am very happy for Daniel, it is great to see him perform as he would have done last year. He is an incredible driver and it is great to see him back at 100 per cent.
"It's true that he had a bad first part of the season. Even for us it was difficult seeing him struggling like that compared to Lando. And finally seeing him perform like the Daniel of the last few years like he did, it's pleasant to see.
"But for us, it is bad news if he keeps performing like this. It is pushing us to try and be perfect every weekend and that is exactly what we will try to do in the next few weekends."
Up until Monza, Ferrari have mainly been fighting against just one McLaren, Lando Norris, now they have two to contend with.
Gotta love @danielricciardo 🧡#ItalianGP 🇮🇹 #F1 pic.twitter.com/7AfuKPZiVz

— Formula 1 (@F1) September 13, 2021
Show your support for Charles Leclerc with his official merchandise collection on the Formula 1 store
Sunday's result at Monza means Ferrari now trail McLaren by 13.5 points in the race for third place in the Constructors' Championship.
Ferrari did manage a double points-haul at their home race but it was a P4 for Leclerc and a sixth-placed finish for his team-mate Carlos Sainz.
Leclerc admits the Scuderia just didn't have the pace to fight for a top-three finish.
"It was a shame," he said.
"The pace was there but the only thing is we were very vulnerable in the last sector and on the first straight so that made it very easy for the others to overtake.
"I made a lot of lap time in the second sector but the thing is they were recovering more lap time in the last sector and the first sector. That is how we got overtaken.
"It is a shame but in the end, I gave it absolutely everything."
Planet F1 verdict
McLaren overshadow Ferrari's home Grand Prix
With McLaren getting a 1-2, Ferrari need to have a better race weekend in Sochi.