Charles Leclerc disagrees with Mattia Binotto's assessment of Japan GP penalty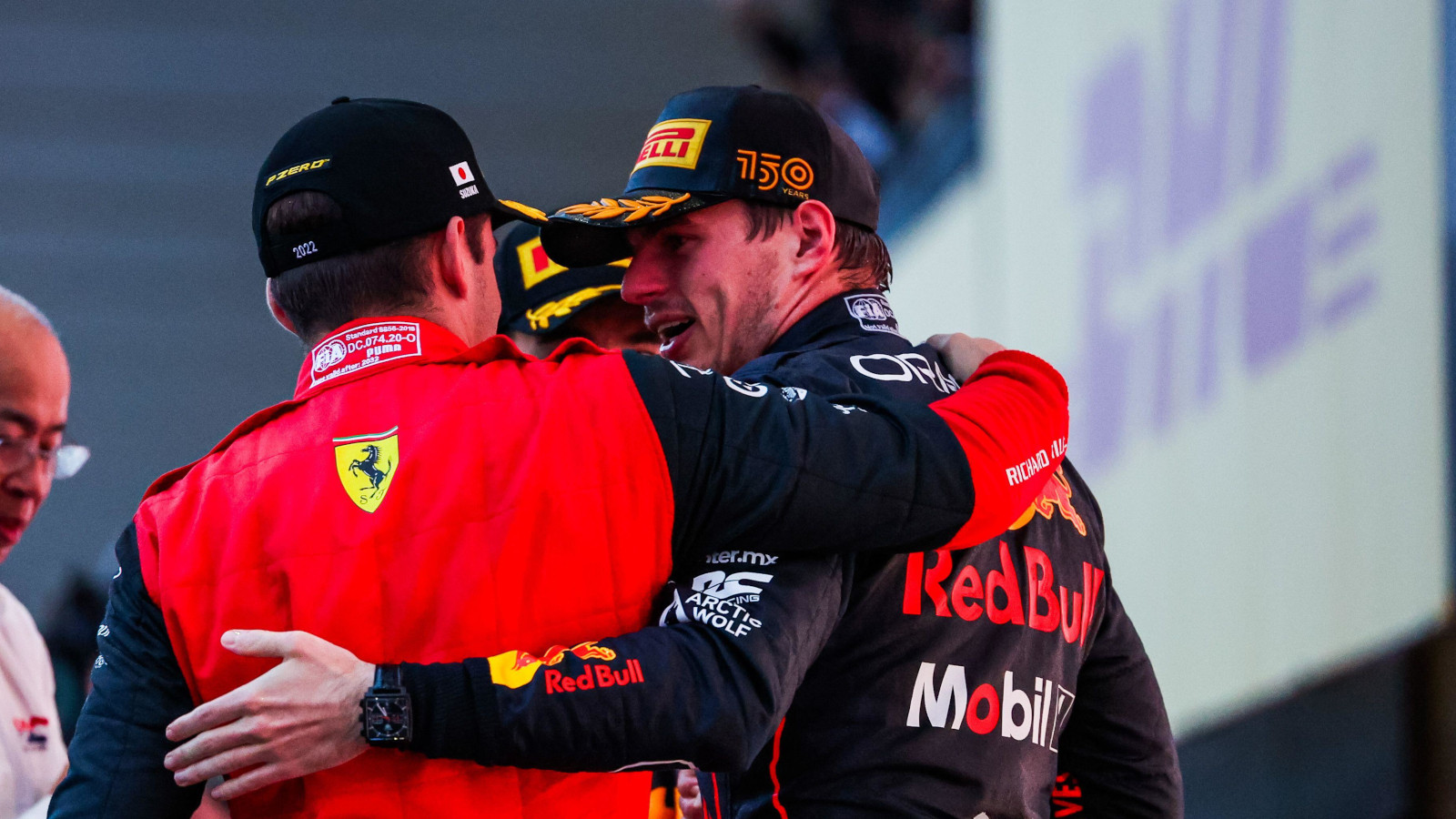 Charles Leclerc has acknowledged his mistake as he defended against Sergio Perez in the dying minutes of the Japanese GP, saying the FIA were "right" to penalise him.
The last two drivers standing between Max Verstappen and his second World title, Leclerc and Perez fought over second place in Sunday's two-part Japanese Grand Prix.
Leclerc was running P2 ahead of Perez but was under pressure from the Mexican driver as his Ferrari's intermediate tyres lost grip.
With Perez hassling him, Leclerc made a mistake on the last lap as he ran deep into the final chicane before crossing the line ahead of the Red Bull driver.
The stewards took swift action as they declared he'd gained an advantage and handed him a five-second time penalty, Leclerc falling to P3 which gave Verstappen enough of a points advantage to win the title.
Ferrari team boss Mattia Binotto was incensed.
"I think the choice of the FIA ​​is ridiculous and unacceptable," Binotto told Sky Italia.
"This decision taken without even listening to drivers is unacceptable as there was no advantage gained."
Leclerc, however, disagrees with his team boss as he made a "mistake" and it was "right" to penalise him for it.
"Well, I don't have much to say," Leclerc told media post-race. "I did a mistake and tried to minimise it by trying to go straight.
"I was not aware this was the last lap but the five-second penalty was the right thing to do be honest."
Leclerc has been handed a 5-second penalty for cutting the chicane at the end

That means Perez now finishes second, Leclerc drops to third #JapaneseGP #F1 pic.twitter.com/Tj3iQXmYk4

— Formula 1 (@F1) October 9, 2022
Speaking about his race at the wet Suzuka circuit, Leclerc says it was a good start but then his intermediates gave up on him.
"Well, from lap five onwards to be honest, it was all downhill, really struggling with the tyres," he said.
"A bit like the last race, no. We are very strong warming up the tyres but then after three four laps we just destroy them. So yeah, a struggle this time.
"A huge congratulations of course to Max for his second World Championship..
"We'll keep pushing until the end. It's obviously frustrating. The pace was not quite there after four laps. But it's like this."
With four races remaining the battle for P2 is on, Perez holding that position by a single point ahead of Leclerc with George Russell and Carlos Sainz also still in the running.
Leclerc, however, says the main reason Ferrari want a strong finish to the season is to build for next year.
"Exactly," he said. "That's the goal.
"I mean, I think Max's title this year was just a matter of time, really. So we expected him to win the World title.
"Now we need to use those last races in order to become a better team and hopefully, yeah, put him a bit more of a challenge next year."
Read more: FIA explain how Max Verstappen was able to clinch World Championship in Japan