Charles Leclerc issues DNA warning as Las Vegas spectacle threatens to go into overdrive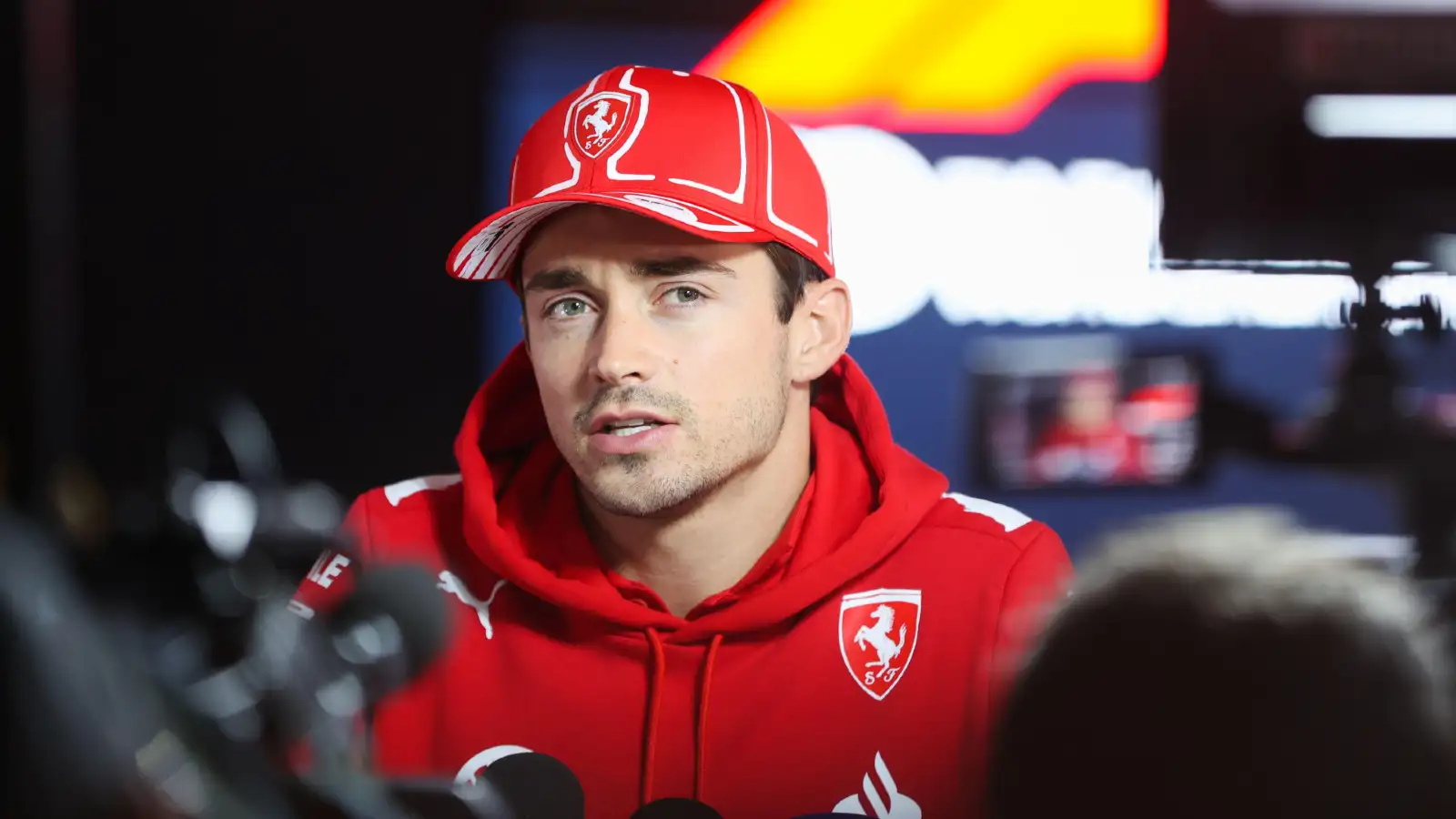 Ferrari's Charles Leclerc says he doesn't want to see the DNA of F1 changing as the sport descends on Las Vegas for a star-studded weekend.
F1 has shifted gears for this weekend's inaugural Las Vegas Grand Prix, stumping up its own money as a promoter to bring the sport to the streets of the city in what will be a very different feeling weekend to, say, a wet and miserable weekend at Spa-Francorchamps.
Fully embracing the glitz, glamour, pomp and circumstance of what F1 is bringing to Las Vegas, the drivers have already been through an official 'launch ceremony' in which they were introduced to the crowd while standing on tall platforms – and not all the drivers are welcoming the off-track distractions.
Charles Leclerc: F1 right to seize opportunities, but DNA needs to remain
Charles Leclerc can see both sides of the situation, believing that F1 is right to attempt to cement its place in the United States with a third Grand Prix in the country, but said he doesn't want to see the fundamental DNA of the sport change beyond recognition as the spectacle threatens to become more important than the sport.
"It's a lot," he told media on Wednesday, when asked about the opening ceremony.
"But I think that, if you don't do that here, you don't do that anywhere. I mean, what's most important to me is that the DNA of the sports remains the same.
"However, we need to also take opportunities of this kind of event in such incredible cities, and make something around it that will maybe attract people that are not interested in racing, at first, but then once they get the see the cars in real life then get interested into racing.
"This could potentially be many more fans for the sport in the years to come. So I think it's great what F1 has done until now."
Put to him that the pricing structure of the tickets, which cost eye-watering figures that would not be affordable to the average person, was already alienating its fanbase, Leclerc said it's important that that issue is addressed.
"I hope that F1 is working around that because, for sure, there have been many events now that are just incredibly expensive," he said.
"Real fans who really love the sport cannot even afford to get to the races and actually watch the races.
"So this is definitely an issue that has to be tackled."
PlanetF1.com recommends
Charles Leclerc net worth: How does his wealth compare to Hamilton and Verstappen?
Revealed: Charles Leclerc's amazing Ferrari supercar collection
Reigning World Champion Max Verstappen has already vocally expressed his dislike of the approach to the weekend and the event as a whole, with the no-nonsense Dutch driver saying he feels the sporting side has taken a back seat.
Leclerc said he wouldn't go as far as Verstappen in his criticism.
"No, no, no. I mean, for me – we really need to keep the DNA of the sport and I love racing," he said.
"Racing, the way it is also with the format of the weekend as it is – this weekend is amazing. We should keep that.
"But, when you come to a place like Vegas, when you go to a place like Miami, I think there you should take every opportunity as a sport, I mean, F1 needs to take every opportunity they have.
"If that means making a bit more of a show around the race, that's amazing. Then we need to try and find the limits to how far we're going to go with our time because, before the race, to go for a five-minute show of fireworks and everything, we've got other things to think of.
"At the same time, I completely understand that there needs to be some kind of special show whenever we go to these places."
Charles Leclerc: There is a line that shouldn't be crossed
But while Leclerc may not have a problem putting on a show for the fans when needed, the Monegasque said it's imperative that the considerations of the driver's requirements are taken into account.
"This is exactly where there's a line that should not be crossed," he said.
"Today is Wednesday so it's fine that we have got this opening ceremony and all of this. 10 minutes before getting into the car, then that's where we need to be in our zone and not disturbed by whatever is going on around the race. So that has to be protected.
"I think for us drivers this moment before the race, not only 10 minutes before, but I think from the lap to the grid onwards, we should be left alone so we can focus on the actual racing."
Read Next: F1 drivers pile on pressure for changes to end 'repetitive' race weekends