Charles Leclerc doubts Ferrari tyre tactic will be a 'game changer' in Bahrain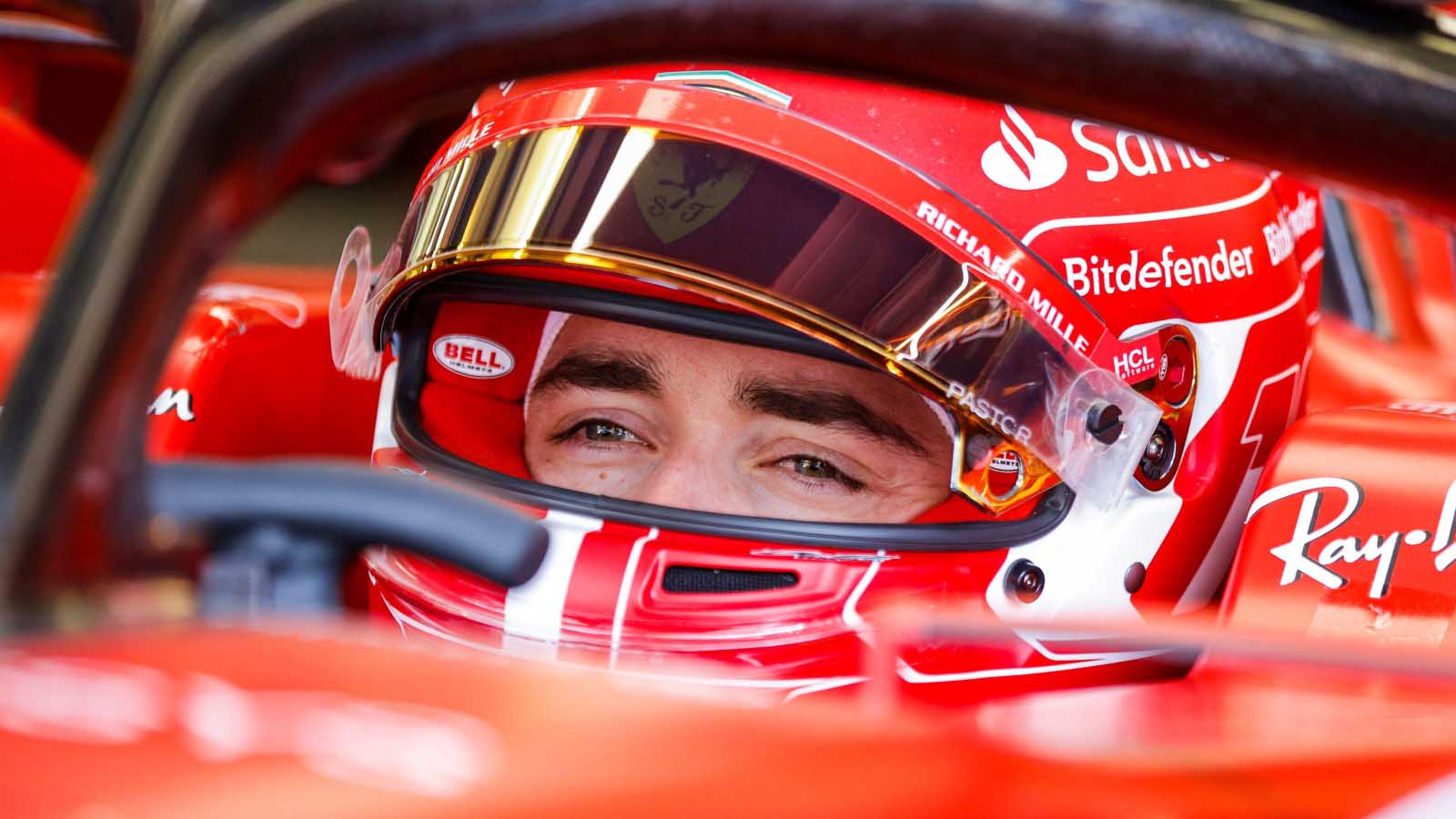 Charles Leclerc has ruled out Ferrari's tyre tactics in Bahrain being a "game changer" in Sunday's grand prix given the pace of the Red Bull RB19.
Ferrari surprised many in the paddock when, as Leclerc's pit crew went to take the tyre warmers off his SF-23 for him to do a second run in Q3, all the work was suddenly halted.
As the Monégasque driver climbed from his car, Ferrari revealed it was a tyre tactic and not a problem with the car as the team wanted to hold onto a fresh set of soft Pirellis for Sunday's 57-lap race.
While Leclerc walked out of the Ferrari garage, Red Bull's Sergio Perez continued on the track to take second place off Leclerc to ensure an all-Red Bull lock-out of the front row.
Leclerc will line up third on the Bahrain grid with his team-mate Carlos Sainz P4.
He, however, has downplayed Ferrari's tyre decision.
Conceding it will give him a "bit more grip", he added that he doesn't "know if it will be a game changer."
Verstappen isn't expecting it to be given he has one set of brand new soft tyres, and one set that has done all of one lap.
He said: "I have one set with only an out-lap [completed], so it should be okay."
Winners and losers from 2023 Bahrain Grand Prix qualifying
Max Verstappen has 'no desire to deny' that Lewis Hamilton is 'one of the greatest drivers ever'
Qualy: Max Verstappen starts his title defence with pole, Ferrari make tactical tyre call
Ferrari's tyre gamble raised questions about whether the Scuderia are worried about their race-pace, which was an issue last season.
Not only did Ferrari struggle with tyre degradation throughout the 2022 championship, but they also had to turn down their engine given their reliability woes.
This year Leclerc is optimistic they've resolved those issues but admits he doesn't know if the race-pace is "enough" to challenge Red Bull.
"The goal is to always try and improve," he said. "I think we improved our process of…throughout the race trying to take care more of these tyres but if I look in FP2 we are still quite a bit slower than Red Bull in terms of pace and tyre degradation.
"So we still need to see and see where we are exactly but if we focus on ourselves, yes, I feel like we have done a step forward but I'm not sure it's enough."
And, he reckons, Ferrari could also face a tough challenge from the pre-season's most talked about team Aston Martin with Fernando Alonso lining up P5 on the grid.
"They've shown a very promising race pace in FP2, but again, FP2, it's very difficult to judge because you don't know the fuel level they had in the car," he said.
"But I think they will be strong in the race, probably quicker than what they've shown in qualifying, even though they were pretty close. But yeah, let's wait and see."
Pressed as to whether he'd be happy if he secured a podium on Sunday given Red Bull's pace, he replied: "No, I think we are only happy if we win. But again, realistically, they seem to be very, very quick.
"So I think in those weekends where we are a little bit underneath, that's exactly those weekend that we need to maximise and, and try to get what we can in terms of points. So yeah, if a win is possible tomorrow, I will go for it. If not, we'll try and get the maximum points."