Watch epic on-board footage of Charles Leclerc driving Michael Schumacher's F2003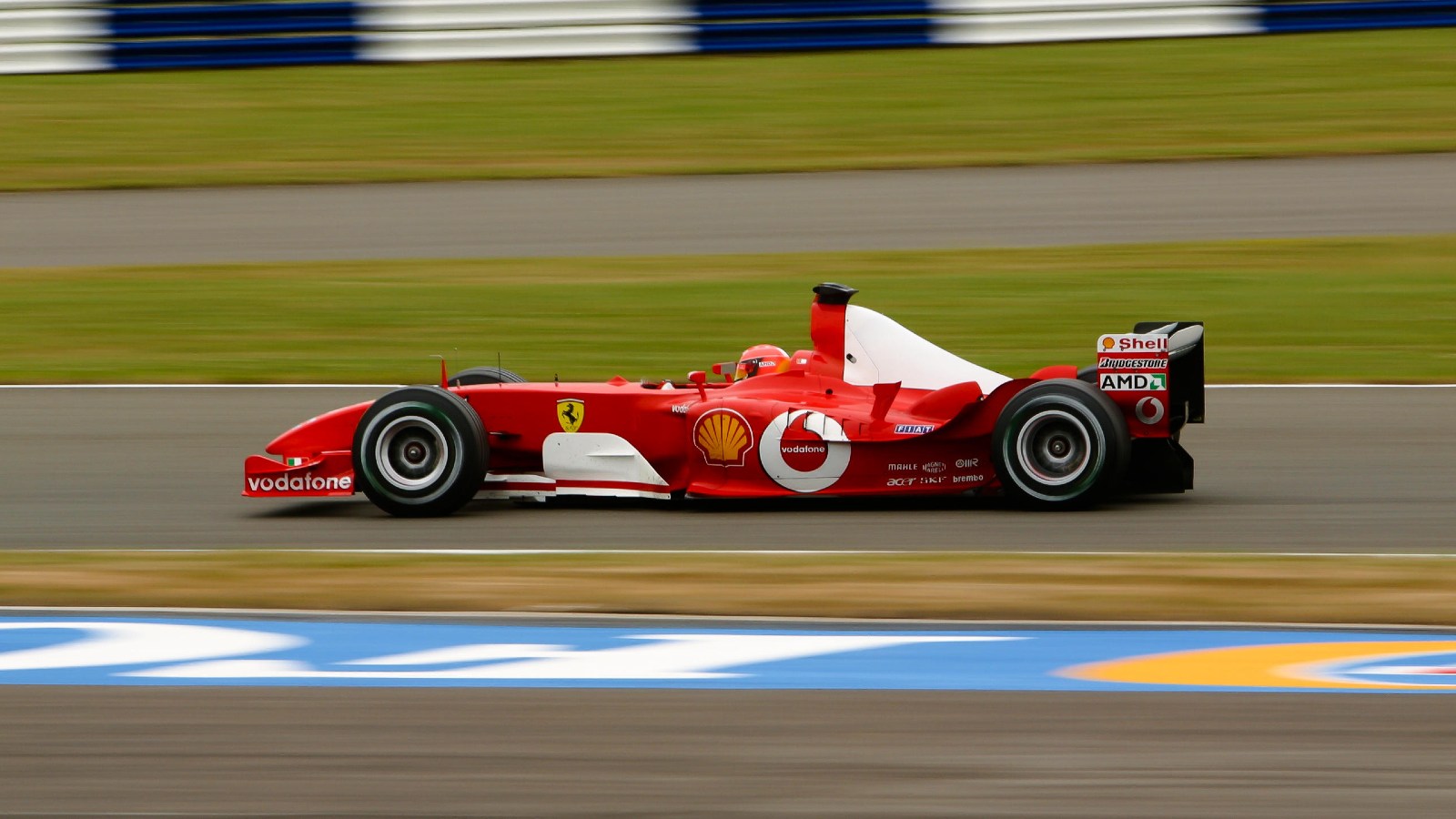 Charles Leclerc has been busy putting pedal to the metal at the wheel of Michael Schumacher's legendary Ferrari F2003.
As Formula 1 awakens from its winter slumber and launch season moves into full swing, Leclerc has been busy blowing away the cobwebs at the Yas Marina Circuit.
The venue which hosts the Abu Dhabi Grand Prix on this occasion set the scene for Leclerc to send the mighty F2003 back into action, the car with which Schumacher won six grands prix on his way to 2003 title glory.
Schumacher secured his sixth World Championship that season, while Ferrari also clinched the Constructors' title as that era of dominance for team and driver rolled on.
And 20 years later, it was Leclerc's turn to get behind the wheel, that legendary V10 roaring as he powered around Yas Marina Circuit, making for some amazing on-board viewing.
Onboard @Charles_Leclerc #F1 #Ferrari @formu1a__uno pic.twitter.com/gyQ3lirvzz

— Giuliano Duchessa (@GiulyDuchessa) February 6, 2023
Also present for the occasion was Jean Todt, Ferrari team boss at the time of what was then unseen dominance, Ferrari winning six Constructors' titles in a row from 1999-2004, Schumacher also winning five Drivers' titles in succession from 2000-04.
"What a day," Leclerc would tweet as he reflected on the amazing experience.
PlanetF1.com recommends
Five prestigious records held by Michael Schumacher 10 years after his retirement
Michael Schumacher's 10 iconic Formula 1 grand prix victories
Karun Chandhok recalls Michael Schumacher memory from his chaotic F1 debut
Ferrari are preparing to launch their F1 2023 challenger on February 14, a car reportedly "at least one second faster" than the F1-75, as they look to put right the wrongs of 2022.
Having started the season with the strongest package, Leclerc winning two of the opening three races, their title challenge faded firstly due to a multitude of team errors and a few driver missteps, while Red Bull then found the edge for outright pace in the second-half of the season.
Max Verstappen eventually strolled to the 2022 title, ensuring it was game over for his rivals with four rounds still to go, with Leclerc eventually pipping Verstappen's Red Bull team-mate Sergio Perez to P2 in the final standings.
Leclerc believes they all expected a season where the championship-deciding rounds would stretch further, so hopes to make it a tighter battle in F1 2023.
"I think we all prepared for longer seasons, I hope it will be tight," he told reporters, including PlanetF1.com.
"It's always nice to have a fight until the end. I'm prepared for more races and for a longer fight hopefully."