Concerns voiced over Charles Leclerc's driving ability: 'He's win or bin'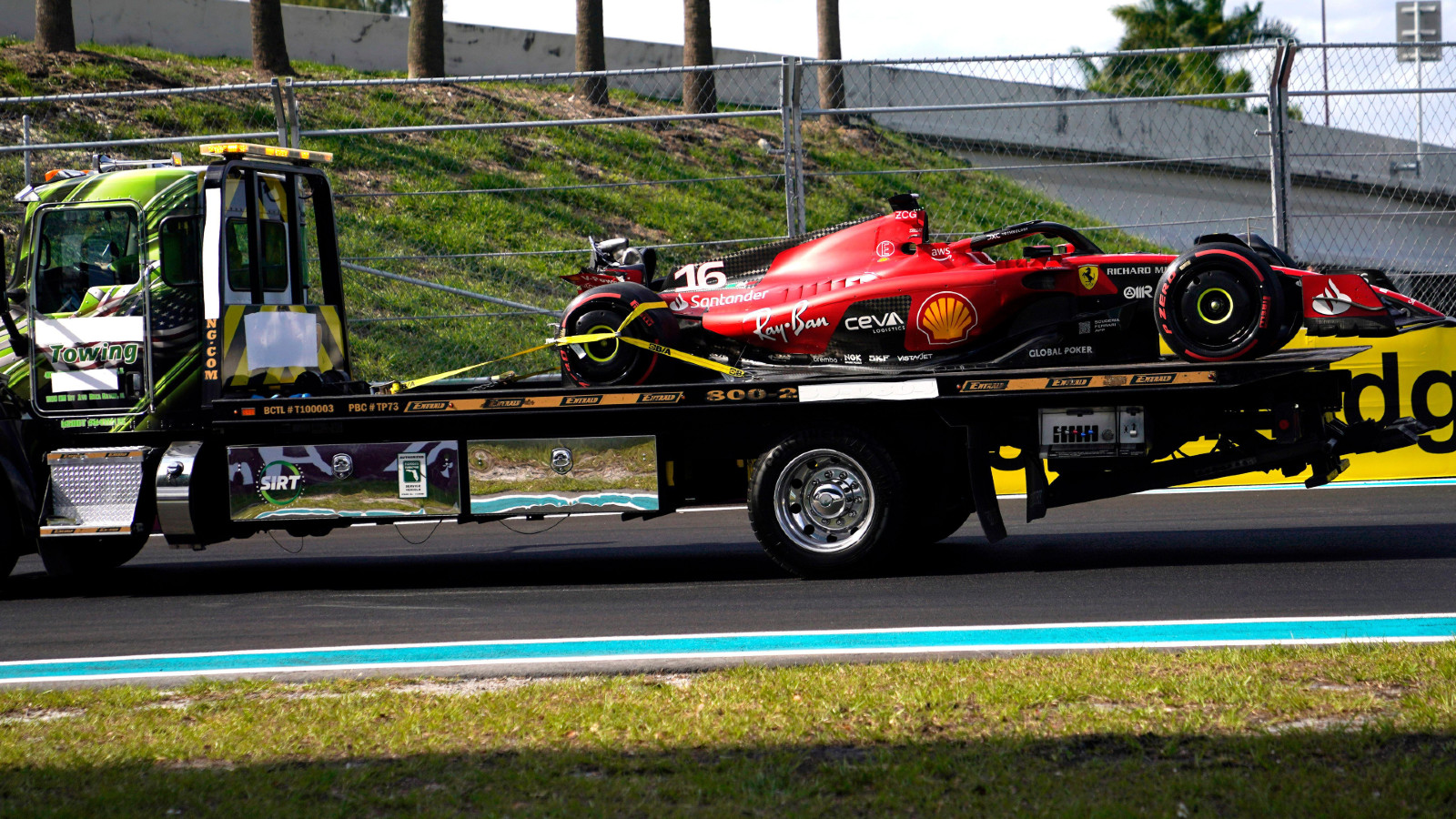 Charles Leclerc's wheel-to-wheel racing ability has been questioned by BBC's pundits, including former F1 racer Jolyon Palmer.
Leclerc finished the Miami Grand Prix in seventh place, having started from the same position following a dramatic crash late in Q3.
The Monegasque had been on a late flying lap when he lost control of his Ferrari at the end of the first sector and spun off the road to collide with the barriers.
While unhurt, it was a second costly crash for Leclerc following on from a Friday shunt that also wrecked his Ferrari's front end.
During the Grand Prix itself, Leclerc's progress was compromised by a battle with Haas' Kevin Magnussen – the Dane managing to defend his position over Leclerc on several occasions despite the Ferrari driver's best efforts.
The fight, as well as Leclerc's driving, came up for discussion on the BBC's Chequered Flag podcast, where pundits Jack Nicholls and Harry Benjamin chatted with former Renault F1 racer turned broadcaster Jolyon Palmer.
"That's what made the race for me actually – Kevin Magnussen and Charles Leclerc doing battle. That was brilliant to watch, super exciting," Benjamin said.
"You'd think it would be fairly straightforward that Leclerc would get through, and he did, but then Magnussen got back in front several times over."
"It was a great display of actually some good wheel-to-wheel action," Palmer agreed.
"It took 37 laps for Leclerc to shake off Magnussen finally and it was three times he came back at him. It was quite fun. And a lot of the battles were really close wheel to wheel."
Charles Leclerc is 'win or bin'
Benjamin went on to comment that he felt Leclerc had had a subdued race on Sunday, perhaps weighed down by the fact he'd had two crashes in two days.
"It's fair to say it was below par, below expectation, for not just everybody outside of the Ferrari garage but also within it," he said.
"Leclerc – I don't know whether it was compounded by the lack of being able to get through Magnussen, he was just a bit stuck. Maybe he was being a little bit more cautious, has he lost his mojo slightly a little bit?
PlanetF1.com recommends
'Charles Leclerc doesn't have maturity nor consistency to win World title'
Charles Leclerc reveals pre-race injury after two crashes in two days
"Baku was brilliant but, overall this year, it's not gone his way. It's not all been his problem but this is not the first time, and it probably won't be the last time we have this discussion on Leclerc, who bins it in qualifying or crashes out of the lead of a race once he is out in front but then suddenly is in the wall. You won't be too surprised to hear that and that's the issue.
"Leclerc is win or bin, and you can't be like that. You can be the best Formula 1 driver ever but, if you keep binning it, you're not gonna get your championship wins."
Jolyon Palmer: Charles Leclerc had pressure on him on Sunday
With Leclerc's latest error compromising his eventual race result, Palmer said that he believed the Ferrari driver's racing was affected by his state of mind going into the race.
"Leclerc will know after crashing Saturday that the world is talking about another crash for him," he said.
"He's got to go straight after qualifying and face the media – 30 microphones in his face to speak to media from across the world to explain his latest crash. He'll know that the pressure was a little bit on him on Sunday. I think he was a little bit off his game to be honest, the way that he had three fights with Magnussen. He just wasn't clinical in the fight."
Nicholls opined that Leclerc is lacking in aggression in racing scenarios, instead choosing to take easy overtakes.
"I'm not convinced in Leclerc in wheel-to-wheel scenarios," Nicholls said.
"What gets thrown back at me is 'Bahrain, him vs. Verstappen he comes out on top', but I just feel like he never really defends – he never really fights. I feel like he does the drive-by DRS if he can but I don't know if Leclerc gets his elbows out enough in his racing for me, personally.
"He goes to the middle a lot, but kind of goes through the motions almost is how I feel it is sometimes. It took him a while to work that out with Magnussen and I felt like he finally worked out 'Don't attack him into the hairpin, and then do the DRS'."
"He's a thinking racer, rather than an aggressive racer," Palmer offered.
"He is very good on his DRS zones,  that sort of strategy of where to be close, where to line up a pass, and this sort of stuff. But he's not the most aggressive wheel-to-wheel racer."