Leclerc explains his Monaco meeting with Binotto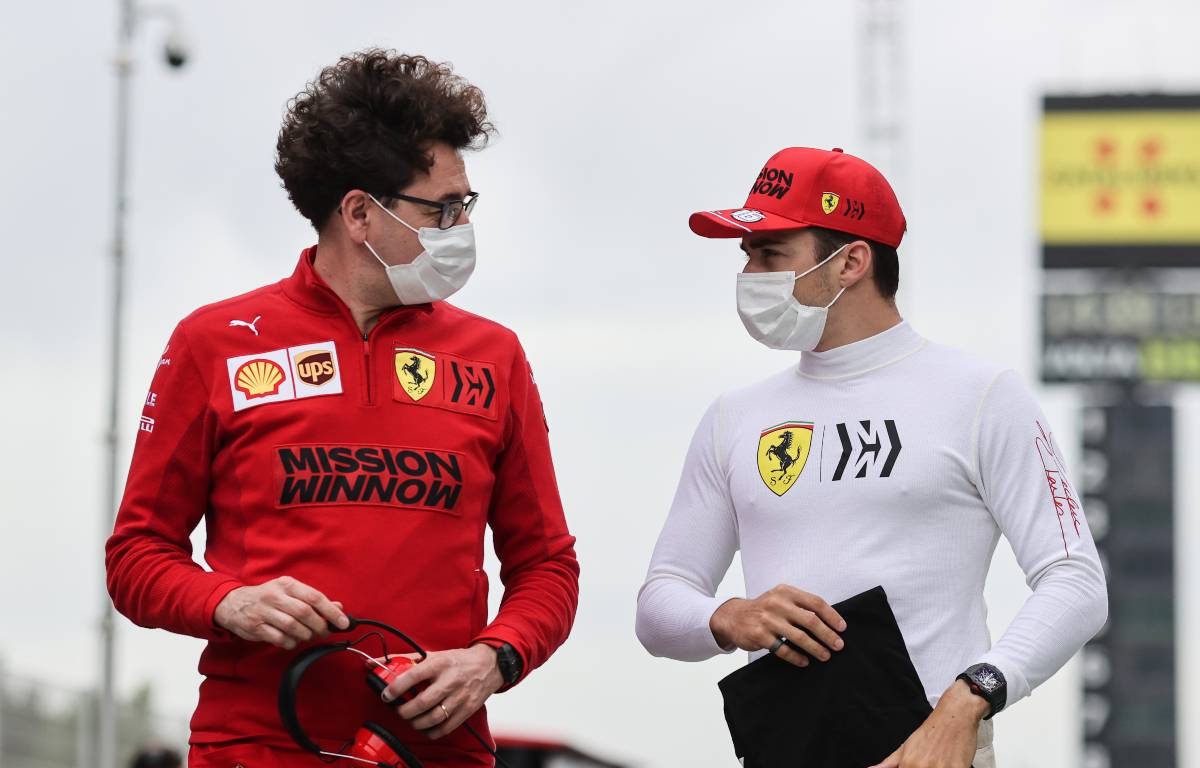 Charles Leclerc has insisted a midweek rendezvous between him and Mattia Binotto in Monaco was to check on his wellbeing rather than mend any broken bridges.
Tensions in the Ferrari garage looked fraught when Binotto was seen wagging his finger in the direction of Leclerc following the latter's annoyance over the team radio.
Leclerc was frustrated with the team calls that saw him slip from leading the race to fourth place which allowed team-mate Carlos Sainz to take the victory.
On Tuesday evening, the two were spotted going for dinner in Leclerc's hometown of Monaco for what were presumed 'clear-the-air' talks but Leclerc has now said Binotto was checking on his driver's wellbeing after a tough few weeks.
"He was first quite angry with me after Silverstone because he saw me extremely down which obviously he understood but he just wanted to make sure that I was OK," Leclerc said, as reported by The Race.
"And I realised that OK, I had done also an amazing job considering the situation that I had found myself in after the Safety Car.
"Then in Monaco, something we usually do, he came to Monaco because the last five races have been quite hard on me, and I just wanted to stay at home and disconnect a bit from everything, to be fully 100% for this weekend.
Where does Leclerc go from here?
Things haven't gone for Charles Leclerc in the past few races, so how can he get back into the battle at the front?
"He just came to Monaco to speak about the last five races and to make sure it was all fine on my side."
Leclerc admitted that there were things the team could have done better but insisted there was no rift in the Ferrari garage.
"We know where we did the mistakes and I hope we can grow from that," he said.
"Me personally there's nothing I could have done differently in a way, then as a team, we have changed a few things already, just in the way of communication throughout the race, to be ready in that particular moment.
"Once a Safety Car is out, you need to take a decision there, and if you are not ready for that, it's tricky, [so] as a team we have changed a few things."
Leclerc also denied rumours of any rifts in the Ferrari camp after an ex-press officer of the Scuderia claimed some team members did not want join in the celebrations on the podium for Carlos Sainz.
"I wish I wouldn't need to fight for this type of things [rumours of discontent]. We are extremely united.
"Is there a disappointment after last race because we finished first and fourth? Yes there was. Were we very happy that Carlos won his first race? Yes we were honestly.
"But obviously before the safety car you were first and second and you finished the race first and fourth so there's some kind of disappointment too.
"[There's] not any kind of division in the team."