Charles Leclerc thinks it is "good" that team principal Mattia Binotto made it clear there is no No 1 driver at Ferrari.
That's despite Leclerc being the more obvious choice if there was to be a team leader during the 2021 season.
Leclerc is starting his third campaign with the Scuderia, now joined by Sainz who has taken over the other red car from Sebastian Vettel.
The duo are two years apart in age, the 26-year-old Spaniard being the elder, and have different levels of experience in terms of where they find themselves now.
Whereas Sainz became an F1 racer in 2015 compared to Leclerc's 2018, the Monegasque driver is much more familiar with Ferrari's working practices than his new colleague.
Leclerc, winner of two races for Ferrari during his first season driving for the team, clearly feels the balance of experience lends itself to the team-mates being on an equal standing – as Binotto has previously stated.
F1 TV is offering 25% off their annual subscriptions! Click here and use the code F1TV25 at the checkout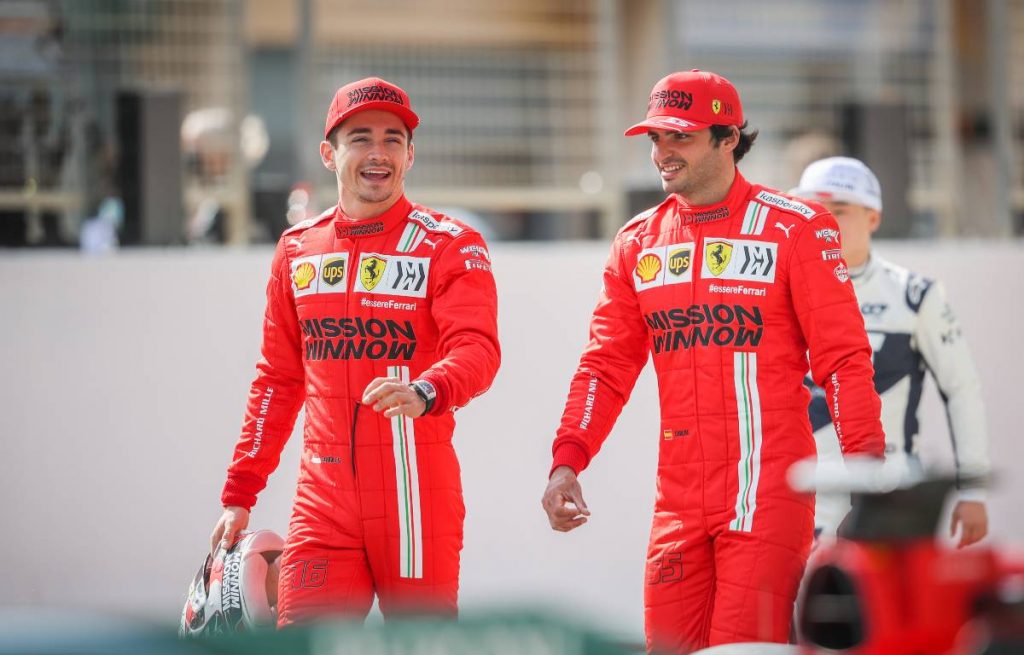 "While I've spent more time in Ferrari than Carlos did – I have more experience with Ferrari – I don't think there is a clear leader," Leclerc told a press conference during pre-season testing in Bahrain.
"I think Mattia made it clear, and that's good.
"I am here in Formula 1 to fight against the best and I think Carlos is extremely talented and we will just push each other to perform better every time we are on track.
"But yeah, as the team mentioned, there's no clear No 1 or No 2."
Leclerc is encouraged by his working relationship so far with Sainz, the pair having interacted positively in a couple of promotional videos for the team.
"I think I've never spent as much time as I did with him before I started the season, as I did with other team-mates," added Leclerc. "We are getting on very well and working well together.
"He's also very talented and it's interesting to see now the data that he's in the car and comparing it.
"With Carlos we seem to have very similar feeling of the car — very similar comments, so we are going in the same direction, both of us with our comments.
"Carlos is bringing experience from other teams – that is very interesting and that is also giving us new roads to explore. So this is very interesting.
"The mentality of the team itself is still as motivated as last year and really willing to push to better things, better days coming soon."
Follow us on Twitter @Planet_F1, like our Facebook page and join us on Instagram!