Charles Leclerc and George Russell both call for FIA to punish cost cap breaches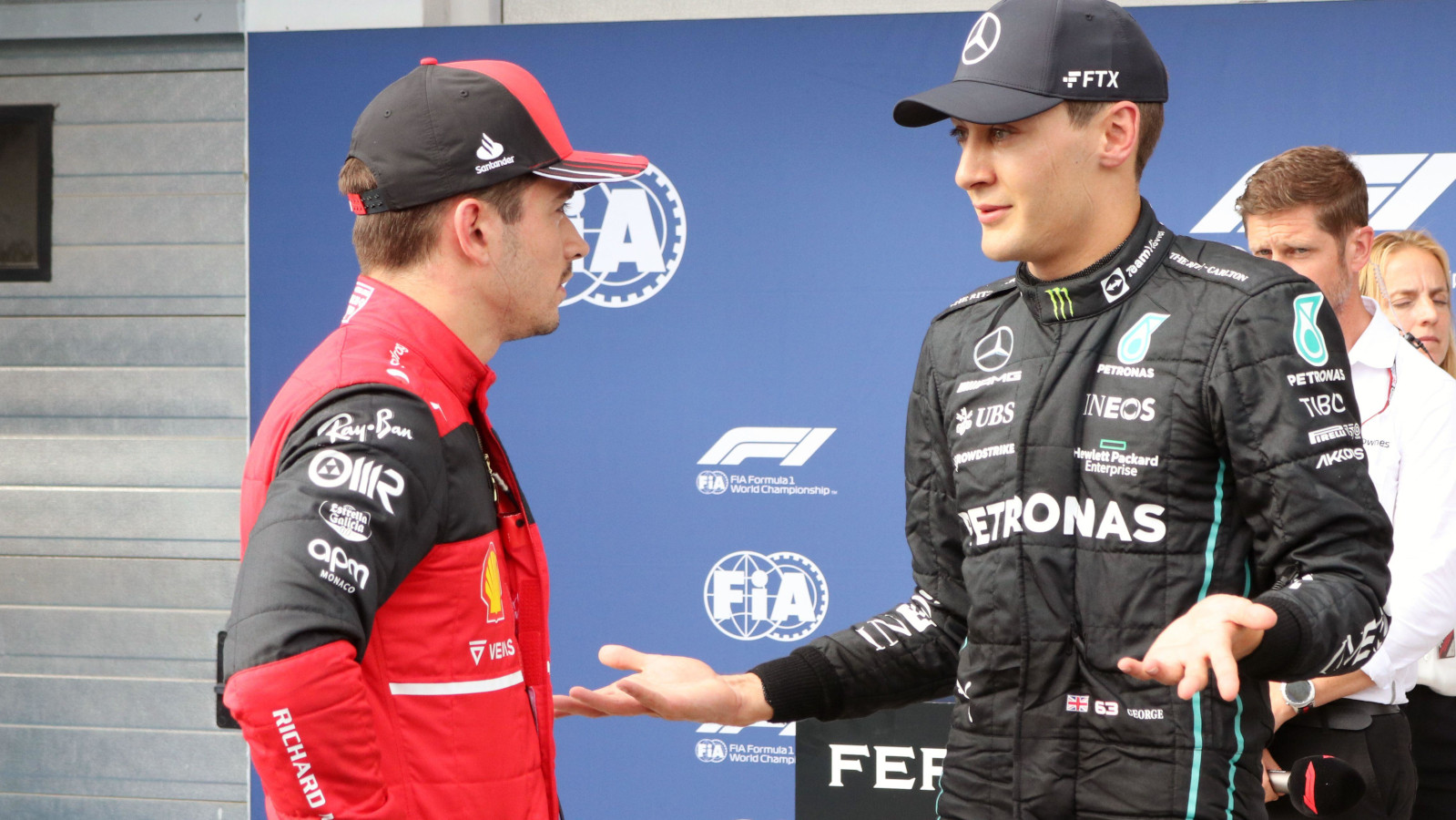 Both Charles Leclerc and George Russell believe any team found to have breached the FIA cost cap should receive a punishment.
The F1 news away from the track has been dominated by talk of the cost cap this week as the FIA was expected to release their certificates of compliance that would clarify which teams had come in under the $145million cap for the 2021 season.
But, after a day of waiting for the fans, the governing body announced that the certificates would now be released on Monday following the Japanese Grand Prix, leaving teams like Red Bull and Aston Martin, who are rumoured to have been the two that have exceeded the cap, waiting to find out their fate.
The story first emerged shortly before free practice one at the Singapore Grand Prix as Red Bull and Aston Martin were named as the two teams who have broken the cap during their spending in the 2021 season.
The Ferrari and Mercedes team bosses were quick to point the finger at Red Bull and both expressed their interest in seeing them receive some kind of punishment – and now their drivers have reiterated that point as they spoke to the media ahead of the race at Suzuka.
Leclerc, who will most likely see Max Verstappen crowned World Champion this weekend, said he did not know what the punishment should be but that there should be one.
Lewis Hamilton and Esteban Ocon spotted comparing calculations on how much Red Bull's upgrades cost during the 2021 season 😄 #F1 pic.twitter.com/VsWX9xgSRe

— PlanetF1 (@Planet_F1) October 6, 2022
"Speaking about ourselves, if we have more to spend then, of course, you will go faster on the track," added the Ferrari driver.
"So if there is any team found guilty of that then they should be punished. What is the punishment? I am not the one to decide but for sure, it should be punished."
George Russell spoke in a similar vain, going as far as saying he trusted FIA president Mohammed ben Sulayem to bring an "appropriate punishment".
"It's not my duty to dive into those details," the 24-year-old said.
"I'll just sit and wait to see what the results are from Monday but I just know from our experience within Mercedes, how hard the whole team has worked to stay within that cost cap.
"We know we can bring more performance to the table if we had more money to spend, and it's as simple as that.
"I trust in Mohammed [ben Sulayem] and the FIA to bring an appropriate punishment for anyone who is found guilty of the charges accused and it should be quite straightforward.
"You would expect the amount that has been gone over, should be the amount taken off for next year's budget and probably a bit more on top of that as a punishment.
"But let's wait and see."
Read more: Sebastian Vettel and Fernando Alonso share their thoughts as cost cap talk rages on